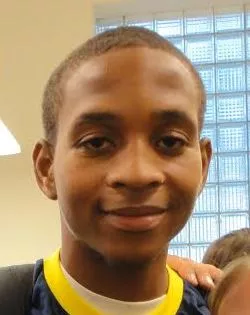 Chris Douglas
Cornell McKay. This photo was taken in early August 2012, a couple of weeks before his arrest.
Convicted murderer Keith Esters says he has information on an August 10, 2012, armed robbery on North Boyle Avenue. His claims are recorded in sworn police depositions acquired by Daily RFT and in recent statements to a Post-Dispatch reporter.
Yesterday, lawyers for Cornell Mckay -- the man facing 10 to 30 years in prison for that August 10 crime -- filed a motion in St. Louis Circuit Court that seeks to put Esters on the witness stand.
Four months ago, a judge sentenced Esters to 50 years in prison for shooting 23-year-old Megan Boken in the Central West End on August 18, 2012 -- eight days after the armed robbery just blocks away on North Boyle Avenue. McKay's lawyers allege Esters is the true culprit in both robberies.
See also: Cornell McKay Attorney: Police Framed Man For Robbery, Ignored Megan Boken's Killer
Robert Ramsey, one of McKay's lawyers, thinks Esters is trying to leverage his confession to the August 10 robbery for a lighter sentence. Esters is currently incarcerated in the Eastern Reception Diagnostic Correctional Center in Bonne Terre.
"He's looking to make a deal," says Ramsey. "I think he does want to talk, and I think he wants the Circuit Attorney to assure him that he's not going to get any more time."
The recent motion claims Esters is an essential witness to McKay's defense. It cites two statements Esters made to the Post-Dispatch on Tuesday:
"Tell you the truth, I can't say nothing that gonna benefit him [McKay] because in the end it's gonna make me look bad."
According to the P-D article, Esters then added:
"Time-wise ... I'm not going to go back down there and give them a confession because they would give me more time.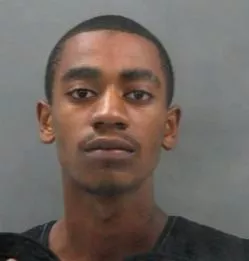 Ramsey hopes Esters' statements will convince Judge Robin Vannoy to delay McKay's sentencing.
The best possible outcome, says Ramsey, would be if the judge allows evidence to be presented that Esters was the man who robbed a woman at gunpoint on August 10 -- not McKay.
McKay's December 2013 conviction for the August 10 robbery rested almost entirely on a single eyewitness: the victim. Though she ID'd him in three separate lineups, McKay's lawyers argue they were administered to her under "improper and suggestive circumstances."
See also: Keith Esters & Johnathan Perkins Charged in Brentwood Kidnapping
"There is clear and convincing proof both that Cornell McKay is actually innocent and that he has suffered a manifest injustice and a verdict not worthy of confidence," the motion reads. "It would multiply the injustice to continue to incarcerate McKay."
It's not just Esters' statements that appear to implicate him. The victim's cell phone taken in the August 10 robbery was instrumental in Esters' eventual arrest: Seventeen calls made from that stolen phone were to Esters' girlfriend, and phone records later showed incoming calls just minutes after Boken's murder at 2:20 p.m. on August 18. The phone was later recovered at the gas station where Esters sold it; employees there confirmed his identity.
During McKay's trial, prosecutors were unable to produce evidence that showed how the phone could have traveled from McKay to Esters, if McKay had stolen it on August 10.
In a motion filed late last week, McKay's lawyers allege that detectives willfully ignored evidence pointing to Esters' role in the August 10 robbery, since doing so would reveal their failure to prevent Boken's murder.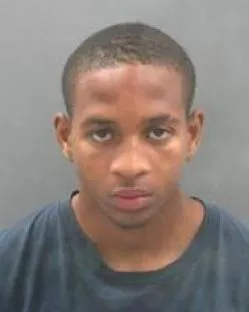 Cornell McKay's mugshot from his August 2012 arrest.
Adding to the weight of Ramsey's evidence are a number of depositions conducted by McKay's previous lawyer, James Hacking. According to a July 2013 deposition with St. Louis Metropolitan Police Department homicide detective Jerone Jackson, Esters was quick to try bartering information for a lighter sentence: Shortly after his August 24, 2012, arrest, Esters told Jackson he was in the immediate area of the August 10 holdup, but neither he nor McKay had committed the crime.
However, the lead detective investigating the August 10 robbery, the Ninth District's Anthony Boettingheimer, claimed in his deposition that he didn't hear about Esters' statement to Jackson until December 2012 -- long after McKay was arrested and charged for armed robbery. Indeed, during Boettingheimer's deposition in April 2013, the detective told Hacking he never considered Esters as a suspect in the August 10 robbery.
Here's one particularly striking exchange from Boettingheimer's deposition, in which Hacking questions the detective on Esters.
Hacking: [Esters] said he knew Cornell from the neighborhood, but that Cornell did not commit the robbery; is that right?

Boettingheimer: Yes.

Hacking: Did you give this information any weight?

Boettingheimer: No.

Hacking: Why?

Boettingheimer: Because if you're going to say, 'I know who did it, but I'm not telling you, but this guy didn't do it,' somewhere in there one of them three sentences is a lie, so that makes the whole thing a lie, in my opinion.

Hacking: Is it possible that Keith Esters was the person who robbed [the victim] on August 10th, 2012?

Boettingheimer: No.
The next step for McKay is a March 13 hearing. There, Judge Vannoy will consider his lawyers' motion to delay sentencing for armed robbery. Ramsey tells Daily RFT that if Vannoy blocks him from bringing evidence pointing to Esters, he and fellow attorney Thomas SanFilippo are "more than likely" to challenge McKay's incarceration in a higher court.
Continue for Ramsey's response to Megan Boken's sister, who accused him of exploiting a family tragedy. (Also: The full text of Ramsey's motion.)
The allegations raised by McKay's lawyers have reopened wounds for Megan Boken's family, especially Ramsey's claim that "Megan Boken would be alive right now" had police arrested Esters in time.
That argument was so offensive to Boken's sister, Annie Boken Palazzolo, that she penned a stinging letter to the editor in the Post-Dispatch earlier this week, writing: "I refuse to sit by while Ramsey takes advantage of Megan's tragedy."
As for Ramsey, he stands by his client.
"I feel very badly for the Boken family. And I can feel how they've been traumatized through this process," he says. "But I am doing my best to represent an innocent man. When I see things that have been done improperly and illegally in the course of an investigation, then I have a solemn duty to my client to raise those issues. I consider them to be legitimate issues."
Here's the motion filed by McKay's lawyers's yesterday, requesting Keith Esters be brought as a witness at next week's hearing.
Follow Danny Wicentowski on Twitter at @D_Towski. E-mail the author at Danny.Wicentowski@RiverfrontTimes.com