Ice, snow and cold are killing unusual amounts of shad fish in Missouri.
As this hellish winter slowly comes to an end, you may start to notice something strange in Missouri's lakes and ponds:
Lots and lots of dead fish.
Apparently, Missourians are braving the slowly climbing temperatures only to find their nearby body of water full of dead fish.
"We're getting dozens of reports of significant winter fish kills from all over the state," says Rebecca O'Hearn, a resource scientist with the Missouri Department of Conservation.
Luckily, it's not disease or pollution that's killing off Missouri's scaly swimmers. It's the brutal winter.
See also: Three Pet Owners Cited for Leaving Animals Outside in St. Louis Cold Snap
Annual die-offs are normal in fish populations, the conservation department says, but this winter's unusually cold temperatures and high snowfall has seriously impacted the number and size of this year's winter kills.
From December 1 to February 28, Missouri experienced the coldest winter since 1978-79 and the ninth-coldest winter on record, according to Missouri climatologist Pat Guinan.
When winter is colder than normal, fish exhaust their fat reserves too early and they die. Small fish are particularly vulnerable to losing fat reserves too quickly, hence the large-scale die-off of gizzard shad in the Lake of the Ozarks this year.
"We knew going into fall that we had a very strong year-class of shad produced in the spring of 2013," says Greg Stoner, a fisheries-management biologist with the conservation department. "When yearling shad are that abundant, they are generally smaller than average going into the winter, and with less fat reserves. Follow that up with a hard winter, and the result can be widespread die-offs of shad, especially the yearlings."
Just how cold was this unusually hard winter? Cold enough to cause "frost quakes," a rare phenomenon that occurs when the temperature drops so fast that freezing soil expands and builds up pressure similar to the pressure in a seismic zone deep in the earth's crust. The conservation department says Missourians called to report popping, cracking noises from frost quakes on January 26 and February 2.
Continue to see how ice and snow are adding to the fish killing problem.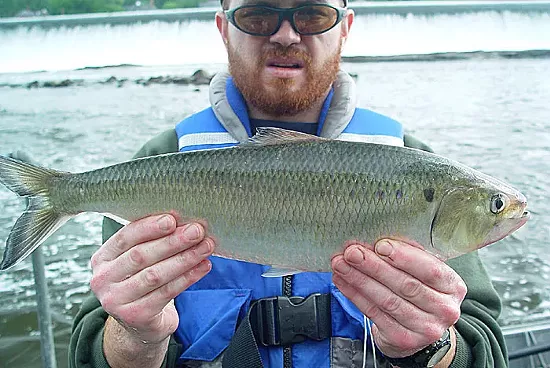 But this winter wasn't just unusually cold; it was also unusually icy and snowy. The Lake of the Ozarks was a solid sheet of ice from the Bagnell Dam to the Truman Dam in January, which is very rare, says conservation department biologist Greg Stoner.
On top of the ice, winter storms brought heavy snowfall, sometimes more than a foot overnight.
"Deep snow can prevent light from reaching aquatic plants," says O'Hearn. "Without light, plants begin to die, and when they die, they not only are not releasing oxygen into the water, their decomposition actually consumes oxygen. If that goes on for long enough, like it has this year, fish can suffocate."
See also: Coyotes on Chippewa: City Gets Report of Wild Animals in South St. Louis
The largest impact on Missouri, the conservation department says, is a temporary food shortage this spring for game fish that eat the smallest shad.
See a particularly large group of dead fish in your neighborhood? Call the Missouri Department of Natural Resources' environmental emergency response line at 573-634-2436.
Follow Lindsay Toler on Twitter at @StLouisLindsay. E-mail the author at Lindsay.Toler@RiverfrontTimes.com.