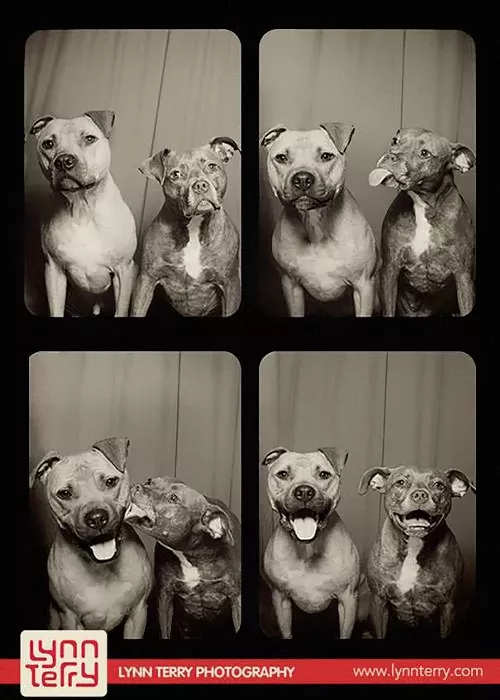 Bumper gives Willis a big sloppy kiss.
What happens when you put two adorable pit bulls in a photo booth?
Answer: They do what humans always seem to do -- make out with each other.
That's what St. Louis photographer Lynn Terry discovered when she created a photo booth for St. Louis dogs for Valentines Day, and the results are just to die for.
"I had all these old shots of people in photo booths collected from random places, and I thought, 'I wonder how just this would be to do with dogs,'" Terry, 38, tells Daily RFT. "As soon as I put them in front of the camera, they sat down and started kissing each other. Like, 'Nobody's looking. Let's make out!"
See also: After Abuse Video Goes Viral, Scammers Launch Fake Fundraisers for Honor the Pit Bull
Many of the dogs in Terry's photos are rescues, including Willis, whose mother was saved during a 2009 operation that rescued 407 dogs from a dog-fighting ring.
Willis was born in a compound during the months-long investigation into what would become the largest dog-fighting raid in U.S. history. In his photo shoot (see the photo above), another rescued pit bull named Bumper gives him a big sloppy kiss.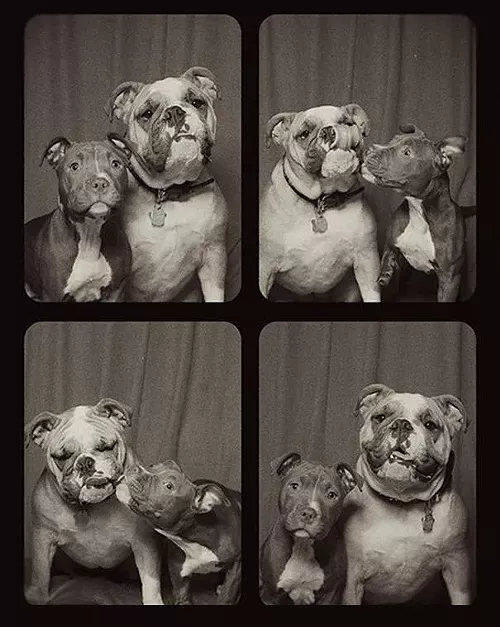 "He was one of the feel-good, happy endings," Terry says. "He's in a great, great home now."
For Valentine's Day, Terry opened her doggy-style photo booth to St. Louisans who wanted a memento of man's best friend. Again, the results were adorable:
More adorable dogs smooching on page 2!
Terry, who didn't grow up with animals, admits she was more of a cat person for years. But that all changed when an ex-boyfriend gave her a pit bull as a present.
"I bent over backwards to do everything for this dog," which she named DeeDee, Terry says. DeeDee died last year at fifteen years old. "When she passed away, it was really hard because she's been with me more than anything, all my homes, all my careers, all my relationships."
Now that Terry's Valentine's Day portraits are going as viral as her original photo-booth shot, she's thinking of pitching the idea of a photo book to literary agents. She's already heard from Good Morning America, the Today Show, the Huffington Post and other international outlets.
Terry honed her pet-photography craft working pro bone-o (sorry) for local shelters, including Mutts n Stuff, a nonprofit pit-bull rescue in St. Louis. Now her work is drawing a fanbase, and she's selling the images on Etsy and donating a portion of the proceeds to Mutts n Stuff.
Follow Lindsay Toler on Twitter at @StLouisLindsay. E-mail the author at Lindsay.Toler@RiverfrontTimes.com.