Facebook
Nick "Kappy" Kapusniak died after a drive-by shooting early Saturday morning.
Nicholas Kapusniak, a twenty-year-old pharmacy student living in St. Louis, was shot and killed in a drive-by shooting early Saturday morning in the Fox Park neighborhood.
He was hanging out with friends in the back yard of a house party in the 2700 block of Accomac Street just before 1 a.m. when an unknown gunman started firing from a white sedan in the alley, striking Kapusniak in the upper left torso, according to a police report. Partygoers carried Kapusniak inside, where first responders would later declare him dead.
St. Louis Metropolitan Police say they're at a loss to explain why a shooter would target the house party. "There was no direct one-on-one confrontation that provoked this," St. Louis Police Chief Sam Dotson told the St. Louis Post-Dispatch.
See also: Three Shootings Leave Three Dead, Teen Injured (Homicides No. 10,11 & 12)
Friends can't explain why Kapusniak would be targeted, either. One friend who said Kapusniak didn't use drugs went to Reddit to ask St. Louisans if the Fox Park neighborhood was dangerous or known for gang affiliations.
"He was just about the nicest kid you could meet and a great friend," the friend posts on Reddit. "That's why we're all so at a loss."
Kapusniak moved from Waukesha, Wisconsin, to study at the St. Louis College of Pharmacy, where he was set to graduate in 2017. Kapusniak had just earned his white pharmacist's coat, a symbolic rite of passage for pharmacy students halfway through their studies.
Friends remember Kapusniak as a happy-go-lucky music lover who went by the nickname "Kappy" to make people smile. He played drums in a band called the Rxtions and joined the professional-pharmaceutical fraternity Alpha Zeta Omega.
Jacob Beyer, the fraternity president, was at the party with about twenty other people when Kapusniak was shot, he told the Milwaukee Journal-Sentinel.
"We were just hanging out," Beyer says. "There are gangs in the area. There is no one that would want to hurt him."
Continue reading for more on Kapusniak's life.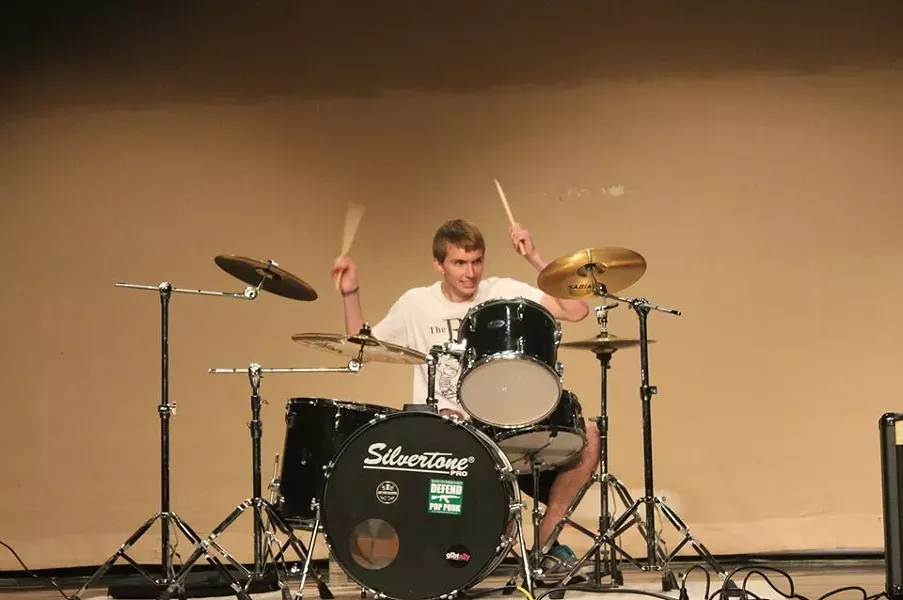 Facebook
Nick Kapusniak played drums for the Rxtions.
Back in Wisconsin, Rev. Paul Hartmann, the president of Kapusniak's alma mater Catholic Memorial High School, remembered his former student as someone who wanted to better the world around him.
"Just always seemingly involved in sports, involved in clubs, friends to everybody, he was one of those kids that never really fit into an exact niche of a group and floated among lots of groups of friends," Hartmann tells WISN (Channel 12). "Every death is a tragedy, but the fact that this was a young man who really wanted to go beyond himself for the good of others adds to the tragedy."
See also: Homicides No. 8 & 9: Shootings Leave Two Men Dead 7 Minutes, 4 Miles Apart
Kapusniak was planning to hang with friends at St. Louis Mardi Gras later that day, one friend posted on Facebook.
"I am so mad at the world," Meredith Voss says on Facebook. "You were just texting me a few hours ago and we were planning our day for Mardi Gras. I can't comprehend that my best friend is gone."
Kapusniak's death was the third on Saturday, after two were found shot dead in an apparently drug-related shooting in Wellston. Kapusniak's murder marked the twentieth homicide in St. Louis City in 2014.
Police are asking anyone with information about Kapusniak's death to call CrimeStoppers at 866-371-TIPS. The St. Louis College of Pharmacy is now offering a $10,000 reward.
Follow Lindsay Toler on Twitter at @StLouisLindsay. E-mail the author at Lindsay.Toler@RiverfrontTimes.com.