Cornell McKay's mugshot from his August 2012 arrest. His lawyers say he was framed.
Eighteen-year-old Keith Esters murdered Megan Boken on August 18, 2012 in a brazen daylight robbery gone wrong in the Central West End. He pleaded guilty to second-degree murder back in November and a judge later sentenced him to 50 years in prison.
But attorneys for a man arrested for a similar armed robbery that occurred eight days before the murder -- August 10 -- claim police ignored key evidence gathered in that crime that could have prevented Boken's death. Furthermore, the attorneys allege that police are covering up their "lethal mistake" by framing an innocent man named Cornell McKay.
"Everybody in here knows I didn't do that robbery. Everybody in this jail knows," McKay told Daily RFT from the visiting room in the St. Louis City Justice Center.
That may sound like standard jailhouse talk, but the facts of the case do raise questions.
See also: Police Say Megan Boken Was Killed During Attempted Robbery
On the evening of August 10, 2012, a young black man with a gun robbed a woman in front of her North Boyle Avenue condo, taking her cell phone and $50. The St. Louis Metropolitan Police Department's Ninth District took the case. Eight days later, Boken was shot to death in her car, not far from the location of the August 10 robbery. Homicide detectives took that case.
Two days after the murder, Ninth District detectives identified McKay as their main suspect and believed he may have been responsible for Boken's murder as well. Homicide detectives interrogated him.
But he had an airtight alibi for his whereabouts the night of Boken's murder: McKay had been staying in the tiny town of Washington, an hour west of St. Louis, that entire week, at work for a graphic design company. He'd also grown close to a church there. The church's pastor, a former cop named Chris Douglas, treated McKay like family and let him live in his basement.
"He worked every single day," says Douglas, who met McKay in July 2012 when the teenager was taking a GED class at the St. Louis County Covenant House. "We went camping that weekend. He sang all three services, in front 750-plus people at the church."
Douglas says he got a call on the 20th from McKay's mother.
"We heard there was a violent crime over the weekend and they had information that Cornell was involved."
Douglas and McKay arrived at the Ninth District headquarters on the morning of August 21 to turn McKay in voluntarily. McKay was immediately arrested. The next day, homicide detectives questioned him and, according to court documents, administered a polygraph test regarding the murder, which McKay passed.
Megan Boken, shown here during her days as SLU student/athlete. She was murdered by Kieth Esters on August 18, 2012.
On August 22, four days after the murder, homicide finally zeroed in on Esters. They broke the case using a cell phone they'd recovered -- the one stolen on North Boyle Avenue in the August 10 robbery.
Phone records showed multiple incoming calls just minutes after Boken's murder at 2:20 p.m., and police were able to link those to Esters' girlfriend. She later told police that Esters had called her on August 18, saying he'd robbed and killed someone. Police arrested Esters on August 23, and both his accomplice and an eye-witness later ID'd him as the shooter.
Esters eventually pleaded guilty for second-degree murder, attempted robbery and two counts of armed criminal action.
But the matter of the August 10 robbery remained. By the time police took Esters into custody, McKay had already been positively ID'd by the victim, arrested and charged. He was found guilty for armed robbery on December 12, 2013. [Corrected]
The new motion filed by McKay's attorneys Robert Ramsey and Thomas SanFilippo argues that all evidence points to Esters being the robber on both August 10 and 18. Ramsey says that his client McKay has been victimized by a crooked police investigation run by detectives who are trying to cover up their responsibility for Boken's death.
"It's a hell of a reason why these guys were so determined to put the case on Cornell McKay," Ramsey tells Daily RFT. "Because if they had arrested the right guy, Megan Boken would be alive right now. That is very powerful."
Continue on for a detailed look at the case against the McKay conviction
Google
The 200 block of North Boyle Avenue, where a woman was robbed at gun-point on August 10, 2012.
No physical evidence exists to link McKay to the August 10 robbery. However, the victim of the robbery did ID McKay, which was key to his conviction. McKay's lawyers claim the ID was "obtained under improper and suggestive circumstances" that produced a misidentification. The victim has not wavered in her identification of McKay.
Nevertheless, there is physical evidence pointing to Esters and it all goes back to that cell phone. In the days following the August 10 robbery, police were able to view the call records from the stolen phone. Seventeen of the calls were made to Esters' girlfriend. (And when those same records showed incoming calls minutes after the August 18 murder, police connected the dots to her, and then to Esters.)
After Esters' arrest for the Boken murder, the August 10 victim's phone was traced directly to him through a gas station where he'd sold it on August 19.
During McKay's trial in December, prosecutors never explained how the phone could have traveled from McKay to Esters. Prosecutors suggested that Esters had bought or stolen the phone from McKay, though they brought no evidence to support that hypothesis. McKay's conviction rested overwhelmingly on the eye-witness testimony of the victim. Depositions confirm that no evidence recovered from the stolen cell phone pointed to McKay.
"Once the victim's mobile phone was recovered, the police were in possession of probable cause and significant evidence against Keith Esters," Ramsey writes in the motion. "Had they arrested Esters, Megan Boken would still be alive. The jury would have been given powerful evidence of a motive by investigators to cover up their lethal mistake by framing another suspect."
Keith Esters' public defender, Annette Llewellyn, declined to comment for this story. Already incarcerated for Boken's murder, Esters is also awaiting further sentencing on yet another robbery in Brentwood on August 12, 2012.
The judge barred McKay's lawyer from presenting evidence that Esters was the true robber. The jury was only allowed to hear some testimony from Esters' girlfriend. However, she was not allowed to mention Esters' last name -- referring to him instead as "Keith" -- and jurors never heard about Esters' robbery spree or the Boken murder.
According to depositions, Esters even offered detectives information on the August 10 robbery, apparently in a failed attempt at a lesser sentence. He told them he was in the immediate area of the robbery and knew who did it, and that it wasn't McKay -- but McKay's jury never heard those details either.
Ramsey's motion argues that it was wrong for the court exclude this evidence. From the motion:
Defendant [McKay] was denied due process of law and this Court committed reversible error in excluding Defendant's evidence that another person, Keith Esters, had the motive and opportunity and did, in fact, commit the robbery. The evidence included testimony from Esters' girlfriend that Esters admitted obtaining the victim's mobile phone and fifty dollars ($50.00) in a robbery and that seventeen (17) calls were made from the said phone after the robbery to Esters' girlfriend.
A spokeswoman for Circuit Attorney Jennifer Joyce says many of the claims made by McKay's attorney in this motion were resolved during the trial last year.
"A jury concluded that the evidence presented at trial proved that Cornell McKay was guilty beyond a reasonable doubt of first-degree robbery and armed criminal action. We stand by the prosecution and the jury's decision," the statement reads.
But problems with McKay's trial is just one part of this story: McKay and his lawyers are also arguing that police intentionally tampered with evidence that could have helped his defense, what's known as a Brady violation.
Continue to read details of McKay's claim that detectives deleted evidence on a robbery victim's recovered cell phone.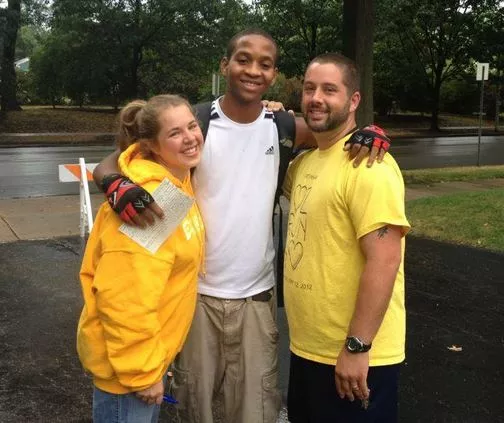 Facebook/Justice for Cornell McKay
Cornell McKay (center) with Pastor Chris Douglas and his wife Tayra in August 2012.
McKay recalls how detectives spent "two days straight" interrogating him after his August 21, 2012 arrest. The arrest warrant was based on a police database search that loosely linked him to another individual called from the stolen cell phone.
"They was trying to get it out of me," McKay says, "They thought with all their heart that I was the dude who is good for this robbery."
McKay remembers how cops told him they had cell phone photos of him that proved his guilt.
"They said, 'We got pictures of you on the phone.' I was like, show me this phone....And they said, 'Oh, the camera was blurry'."
McKay's lawyers want to know for certain if photos were deleted from the victim's cell phone after police recovered it. In the motion, Ramsey points to two conflicting reports written by a parole officer revoking McKay's parole from a previous burglary conviction.
On August 24, 2012, the parole officer noted in his report that he had been informed by prosecutors that McKay's photo was found on the victim's recovered cell phone. But in a "redacted" report, filed a year later, the officer wrote that he had made an error and that, "Police did not find a picture of McKay" on the cell phone.
Ramsey suggests that there could have been photos of Esters on the stolen phone.
"The redacted report does not fully resolve the question of what was found on the cell phone, only stating that there was no picture of 'McKay' on the phone," the motion reads. "The circumstances suggest that there were photographs on the cell phone destroyed or deleted while in possession of the police."
The motion continues: "Any such action would be consistent with evidence suggesting that police framed Defendant to deflect attention from their actions and omissions which resulted in the death of Megan Boken."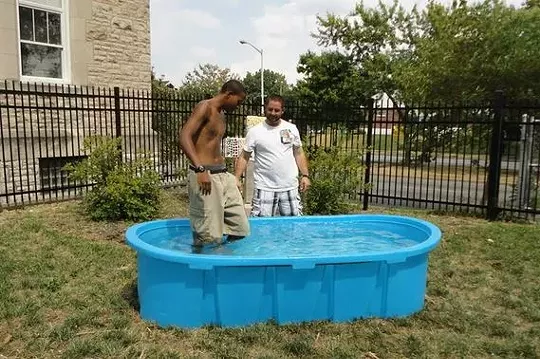 McKay was baptized by Pastor Chris Douglas in early August 2012, as shown in this photo. He was arrested just a few weeks later.
The St. Louis Metropolitan Police Department declined to comment on the motion or the allegations.
McKay's lawyers want to postpone his March 20 sentencing in order to challenge his conviction for armed robbery. As for McKay, he just wishes Esters would step up and admit the truth.
Both Esters and McKay spent more than year locked up in City Justice Center, though it appears Esters was recently moved to another facility. When RFT spoke with McKay last month, he said he attempted sending word to Esters, who was located on a different floor of the Justice Center at the time.
"I'm just telling him, 'Free me up. You're finna get 50 years, man. Just let me go.'"
He says this was Esters' response: "My case ain't your case."
McKay claims he did meet Esters in-person, in a holding cell, days before his trial.
"He said, 'You didn't do it anyway. So if you go to trial you won't even lose out because you didn't do it.'"
But McKay did lose, and now he's facing 10 to 30 years in prison. He still can't wrap his head around it.
"Esters had the phone; his girlfriend got up there [testified] and said he robbed someone for this phone. Esters said 'I was in the immediate area'. We know he did three or four robberies in August.
"When everyone said I was guilty," he continues, "I didn't even have an emotional response. I didn't cry. It really just made me stronger. It let me know how the government really feels about us, for real. Man, they really don't care."
Update: Megan Boken's sister penned a strongly critical letter-to-the editor on the Post-Dispatch's website yesterday. Annie Boken Palazzolo, a New York based lawyer, accuses Ramsey of using her sister's murder "to orchestrate a media circus and gain sympathy for his client."
Palazzolo writes:
There are days when I wish I could turn back time and do something -- anything -- to change Megan's story so she would still be here with us. Dealing with those thoughts is part of the complicated grieving process that follows the sudden, violent loss of a loved one. Ramsey's claim is both traumatizing to our family and disrespectful to Megan's memory. It's time to let my sister rest in peace.
Continue to read the motions made by McKay's lawyers this week to delay sentencing.
Here's the motion that like McKay's lawyers filed this week, requesting a stay of sentencing.
McKay - Motion To Stay Sentencing
This document, labeled "Exhibit A," is a copy of the form McKay's parole officer filed out in August 2012. It mentions that the phone recovered in the August 10 robbery contained photos of McKay.
Exhibit A -- McKay Motion To Stay Sentencing
Here's "Exhibit B," the "redacted" report which states that no photos were found on the recovered cellphone.
Exhibit B -- McKay Motion To Stay Sentencing
Follow Danny Wicentowski on Twitter at @D_Towski. E-mail the author at Danny.Wicentowski@RiverfrontTimes.com