Ryan Miller/Twitter
Meet your new goalie, Blues fans.
If you're a Blues fan, you already know that the Blues just acquired one of the best goalies in the game. The team is obviously serious about making a Stanley Cup run this year, and they got themselves a goalie with the stats and pedigree to take them all the way.
But there's a lot more to know about Ryan Miller other than his puck-stopping ability. Here's what we all should know about the bearded, beanie-wearing goalie who has just made the Blues a serious contender...
5. He's BFF's with Charlie Sheen
Miller is married to actress Noureen DeWulf, a cast member on the TV show Anger Management, which stars Sheen. That means that Miller probably comes in regular contact with Sheen, which apparently hasn't affected his performance. It also means Sheen gets to express his fondness for Miller on Twitter.
In February of last year, Sheen dissed a "dooshy teammate" of Miller for blocking the goalie's view on a goal.
The teammate in question was defenseman Christian Ehrhoff, who responded to Sheen's critique.
A few months later, Miller thanked his movie-star friend with a Sabres jersey.
Despite the bromance with Sheen, Miller didn't do much #WINNING in Buffalo over the past year.
Click on the next page for more important Miller facts...
4. He doesn't mind tweeting hot photos of his wife.
Speaking of Miller's wife, she does some modeling from time to time, and the star goalie isn't afraid to show off the pics, like he did earlier this month when he retweeted Maxim ...
3. He gets sentimental with his face masks
For much of his career, Miller has had the phrase "Matt Man" painted on the back of his helmet to honor his cousin, Matt Schoals, who lost a long battle to cancer in 2007 at the age of eighteen.
Surprisingly, this simple tribute became an issue in 2010 when the International Olympic Committee told Miller he would have to cover up the phrase on his helmet because it violated Rule 51, which forbids any "demonstration or political, religious or racial propaganda in any Olympic sites, venues or other areas." How exactly "Matt Man" violated that rule is unclear, but after Miller contested and explained what it meant to him and his family, the IOC gave in.
Miller also had the phrase "Miller Time" on his helmet, which the IOC did not let him keep -- Blues owner Tom Stillman would probably have agreed.
More recently, Miller got a special face mask for the Winter Olympics in Sochi. And on the back he put himself, his wife, and their dog in the form of Russian Matryoshka dolls.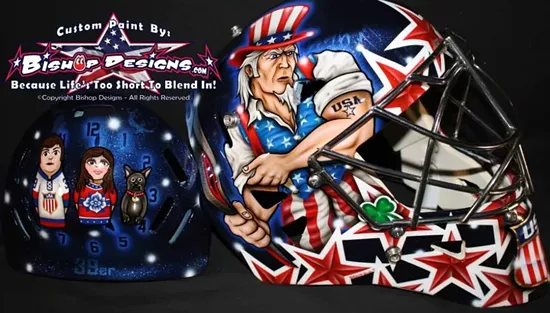 Click on the next page for trash talk and beanies...
2. He doesn't mind a little trash talk.
When Sabres defenseman John Scott called Leafs defenseman Dion Phaneuf a "princess" for getting angry about a bodycheck he endured during a game last November, Miller showed his support by favoriting this tweet.
But Miller doesn't only support mocking opponents in passive-aggressive ways. He can talk his own trash, too, like he did when he called Bruins winger Milan Lucic a "piece of shit" several times.
After getting run over by the burly winger during a 2011 game in Boston, Miller told the Buffalo News what he thought:
"I'm not really going to get into that," Miller said in TD Garden. "I just stuck around because I wanted to say what a piece of shit I think Lucic is. Fifty pounds on me, and he runs me like that? It's unbelievable. Everyone in this city see him as a big, tough, solid player. I respected him for how hard he plays. That was gutless. Gutless. Piece of shit."
Here's what made Miller so mad:
1. The man really likes beanies.
And he apparently wants to carry on the beanie tradition here in St. Louis...
Follow Ray Downs on Twitter:
E-mail him at Ray.Downs@RiverfrontTimes.com.