Jon Gitchoff
Hey, President Obama! Here's why Opening Day should be a national holiday.
If you're a lifelong St. Louisan, it may surprise you to know that Opening Day is not actually a national holiday. It just feels like one here in the Lou.
But two St. Louis institutions -- former Cardinals shortstop Ozzie Smith and Anheuser-Busch -- are petitioning the U.S. government to declare Opening Day an official holiday. They need 100,000 signatures to get an official response from the Obama administration, and after only three days, they're a quarter of the way to their goal.
See also: The Cardinals Get Sexy: Daily RFT's 10 Most-Read St. Louis Sports Stories of 2013
"Opening Day brings with it the promise of a new beginning," Anheuser-Busch writes in the official petition. "Join us in our quest to make sure every American can exercise their inalienable right to celebrate the day those two magical words are uttered for the first time: 'PLAY BALL!'"
Why should Opening Day be a national holiday? Here are ten good reasons:
1. It's America's pastime.
Jon Gitchoff
'Merica, y'all.
There's nothing like a hot dog, a cold beer and a spot in the sun at a baseball game to make you feel like a real American. The United States are all about equal opportunity, and baseball has a place for everyone. Not big enough to play football? Come run the bases. Not tall enough to play basketball? Get a bat in your hands and crouch until your strike zone disappears.
2. St. Louis is basically doing it, anyway, and it's awesome.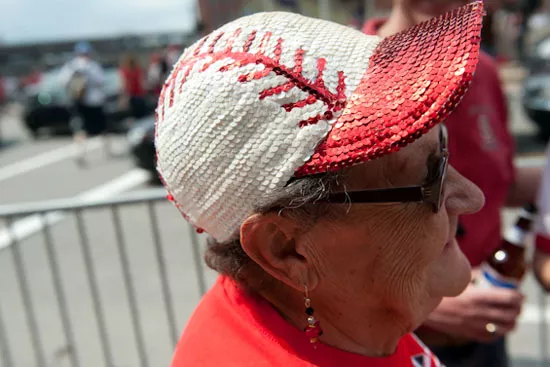 Jon Gitchoff
Showing off her Opening Day bling.
St. Louis has been accidentally been field-testing what it would be like to make Opening Day a national holiday, and so far, the results are outstanding. Bosses look away when their employees take the day off to root, root, root for the home team, and everyone's happier because of it.
See also: Opening Day: Thirty Cardinals Fans Who Are So Excited They Just Can't Handle It
3. A lot of these signatures on the petition are from Cardinals territory.
Jon Gitchoff
Opening Day outfits are better than Halloween costumes.
Have you scrolled through the list of 27,000+ signatures on the petition to make Opening Day a holiday? Many of them come from rural Missouri, eastern Illinois and northern Arkansas, prime Cardinals territory. Redbird fans want this.
4. Because Ozzie Smith says so. Mr. Smith is going to Washington, and we couldn't be happier.
5. So do Howard Johnson, Eric Byrnes and Sean Casey. You don't have to be a Cardinal to get behind making Opening Day a national holiday. After all, the Redbirds need someone to play.
More reasons, on page two. 6. We're on a sports high after the Olympics.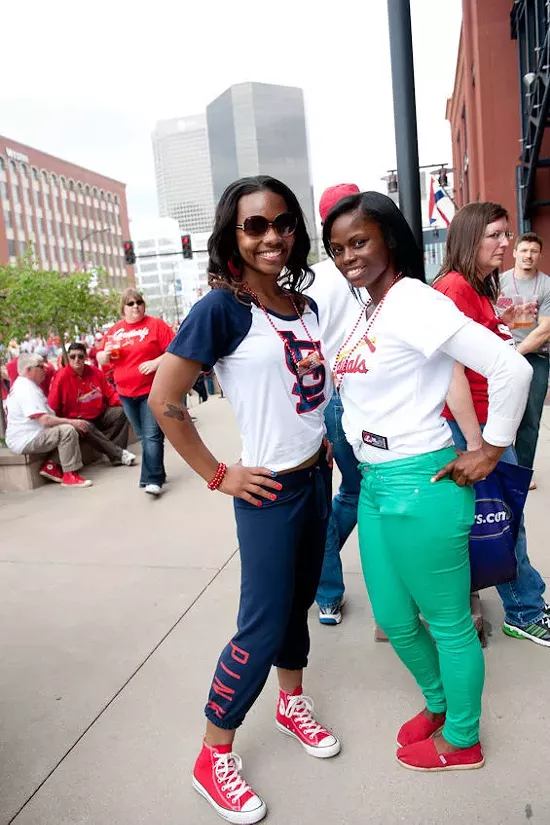 After watching T.J. Oshie and ice dancing and the luge during the 2014 Sochi Winter Olympics, we're feeling particularly enthusiastic about sport's ability to inspire and amaze.
See also: Cardinals Pitcher Michael Wacha Wins 2013 St. Louis Person of the Year
7. Because World Series momentum starts on Day 1.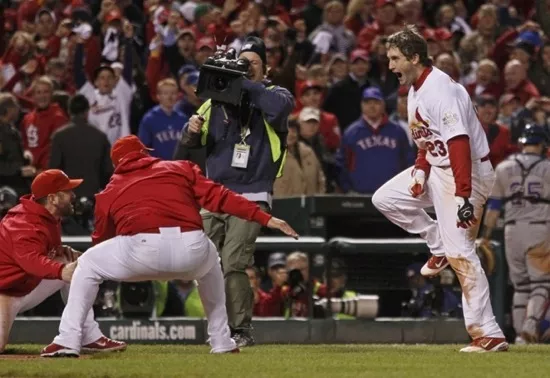 Getty Images via
World Series 2014, here we come.
On Opening Day, the slates are wiped clean. Before the games start, there are no losers or winners. There's only possibility. That's a beautiful thing, but let's be real: here in St. Louis, we want winners. What better way to propel our players to a coveted World Series win than with a full crowd on day one?
8. It would help us get through the winters.
Jon Gitchoff
One day, St. Louis, it WILL be warm enough for this again.
It's been a really, really, really long and depressing winter. We need something to look forward to, a light at the end of the tunnel. Once the winter holiday season is done, there isn't another federal holiday until Memorial Day in late May. We need a day off after all this snow, and March 31, 2014, sounds perfect.
9. We'll take the day off and go drinking at Ballpark Village.
Jon Gitchoff
Go Cards!
We're curious about St. Louis' newest downtown hotspot, so we'd like to try it out on Opening Day. Don't tell our boss.
Follow Lindsay Toler on Twitter at @StLouisLindsay. E-mail the author at Lindsay.Toler@RiverfrontTimes.com.