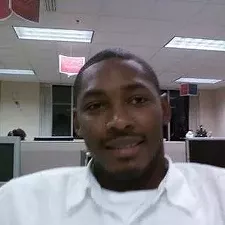 Facebook
Stephon Averyhart
Did Stephon Averyhart really point a gun at two St. Louis police officers?
The St. Louis Police Department says he did -- and that's why they shot him to death.
But the 27-year-old's family says he was just running away because he was a constant target for traffic cops and, with a few traffic-ticket warrants on his record that he had trouble trying to pay, he took his chances and ran instead of getting yet another one.
Cops say he pulled a gun on them. Averyhart's family say that's absurd, given the car mechanic's nonviolent character and his unnecessary need to escalate things to that level. He's never been a violent criminal, they say. Just one with a bad driving record.
Here's what the police say happened on February 12: Averyhart refused to pull over his car and led police on a short chase. To force him to stop, a spiked barricade was placed on the street, causing Averyhart's tires to blow out and send his car crashing into a pole. See also: Police Shoot, Kill Wanted Suspect Stephon Averyhart After Back-Alley Chase
He then hobbled out of the vehicle with a gun in his hand and ran into an alley with two cops chasing after him on foot. When the cops turned a corner, they claim to have seen Averyhart pointing a gun at them. "In fear for their lives," they opened fire, shooting him multiple times, including once in the head.
Police say they found "narcotics" on the scene. The St. Louis Police Department is unable to confirm to Daily RFT what type of narcotics Averyhart had when he was killed, explaining they need to get back results -- a typical procedure in all drug cases.
The only evidence of drugs on his rap sheet is a misdemeanor bust (less than 35 grams) for marijuana from March, 2013.
Averyhart's family say they believe what the police say up until the point of the shooting. What they don't believe is that Averyhart ever pointed a gun at the police. He wasn't a "wanted felon" as media reports described him, based on police press releases, after the shooting. All he had was a few warrants for unpaid traffic tickets. And Averyhart's family says pointing a gun at police just wasn't in him.
Rather, they say, a more likely scenario is that when the cops turned the corner and saw Averyhart, they shot first and asked questions later.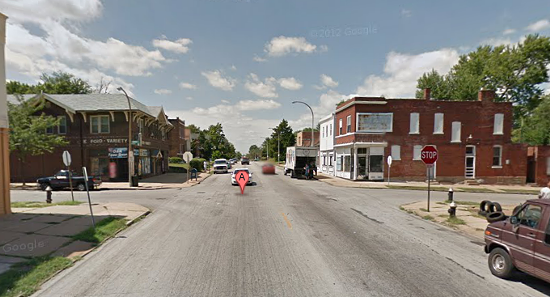 Google Maps
Harney Avenue and Union Boulevard, near where the shooting took place.
"I could believe him running from the police because he had tickets and he was tired of police harassing him," says Stacie Hill, Averyhart's mother. "But shoot at the police? My son may have done some things wrong like evading police for tickets and a little weed, but that's just not who he was."
As for the gun, Averyhart's cousin, Precious Hill, says he sometimes carried a gun because he worked as a mechanic and had been a robbery victim in the past.
"He carried a gun to protect himself when he was working. That's it," she says. "And if he did have one on him, he would have thrown it when he was running."
In fact, Averyhart's mechanic work is another reason why they don't believe he would do something so stupid as pointing a gun at police: He had been working over the past year to get his mechanic business going and had been saving up money to rent a permanent location to work from.
"What kind of person who does that goes around shooting at police?" Precious Hill says.
On his Facebook page, Averyhart posted an ad that advertises his services:
Facebook
Averyhart had been recently trying to get a mechanic business going, his family says.
His mother says he had a passion for cars, but he would often get pulled over for an array of reasons. That passion, she says, led to his death.
"Cars were his first love. I mean, he just loved cars, so he drove fast and he would get tickets," Stacie Hill explains. "He also got tickets for playing music too loud, and because he drove an 'old school.' Whenever police see an old-school car, they think you're doing something wrong. He was always getting harassed by the police."
She added: "His downfall was he was always driving fast. That's what he did."
Averyhart's rap sheet didn't have a single violent crime, but he did have several unpaid traffic tickets and driving with a suspended license, some of which turned into warrants. He also had that under 35 grams of marijuana misdemeanor charge mentioned previously, for which he had to serve 60 days in jail.
See also: St. Louis County Police Shoot, Kill Andrew Bush After He Allegedly Points Assault Rifle At Them
But according to Averyhart's mother, he had been working to pay off the outstanding fines. At one point, she says, he had fines in 21 different places, but recently got that down to 4.
"That shows he was working on them," she says, adding that he was late on payments when mechanical work was slow.
Stacie Hill and other family and friends of Averyhart believe he was tired of getting tickets, so he ran. It might not have been the right decision, they say, but he didn't deserve to get killed for it.
"I'm not the type to hold up my son when he does wrong, or try to say my son was such a great, great person. But my son was a good person," says Stacie Hill.
She adds: "If he was a thug and out there killing people and selling dope and robbing people, then I would say he got what he was looking for because that was the situation he put himself in. But he wasn't. My son didn't point a gun at the police."
Averyhart's family says they want answers.
The City of St. Louis Police Department tells us the shooting is still under investigation.
Follow Ray Downs on Twitter:
E-mail him at Ray.Downs@RiverfrontTimes.com.