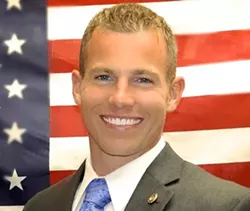 Missouri got another ribbing from the Daily Show with Jon Stewart last week, this time for a bill before the Missouri Legislature that would allow parents to remove their children from science class during lessons about evolution. (Watch the video from the Daily Show on the next page.)
Republican Representative Rick Brattin sponsored the bill, which requires schools to alert parents when evolution will be on the syllabus and to permit parents to remove students from class.
The bill isn't far off from one Brattin has filed three separate times that would require Missouri teachers to give equal instructional time to both evolution and creationism.
"There's so much of the theory of evolution that is being taught as fact...things like the primordial ooze," Brattin told Daily RFT last year. Brattin calls himself a "science buff" and denies that his bills to strengthen intelligent design instruction have to do with religion.
See also: Rick Brattin, Who Wants Anti-Evolution Lessons In Missouri Schools: "I'm A Science Enthusiast"
"This isn't preaching that God designed this," Brattin says. "The naysayers keep involving religion. This has to do with science. This is about testable data in today's world."
loganinsky on flickr
Oh, are you teaching about evolution? One sec, let's get all the creationism kids out of here...
Brattin's new bill, House Bill 1472, requires schools to create a parental notification "mechanism" so parents will know to take their children out of school before lessons about evolutionary biology or natural selection.
But experts say evolution plays such a key role in biology that Brattin's bill would practically void students' educations.
See also: Akin: Evolution is "Not Even A Matter of Science"
"House Bill 1472 would eviscerate the teaching of biology in Missouri, says Glenn Branch, the deputy director for the National Center for Science Education, on the center's website. "There simply is no alternative to learning about it; there is no substitute activity. A teacher who tries to present biology without mentioning evolution is like a director trying to produce Hamlet without casting the prince."
Branch says removing evolution from the syllabus for children whose parents utilize Brattin's proposed law would "degrade" the value of a Missouri high school education.
Want to see Jon Stewart make fun of House Bill 1472? Continue to the next page. Brattin's bill made it onto the Daily Show last week. Stewart made fun of the bill as a way to "punish" students' brains.
House Bill 1472 is not yet scheduled for discussion in the Missouri Legislature. His previous bills about evolution died.
Follow Lindsay Toler on Twitter at @StLouisLindsay. E-mail the author at Lindsay.Toler@RiverfrontTimes.com.