Photos by Jon Gitchoff
"What is going on? Maybe I can take this stuff off with my tongue."
Is there anything better than combining dog costumes and day drinking? St. Louis is the best.
Thousands of dogs -- as well as cats, rabbits and their human friends -- got all dressed up to strut their stuff at the 21st annual Beggin' Pet Parade on Sunday. Bravo TV exec and Clayton native Andy Cohen led the parade as Grand Marshall, while Barenaked Ladies performed a post-parade concert.
Riverfront Times sent a photographer to the parade to capture a slideshow of adorable and well-dressed pets celebrating Mardi Gras.
But Daily RFT couldn't help but notice, there are a few dogs in there who seem totally bewildered to be wearing a mohawk or dressed as a rally squirrel. Here are Daily RFT's favorite photos of adorably-costumed dogs that just do not get what is going on:
Photos by Jon Gitchoff
"I'm curious to know why the **** I'm dressed like Curious George."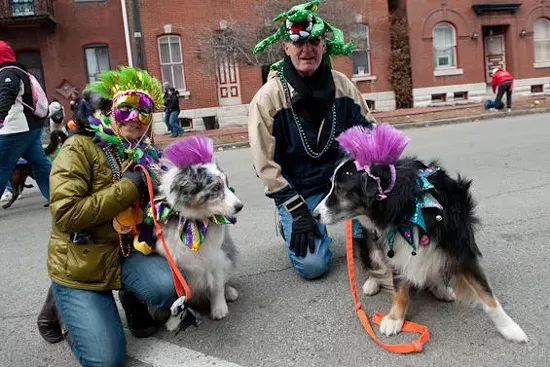 "Do you know why they dressed us like this??"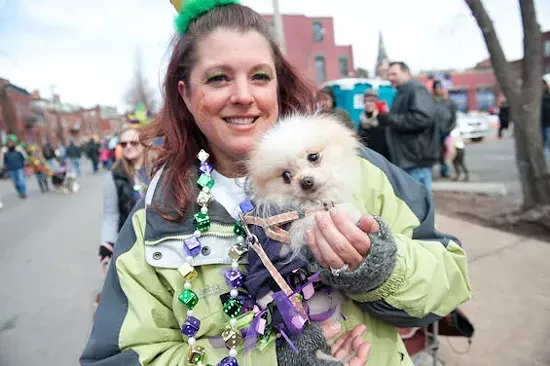 "I have to do WHAT to get beads?"
See MANY more adorably confused dogs on the next page.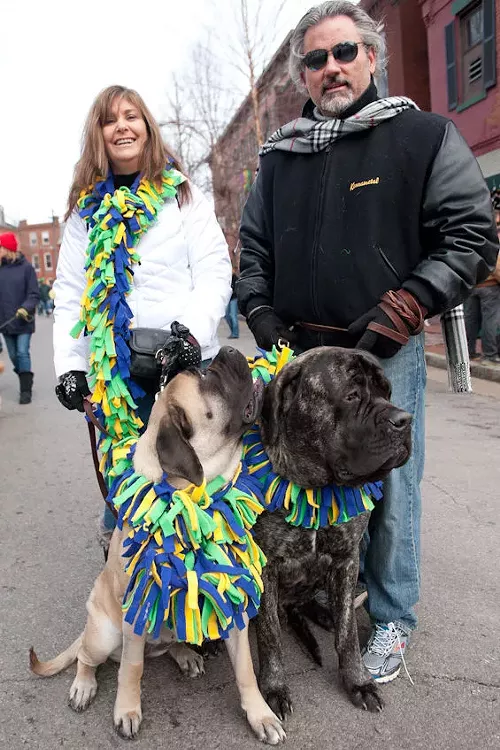 "I'm trying to ask him why we're wearing these, dude, but he won't look at me!"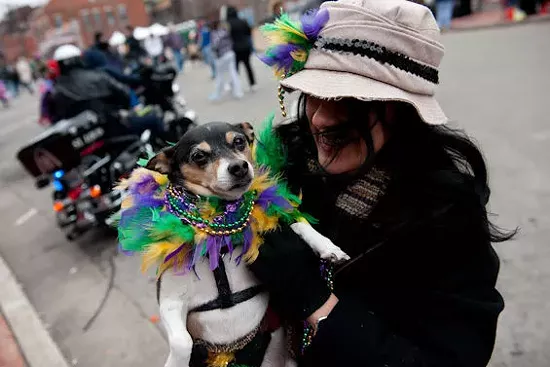 "I just want to rip this feather boa apart with my teeth!"
"What? Why is everyone looking at me?"
"You know I'm a dog and I don't watch movies, right? So what I'm I wearing again?"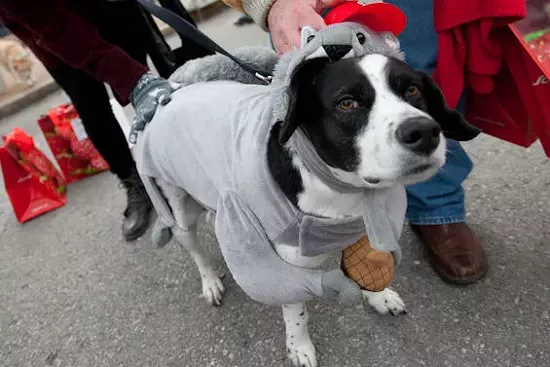 "I'm a squirrel? But I chase those. I don't get it."
Not all the dogs seemed confused by the costumes, though. This little bit is showing Bravo TV executive Andy Cohen just how much he loves it.
"Are you going to tweet this, Andy?"
Follow Lindsay Toler on Twitter at @StLouisLindsay. E-mail the author at Lindsay.Toler@RiverfrontTimes.com.