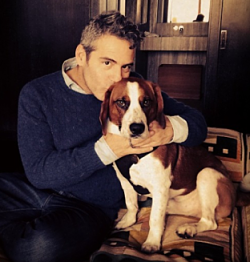 bravoandy | Instagram
It's puppy love for Andy Cohen and Wacha.
Bravo executive Andy Cohen might live in New York City, but he's still got provel running through his veins. The St. Louis native will be back in town to prove it this Sunday, Feb. 23, when he serves as grand marshall and host of the 21st annual Beggin' Pet Parade in the Soulard neighborhood, the Gateway City's Mardi Gras headquarters. Cohen will lead parade festivities before ceding the spotlight to musical guest Barenaked Ladies.
A longtime producer for the Bravo cable network, Cohen has overseen some of the pulpiest reality programming of the past decade. Cohen's Real Housewives franchise and spinoffs habitually are the center of watercooler talk, and Housewives reunion shows eventually led the Clayton High School grad to create and host Watch What Happens Live, late night's only live, interactive talk show.
To celebrate Cohen's return home, Beggin' (a brand of dog treats from St. Louis-based Nestlé Purina PetCare) and Cohen joined forces for a Twitter chat, welcoming questions from dog lovers and Cohen enthusiasts. Here's what we learned about @Andy from the #BegginPetParadeChat, which made it to Twitter's "trending" leaderboard:
WACHA THE PUP
Befitting a pet parade leader, Cohen adopted an adorable beagle-foxhound mix last fall and named him Wacha after the St. Louis Cardinals pitcher Michael Wacha. Cohen said that he isn't ready for a second pup just yet, but he's got another Cardinals moniker on standby:
During the chat, Cohen shared that Wacha follows him into the bathroom, loves snow and doggie peanut butter and soon will have a playdate with Tonight Show host Jimmy Fallon's pooch (Cohen will make a Tonight Show appearance in a few weeks).
But what does Cohen fear most from his new pup?
We can't believe that a dog this cute would ever do such a thing:
Then again, if Wacha keeps watching Real Housewives, he might end up as a memorable cast member:
Continue for Cohen's thoughts on parade attire and dating possibilities.
ST. LOUIS ROOTS
Despite living in New York City now, Cohen still visits the Gateway City and often can be seen at St. Louis Cardinals games. You know -- just hanging out with Tony LaRussa and Jim Edmonds, like we all do:
He doesn't have much time when he's in town, however; he told us that he mainly just sleeps. Cohen did surmise that he'd be better at the "Art Hill skeleton" instead of the "South City luge" in our St. Louis Olympics, though. He's already got the gear for it:
Cohen is looking forward to being the grand marshall of the Beggin' Pet Parade in Soulard on Sunday, but he hasn't talked to wardrobe yet:
Unfortunately, he won't be able to hang out in St. Louis after the parade. We guess filming Watch What Happens Later is a decent enough reason:
"SPEEDO" DATING
Cohen's Twitter followers had plenty of questions about his love life. For the record, Cohen is single but said that he'd had a "great date" the previous evening. That might spell trouble for one lady who wants to fix Cohen up with fashion designer Tom Ford, but there's probably no room in Cohen's bed, anyway, thanks to Wacha:
Still, Cohen's in fine shape, and people wanted to see the goods:
In case you missed it, Cohen had posted a very special #ThrowbackThursday photo to his Instagram account in September:
The Beggin' Pet Parade steps off at 1 p.m., with the Barenaked Ladies taking the stage at 2:30 p.m. For the parade route and additional activities, visit Mardi Gras Inc.
Follow Allison Babka on Twitter at @ambabka. E-mail the author at allison.babka@riverfronttimes.com.