Republican State Senator Brian Nieves doesn't shirk from hitting below-the-belt. The pro-gun politician's latest opponent, however, is the National Rifle Association.
"The NRA is using the same inappropriate, dishonest, and disgusting tactics we only expect from the left!!" he wrote in a Feburary 15 post on his Facebook page. "They are attacking Senate Bill 613, Missouri's Second Amendment Preservation Act, based on LIES!"
Responding to pressure from the NRA, Missouri's Republican-dominated Senate voted yesterday to cut a Democratic amendment from Nieves' extreme pro-gun bill, SB 613. The amendment would have required gun owners report a stolen firearm within 72 hours.
See also: NRA "Misfire" Unites Two Opposing MO Senators To Defend Gun Bill Amendment
The amendment, offered by Democrat Jamilah Nasheed, was essentially symbolic and contained no provisions for enforcement. Nasheed previously sponsored a separate bill that also mandated the reporting of lost or stolen firearms, but with criminal penalties attached.
The NRA, however, denounced the toothless amendment in SB 613 in a February 12 statement, claiming it would "create a de-facto gun owner registry." The statement incorrectly asserted that the amendment would charge gun owners with a crime for not reporting lost or stolen firearms.
The larger bill, SB 613, seeks to nullify federal gun laws and would impose criminal charges against federal agents trying to enforce them within Missouri.
Nieves and Nasheed during a joint press conference last week.
See also: New Gun Bill: State Lawmakers Try Again To Nullify Federal Firearms Laws
At first, Nieves tried using a conciliatory tone with the NRA. He touted his long relationship with the powerful lobbying group, telling reporters that he hoped the NRA would soon recognize the obvious error and retract its opposition. But that did not happen.
After the amendment was cut by senate republicans yesterday, the NRA released a new statement withdrawing its opposition to the gun bill, writing that "NRA-ILA is neutral once again on Senate Bill 613."
In an emailed statement to Daily RFT, NRA director of state and local affairs Chuck Cunningham reiterated the group's neutral stance.
"We did not support Senate Bill 613 before the Nasheed amendment was adopted and still take no position on it now that that amendment was removed - just as we did on House Bill 436 last year."
Noticeably absent in the NRA's statements, however, was the correction Nieves was hoping for. The organization has made no mention of the factual error contained in its first press release, where it accused the SB 613 of containing an "anti-gun" amendment with actual enforcement behind it.
The Second Amendment Preservation Act will go through one more vote in the Senate. If fully approved, it will then move to the House.
See also: Does Missouri Have "Most Extreme" States' Rights Push? Federal Gun Laws Ban Scrutinized
Though the kerfuffle between Nieves and NRA made some interesting headlines (and a bizarre press conference), it's worth noting that the Missouri legislature is speeding toward another showdown with Governor Jay Nixon, who vetoed a similar nullification bill last year.
This year, it's not just federal gun regulations at stake. The broader push to nullify federal laws in Missouri has grown considerably. Nieves has introduced a constitutional amendment, SJR 38, that would nullify a host of federal laws including gun regulation, abortion and even the designation of hate crimes.
Continue for more news on nullification in Missouri, and the debate over the Tenth Amendment...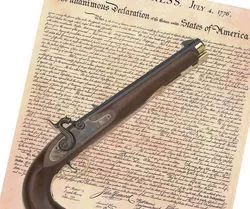 See also: GunBusters Firearms Pulverizer: Chesterfield Machine Destroys Confiscated Guns (VIDEOS)
In the House, Republican Representative Chrissy Sommer introduced a bill in January that would create a Committee on the Tenth Amendment, to "Identify proposed federal legislation that infringes on Missouri's state sovereignty under the Tenth Amendment to the United States Constitution."
The Tenth Amendment of the U.S. Constitution states:
"The powers not delegated to the United States by the Constitution, nor prohibited by it to the States, are reserved to the States respectively, or to the people."
That small paragraph has spawned a cottage industry of libertarian and anti-government advocates, "Tenthers," who argue that states possess the legitimate and even legal right to nullify federal law.
Mike Maharrey, national communications director for the Tenth Amendment Center, concedes that parts of Missouri's nullification bill (like the criminal charges against federal agents enforcing gun laws) may get struck down by a court.
"I don't know how the courts would handle every aspect of the Missouri Second Amendment Preservation Act, but...if the courts would block the criminal penalties, the rest would remain," says Maharrey. "I'm convinced and 100 percent sure that the state cannot be required to enforce federal gun laws."
However, Burt Newman, a lawyer and adjunct professor at Washington University, says the legal arguments of Maherry and those like him are fundamentally flawed.
"He's wrong," Newman says flatly. "No court has ever brought this nullification principle and allowed it to stand in relation to a federal law."
Newman, who is married to anti-gun State Representative Stacey Newman, says these arguments for state supremacy don't stop at gun laws -- "What they're talking about is anarchy," he says.
"This goes to the heart of our country," Newman continues. "If one state can pick whatever federal laws it intends to pass, we will, in a relatively short amount of time, have chaos. Every state will be going by a difference set of rules and there will be no consistency. States wouldn't be able to trade with each other. Which state is going to decide that it's not going to pay federal taxes?"
Follow Danny Wicentowski on Twitter at @D_Towski. E-mail the author at Danny.Wicentowski@RiverfrontTimes.com