Investments in tech startups doubled in 2013, according to ITEN.
There's more money pouring into to St. Louis' tech startup scene, and it's bringing workers from the U.S. and abroad to the city, says a new report.
Financial investments into tech startups doubled in 2013 to more than $66 million from $30 million in 2012, and more local startups received funding than ever before, the IT Entrepreneurial Network (ITEN) says in a new report.
The year 2013 saw an upswing in funding and community partnerships, which means the tech scene in St. Louis "is growing into its adolescence, and after a thorough exam, it appears to be an increasingly healthy ecosystem," says the St. Louis Tech Startup Report.
See also: St. Louis Tech Startup Scene Has Gone Through "Explosive Growth," Report Says
We may not be Silicon Valley, but ITEN says the collaboration and support available to new startups sets St. Louis apart.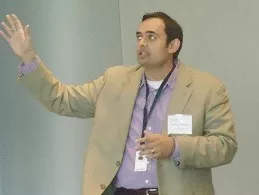 ITEN
Francis Chmelir, director of operations at ITEN.
"People are stepping up and seeing entrepreneurs and the innovation sector as important for growing long-term here in the region, and that message is starting to resonate," says Francis Chmelir, director of operations at ITEN. "[St. Louis] is going to be our own unique entity, no matter what happens. The important thing is that we do as good a job as possible utilizing the local resources we have here."
See also: Launch Code: How 42 "Unqualified" People Landed Dream Tech Jobs in St. Louis
Those local St. Louis resources include Arch Grants, which fund startups in St. Louis, and Cortex, a high-density innovation hub bordered by Washington University and St. Louis University, ITEN says.
Half of the founders behind local startups are from St. Louis or the state of Missouri, but the rest brought their big ideas here from another city in the U.S. or from abroad. Five percent of the founders are from Latin America, and three percent are from Asia, according to the report.
Those transplants "tend to fall in love with the city," Chmelir says. "They tend to be ecstatic about the amount of support that is here. We are doing a very good job with people who are coming from outside the region. I think that's really a strength."
Continue reading to see why community partnerships matter to entreprenuers.
skyfaller on flickr
St. Louis needs more computer programmers.
A thriving ecosystem that matches startups with community partners -- like universities, training programs, business incubators and local governments -- is vital to a new tech company's success, say local entrepreneurs.
"To be able to actually reach out to someone who has built a startup here in this community, who knows the sources of funding, who knows people who will give honest advice -- all of those things have been wonderful," says Matt Homann, the founder of Invisible Girlfriend and Invisible Boyfriend, an app that creates a fake-but-believable lover for clients to show parents, co-workers or nosy exes.
"Startups are a different business than opening up a shop down the street. There aren't as many obvious models from which you can base your business."
Homann's team is new to the startup game, and he says he's been surprised at how helpful connected the scene is here...with one big exception: developers. There's a shortage of trained, accredited computer developers in the Lou, so the companies that find them hold on to them, Homann says.
Luckily, there's a community partnership for that, too. When Square co-founder Jim McKelvey settled his headquarters in San Francisco instead of his native St. Louis because of the paucity of developers, he founded Launch Code, which trains new developers and matches them with apprenticeships.
Tech startups added 827 jobs to the local economy in 2013, compared to 835 in 2012, according to the report.
Follow Lindsay Toler on Twitter at @StLouisLindsay. E-mail the author at Lindsay.Toler@RiverfrontTimes.com.