Paul Sableman, Flickr
The Tivoli Theatre, where John Thompson became famous in St. Louis for his bright smile and kind heart.
The Tivoli Theatre experience will never be the same again.
The Loop's favorite ticket taker, John Thompson, died of a heart attack at the age of 74 Wednesday, devastating the film buffs and neighborhood regulars who came to know him as the kindest man in St. Louis.
"He warmed the hearts of tens of thousands of people who came to the Tivoli Theatre and to the Loop," says Joe Edwards, the owner of some of the Loop's signature spots, including Blueberry Hill and the Moonrise Hotel. "Everybody knew him. In addition to greeting people, he made their lives brighter."
See also: 20 Signs You Spend Too Much Time in the Loop
Lindsay Toler
A small remembrance for John Thompson in the box office of the Tivoli Theatre.
Thompson perfected the art of going the extra mile during his 35 years at the Tivoli. He was famous for feeding patrons' meters, walking them to their cars and passing out umbrellas when it rained.
"He was just always thinking about everybody else, always doing things for everyone," says Laura Resnick, the theater manager, who knew Thompson for 35 years. "That's what he aspired to be, a good person. And boy, did he do it."
Thompson landed the greeter gig by bugging Resnick's brother, Alan, who was then the manager, for a job every time he came to the movies -- which was often. Alan brushed him off, his sister says, by telling him he only hired cute young girls.
"John [Thompson] finally talked him into it, and he worked here ever since," Resnick remembers.
The theater posted a small remembrance -- a poster and a candy rose -- in the ticket booth in Thompson's honor. Resnick says she's waiting for approval from the family to put something about his death on the marquee he loved so much.
In his final years, Thompson's life took a happy turn when he met his wife, Fran, five years ago. She was a film buff herself, "so of course John [Thompson] had a crush on her," says Resnick.
Continue reading for more about Thompson's life-changing love.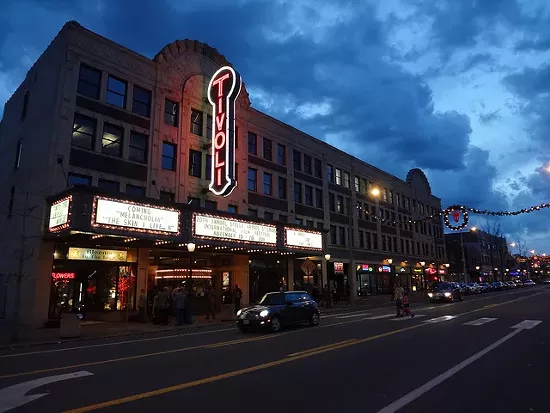 Paul Sableman, Flickr
The Tivoli Theatre, with its sort-of new sign.
After a lifetime of clocking 75-hour work weeks as a greeter and doorman, Thompson's life changed when he met Fran, friends say. He started cutting back on hours to spend time with her, playing with her eleven grandchildren, riding bikes in Forest Park and even taking European vacations.
"It was wonderful to see him that happy," Resnick says.
See also: Fashion Boutique Ziezo in the Delmar Loop to Close After 30 Years
The years he worked at the Tivoli were transformative for the theater, which came under such disrepair that it closed in 1994. Edwards bought the building and restored it to its 1920s glory, even rebuilding the iconic vertical sign out front to within a quarter inch of the original, which was destroyed.
"That was a sign to the whole metropolitan community that the Loop was back to stay after so many years in decline," Edwards tells Daily RFT. The community held a parade on Delmar Boulevard to celebrate the reopening of the theater.
"John [Thompson] smiled more that night than in a long time," Edwards says. "Then he came right back to work."
Thompson's trademark vest and his tie -- which was made of film -- still sits on his shelf at the Tivoli as a spontaneous memorial.
"I don't know of anybody else like John [Thompson] in modern times," Edwards says.
"He was always sincerely happy to see somebody and say, 'Hello, welcome to the Tivoli.'"
Follow Lindsay Toler on Twitter at @StLouisLindsay. E-mail the author at Lindsay.Toler@RiverfrontTimes.com.