Courtesy LaQonna Anderson
Back in September, Riverfront Times published a feature story titled "The (Extremely) Long (and Sometimes Forgetful) Arm of the Law." It told the story of Cornealious Michael Anderson, or Mike, as he's known to friends and family. Anderson was convicted in 2000 of armed robbery and sentenced to thirteen years in prison. He appealed several times, and during that process he posted bond and went home. When his appeals ultimately failed, law enforcement should have re-arrested him and taken him to prison to serve his sentence. But for reasons that are still unclear, that didn't happen. Anderson remained free.
In that time he didn't change his name, move away or in any other way evade capture -- there was simply no one looking for him. Instead he got married, became a father of four, a homeowner and a master carpenter living in a home he built himself in Webster Groves.
A version of the story airs this weekend on the national radio show This American Life. What follows is an epilogue of sorts ahead of the broadcast: Everything we've learned about Anderson's case since our story was published in September, including what became of the victim of the 1999 robbery.
If you missed the feature, click here to read it and catch up on the details. When the story left off, Anderson was at Fulton Reception and Diagnostic, a penitentiary about two hours west of St. Louis. The facility is like a way station for prisoners entering the Missouri correctional system -- after an intake process that can take several weeks or months, inmates are assigned a permanent prison "home." When we last spoke to Anderson, he'd been at Fulton about two months. He didn't have an attorney, nor was it certain whether he had any legal recourse.
Since then Anderson's family hired Patrick Michael Megaro, a Florida-based attorney who specializes in post-conviction appeals.
Jessica Lussenhop
Fulton Reception and Diagnostic Center in Fulton, Missouri.
"It's still kind of unclear to me how he fell through the cracks," says Megaro. "I don't think any of it is attributable to him at all. I think what happened is there was a clerical error, and the Missouri Department of Corrections figured they had a prisoner in their custody. Nobody double-checked, and nobody paid attention to the case after he'd gone through all of his appeals."
In November the Missouri Department of Corrections moved Anderson to a permanent prison -- Southeast Correctional Center, about two and a half hours south of St. Louis. On December 30, 2013, Megaro filed a petition for a writ of habeas corpus with the warden of Southeast Correctional, challenging the state of Missouri's right to hold Anderson. The petition makes two arguments -- first, that making Anderson serve his sentence thirteen years after the fact is a violation of due process, and second, taking him away from the productive life he was able to make for himself in those ensuing years constitutes cruel and unusual punishment:
Petitioner was left alone by the State of Missouri for 13 years and led to believe that the State had given up on execution of the judgment. To require this man to now begin serving a sentence in 2013 that should have been completed in 2013 is in essence to double his sentence. However, it was particularly cruel and unusual to allow him to believe that the State had given him reprieve to one day, out of the blue, knock down his door and take his entire life away 13 years after the fact...To call this situation unusual is an understatement. The very nature of doubling a man's sentence because of the State's failure to act and gross negligence, to give this man hope because of the State's utter and complete failure to act, defines cruelty. As a result, this Court should grant this petition.
Because the petition is filed against the warden of the prison, the Missouri Department of Corrections is represented by Attorney General Chris Koster. A spokeswoman for Koster declined to comment on pending litigation, and right now the petition is before a judge in Mississippi County. There are no hearings currently scheduled.
If the judge denies Anderson's petition, Megaro says he plans to appeal.
"This is not going to be a cakewalk by any stretch of the imagination. We're going to be creating new law in the state of Missouri," says Megaro. "This is going to be a precedent-setting case. Now, I doubt that this scenario is bound to repeat itself...as far as I can tell this has never been reported in the state in Missouri and not reported much throughout the country -- the history of the country."
Next, find out how the victim of the original robbery felt when he learned that Anderson never served his sentence. And click all the way through to view a complete copy of Anderson's petition for a write of habeas corpus. While putting together our original story, the fact that the crime happened so long ago presented certain reporting challenges. Although the St. Charles Police Department records and investigative notes about the robbery in 1999 are public, none of the contact information for anyone interviewed was current. It was important to us to try to contact the victim of the robbery, but we were unsuccessful.
Instead, the victim found us.
Two days after the story published, we received an e-mail with the subject line, "man that robbed the burger king man." "Just to let you know that I was that victim. Why don't you talk to me and I will tell you how bad it screwed up my life," it read.
His name is Dennis -- we've agreed to use only his first name.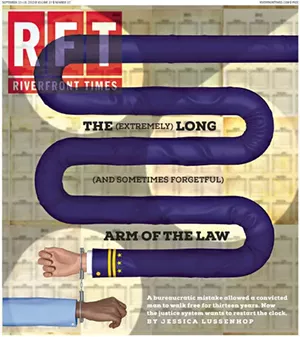 "I got cigarettes and picked up the Riverfront Times...and I was sitting there back at work eating my lunch and reading this magazine," he says. "About halfway through I realized they were talking about me. The guy was a Burger King manager on a night shift, and he got robbed in St. Charles, and that's when I was like, 'Damn, that's the same thing that happened to me.'"
After the robbery in 1999, Dennis quit his job at Burger King and became increasingly paranoid that the men who'd held him up would find him and try to prevent him from testifying. He had a wife and small children, and he says he made them move more than once. But that didn't seem to calm his nerves.
"Once this happened, I shut everything out around me. Didn't care," he says. "I didn't want to be involved in anything. Stayed away from home, stayed away from the kids or the old lady. Would not even come home. Go get shitfaced, pretty much."
Eventually, after his marriage broke up, Dennis moved to Florida to be near his brother. About six years ago, he decided to come back so his now-teenage daughter could be closer to his ex. He says he mostly forgot about the robbery -- until he read about it in the RFT. Naturally, he'd just assumed that after the trial, Anderson went to prison.
"There are so many cracks he fell through -- how could that be possible?" Dennis asks.
In our first conversation with Dennis, he seemed angry at Anderson. But by the time we met him in person, he had a new, more surprising reaction.
"I think what really pissed me off is how our government dropped the ball. They didn't do what they were supposed to do. They were supposed to make sure he went to jail," he says. "[Mike] screwed up and he was supposed to pay for it. Our government screwed up. Who's paying for that? Does he have to pay for that again? Doesn't seem right."
Dennis shared another surprising anecdote -- his daughter read the story in a high school class, not knowing that her dad was the victim of the robbery. When she came home and started talking about it, Dennis let her tell him her conclusion -- that Anderson should get to go home -- before he revealed he was the Burger King manager.
"She sat down at her bed and was like, 'No way.' And I said, 'Read it,'" says Dennis. "Then she asked me my opinion and I told her pretty much.... 'They should let him go.'"
Dennis told Riverfront Times that although he has no interest in meeting Anderson or corresponding with him, he would be open to filing a letter with the courts stating that he believes Anderson should go home.
Tune in this weekend to 90.7 St. Louis Public Radio to hear Anderson and Dennis tell the story themselves. This American Life airs locally at 1 p.m. Saturday and 6 p.m. on Sunday.
After the jump, read Anderson's petition for release.
Mike Anderson Missouri Petition Redacted
Follow Jessica Lussenhop on Twitter at @Lussenpop. E-mail the author at Jessica.Lussenhop@RiverfrontTimes.com.