Rep. Stan Cox is hard on drugs.
State Rep. Stanley Cox says he wants to improve Missouri's criminal code, as long as those improvements don't include more lenient marijuana laws.
And if there's anybody who knows how harsh Missouri's drug laws are, it's Cox -- he was one of the attorneys involved in the case of Jeff Mizanskey, Missouri's only inmate serving life without parole for marijuana charges.
The Republican from Sedalia is upset that within a 1,000-page bill is a little piece of legislation that would reduce the penalty for possessing less than 35 grams of marijuana for nonviolent, first-time offenders. Under the proposed legislation, the maximum penalty one would receive is a $500 fine. Under current law, offenders face one year in prison.
Cox tells Daily RFT that he doesn't want the marijuana laws to change. But if lawmakers want to debate changing them, they should vote solely on the marijuana laws themselves, not make changes by including them in a massive bill.
"I think punishment should be the same as it is today until the General Assembly votes up and down to change it," Cox says. "I think it's a cowardly thing to do to include in a 1,000-page bill on a controversial issue that you're not willing to vote on up and down specifically. And my argument is there should be an up and down vote on reducing the crime of possession of drugs."
See also: St. Louisan Owns Marijuana Dispensary in Colorado and Hopes Missouri Legalizes, Too
Cox just wants transparency, he adds: "When [voters] elect people and send them to Jefferson City, we should know what our representatives are doing for us."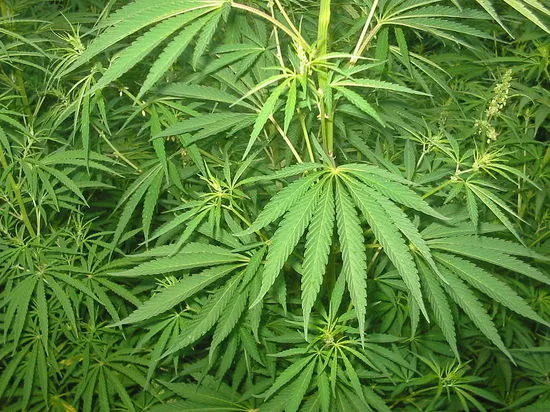 Wikimedia/Bogdan
Cox says, "Just say no."
Cox's views on marijuana laws are noteworthy. Not only is he the head of the House Judiciary Committee, but the attorney-turned-lawmaker has worked marijuana cases as the Pettis County prosecutor between 1979 and 1982 and as a defense attorney in private practice. Most notably, in 1993 he represented Atilano Quintana, the co-defendent in the Jeff Mizanskey case, which has been extensively covered in the Riverfront Times.
Many people around Missouri, as well as the country, have expressed outrage over Mizanskey -- the only inmate in Missouri serving a life without parole sentence for solely marijuana charges. We asked Cox if he thinks Mizanskey's sentence was fair and is a good policy to have in the Show-Me state.
Click on the next page to read what Cox says about the Mizanskey case...
"Jeff Mizanskey is there because he had multiple sales of drugs, including 100 pounds of marijuana the last time. It was a big, god-awful amount of marijuana," Cox says, incorrectly insisting that Mizanskey was on trial for 100 pounds of pot and was the focus of the sting operation (Cox was fuzzy on the details and couldn't remember Quintana's name or the decade the trial occurred in. To be fair, it was twenty years ago and that's a long time -- just ask Mizanskey.)
Kholood Eid
Mizanskey has been in prison for twenty years. His co-defendant, whom Cox represented, received ten years.
See also: How a Missouri Man Could Die in Prison for Weed
In reality, court documents, transcripts and interviews with attorneys involved in the case show that Mizanskey was only on trial for approximately six pounds of marijuana. And according to the police who conducted the investigation, Quintana was the focus of the sting operation. The police officer who conducted the drug bust told RFT last year that "Mizanskey wasn't a target or who we expected to be showing up."
As for the 100 pounds, it was actually Cox's client who cops believed was supposed to receive the big shipment. And Quintana, who was a first-time offender and pleaded guilty in exchange for ten years, testified in court that he arranged the deal and Mizanskey did not know about it.
Despite these facts, Cox insists on the contrary. And when asked if a system that allows life without parole sentences for nonviolent drug offenses is just and beneficial to the people of Missouri, Quintana's former defense attorney expressed his disdain for people who sell weed.
"I think drugs are very harmful to society, and we need to protect our children from the adverse effects of drugs," Cox says. "I think people who sell drugs or distribute large quantities of drugs to the population and to schoolchildren ought to be in prison."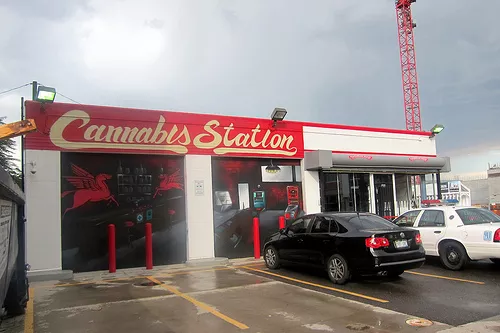 wallyg/Flickr
A legal marijuana shop in Denver, CO.
See also: Marijuana Legalization Proposals Submitted by Activists, Politicians, and Man Doing Life for Pot
Senate judiciary committee chairman Bob Dixon, a Republican from Springfield, tells the AP that the point of reducing punishment for marijuana offenders is to focus on violent crime.
"Our prisons are full, and we need to lock up violent offenders," he says.
According to a 2008 study by the Missouri Department of Mental Health, Missouri's cops make 40,000 drug arrests each year, with 85 percent for possession. Of the 29,389 drug cases processed by the Missouri Crime Laboratory in 2006, about 38 percent involved marijuana.
And there's also a severe racial disparity in arrests, according to the ACLU. In St. Louis, black people are arrested for possession eighteen times more often than whites.
Cox is aware that many Missourians support legalization for an array of reasons, but he insists that things should stay the way they are.
"I understand there are people who strongly believe in decriminalization of marijuana and maybe even of all drugs. I disagree with that," he says. "Specifically on marijuana, there is a lot of scientific studies of how it negatively affects adolescent users of marijuana. If we put another legal drug in our society, the young people will take it and it will have adverse effects."
Follow Ray Downs on Twitter:
E-mail him at Ray.Downs@RiverfrontTimes.com.