Youtube/Columbia Daily Tribune
Ex-Cop Rob Sanders pushes Kenneth Baker into the wall.
In August of 2011, Columbia police officer Rob Sanders charged at Kenneth Baker, an inmate standing in a holding cell, causing his head to smack against the wall. The police brutality incident was caught on the jail's surveillance video and ended up costing the city $250,000 in an out-of-court settlement. It also cost Sanders his job -- but he wants it back.
Sanders has been fighting for his job ever since Columbia Police Chief Ken Burton showed him the door back in 2011. Since then, he has been rejected by Burton and Columbia city manager Mike Matthes. Burton claims Sanders' actions were inexcusable and he should have handled it differently while Matthes tells the Columbia Daily Tribune that, "We're not trying to make it harder on Rob to find a job...We're also not interested in having him back with the city."
Sanders is now appealing that decision and is in court this week for oral arguments.
According to various reports, the 2011 incident started when Baker was arrested and on the way to jail, put up enough resistance that officers sprayed him with mace. Baker eventually calmed down and was put into a cell. The sink in the cell was not working and he had repeatedly asked for water to rinse out his eyes. Some time around that point, Sanders busted into the cell and charged Baker, who fell back against the wall, hit his head, and suffered a broken vertebrae. Sanders then got on top of Baker and handcuffed him. The incident was caught on video, which can be seen below:
An internal affairs investigation concluded that Sanders didn't do anything wrong -- a conclusion that Columbia police chief Burton strongly disagreed with. According to The Maneater:
"An unfounded conclusion means that the incident never occurred," Burton said in a 2011 radio interview. "Well, if you look at the (surveillance) video, it obviously occurred, so 'unfounded' wasn't the right classification. It was an assault. Pure and simple. Had that happened on Tenth and Broadway, were we talking about two college students, one of them would be in jail, and we wouldn't even be talking about it. It was assault, it was unnecessary, unwarranted and it saddened me."
Police groups have stood up for Sanders, who they say should be given back his badge and gun.
See also: Missouri is a National Leader in Prison Rape, Including Staff-on-Inmate Assaults
Kevin Ahlbrand, the president of the Missouri Fraternal Order of Police told KBIA in 2011: "It wasn't intentional for the person to be injured. The intent was to take him to the ground and handcuff him to the ring, which is the past practice and policy."
Sanders stood trial in October of last year for a third-degree assault charge because of the incident and was found not guilty. That verdict is being used as evidence that he was wrongly terminated and acted appropriately.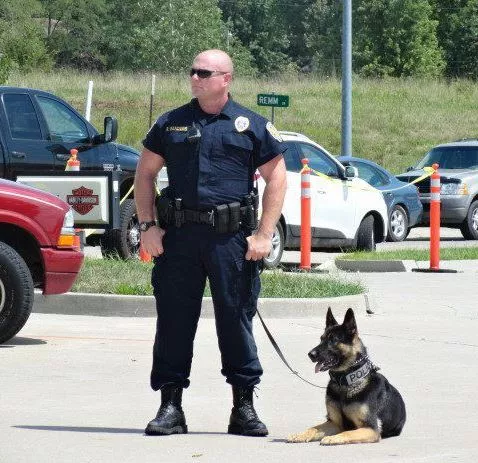 Dale Roberts
Sanders says he just followed procedure.
Sanders had 18 years on the force at the time of the 2011 incident. According to the Columbia Police Department website, police officers are eligible for retirement after 25 years, at which point they're eligible for 50 percent of their highest three-year average salary, in addition to benefits and other bonuses based on years on the force.
The question of whether or not Sanders should be a cop again is a matter of procedure and politics. But another story that arose from the incident is that of the ex-cop's dog, which was a police dog officially owned by the police department.
As Daily RFT reported last year, Sanders was eventually able to get custody of the german shepherd after 18 months of legal wrangling.
See also: East St. Louis Man Sues Crooked Ex-Cop, Claims Rape Confession Was Coerced
Follow Ray Downs on Twitter:
E-mail him at Ray.Downs@RiverfrontTimes.com.