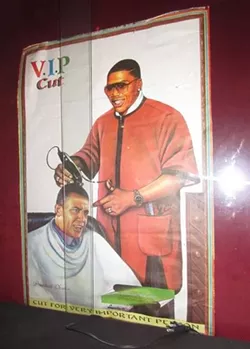 Julia van Horn
Nelly gives President Barack Obama a VIP cut.
On a trip to Bogota, Colombia, St. Louis natives Julia van Horn and Jack Grelle found an amazing poster in the very first bar they visited.
Nelly poses with an electric razor while President Barack Obama, with a sheet draped over his purple shirt, seems mid-sentence: "Now, you see, Nelly, the key to a truly dope fade is..."
Van Horn says she bought a camera cord in Colombia just to post this picture.
See also: Once Again, Nelly Says What We're All Thinking, Represents Missouri, Shows ESPN What's Up
Daily RFT has no explanation for what this is or where it came from. We wish we did. Do you know? And where can we get one?
Follow Lindsay Toler on Twitter at @StLouisLindsay. E-mail the author at Lindsay.Toler@RiverfrontTimes.com.