via Facebook
Mayor Francis Slay
St. Louisans were still haunted by the last storm's cabin-fever dreams as snow fell Tuesday just in time for rush hour.
To prevent an uproar from residents who couldn't make it out of their neighborhoods on unplowed, untreated streets weeks ago, St. Louis Mayor Francis Slay posted his plan for clearing the latest snow.
See also: Six Insane Things That Happen When It Snows in St. Louis
St. Louis' street-plowing strategy focuses on arterial roadways, but Slay included treatment for side streets in this plan, saying he learned a lesson from the last snowstorm.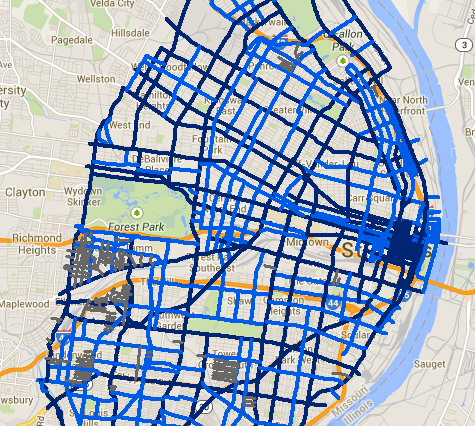 Snow routes for the city of St. Louis.
"One lesson learned in the last snowstorm was that a major impediment to side streets was the accumulated walls of snow -- 'windrows' -- that blocked side streets at the intersections of the snow routes," Slay posted on Facebook.
Those windrows walled drivers off from the cleared main roads, completely boxing in smaller cars.
This time, the city is ready to clear intersections where side streets meet snow-plow routes after heavy or long snowfalls. Once the intersections have been cleared, streets director Todd Waelterman will decide whether or not to enter the side streets, either to plow a single center cut without (they hope) burying cars or to spread salt and sand mix.
See also: 14 Dogs (and a Chicken) Romping in the St. Louis Snow Storm That Will Warm Your Heart
"That's the plan," Slay says. "Please stay home if you can to give crews space to work. If you do go out, please consider public transportation. Drive safely, if you must drive."
Follow Lindsay Toler on Twitter at @StLouisLindsay. E-mail the author at Lindsay.Toler@RiverfrontTimes.com.