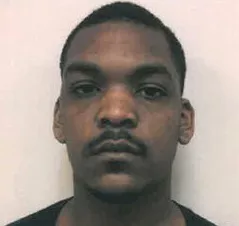 Marlon Miller, shown here in his mugshot after being charged for a rape he didn't commit.
A new lawsuit has cropped up in the aftermath of an overturned rape charge we reported on in June.
Exonerated by DNA evidence after almost four months in prison, Marlon Miller, 20, is now suing the ex-detective who allegedly coerced Miller's confession to the robbery and rape of a 33-year-old woman near the Emerson Park MetroLink station in January 2013.
The federal lawsuit alleges East St. Louis Police Department detective Orlando Ward took Miller out of sight of recording devices and "slapped [Miller] multiple times."
See also: Marlon Miller Says East St. Louis Cops Coerced His Confession: "My Life Went Down The Drain"
Miller, an East St. Louis, Illinois, resident, is also suing the city.
"Innocent people don't confess to crimes without coercion," Miller's attorney Jarrod Beasely tells Daily RFT. "It's a common practice. They say what the police determine is the truth or what the police want to hear."
Here are a few choice allegations from the federal lawsuit:
[Miller] appeared in a security tape at the station around the time of the attack and was brought in for questioning...[he] was placed in a 48 hour investigatory hold and detained in East St. Louis City Jail.

Following the interrogation and out of view of recording devices, [Ward] slapped [Miller] multiple times.

The following day, after threatening and hitting [Miller], [Ward] conducted another interrogation...At that time [Ward] coerced a false confession from [Miller] with promises of release and threats of violence hanging over his head. [D]uring the confession, Ward fed [Miller] all of the facts and and simply asked [Miller] to confirm them.
See also: Woman Says Hero Cop Awarded Medal of Valor Lied About Saving Her From Crazed Attacker
Miller was arrested February 19 and charged and charged with three counts of aggravated criminal sexual assault and one count of attempted armed robbery. Miller's family managed to scrounge up the money to pay for a DNA test. The results proved his innocence.
Eventually, those DNA tests led to the conviction a different man in the brutal attack: A twenty-year-old East St. Louis resident, Dominic Hood, now faces multiple counts of criminal sexual assault and armed robbery. If not for the DNA test, those charges would be hanging over Miller right now.
"St. Clair County Jail is not a nice place. It's not like Ladue," says Beasely, describing the living conditions during client's false imprisonment. "There's murderers, rapists, bad, bad folks. You could not pay me any amount of money to sit in that jail for one night, much less months."
Daily RFT spoke with Miller shortly after his release in June, and he described his ordeal as a "nightmare."
"But being locked up for something you didn't do is very painful," he recalled at the time. "The long days and the long nights, you just got to keep waiting. It took a toll on me."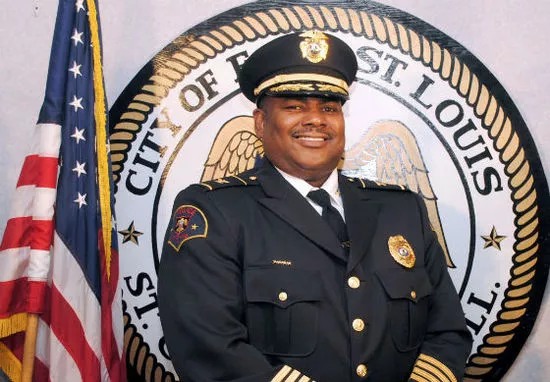 East St. Louis Police Chief Michael Floore.
See also: FBI Detains East St. Louis Police Detective Orlando Ward; Chief Says, "This Is A Shock"
There's one more wrinkle to this story. Soon after Miller's "confession," his interrogator, detective Orlando Ward, resigned in disgrace from the East. St. Louis Police Department. A sting orchestrated by federal agents revealed the twelve-year veteran was on the take to a drug ring for $5,000 a month. Ward, 42, pleaded guilty in November to charges for possession and conspiracy to distribute cocaine.
East St. Louis' police chief Michael Floore declined to answer Daily RFT's questions regarding the lawsuit filed against the city. In June, Floore disputed Miller's claims to the Belleville News-Democrat, claiming, " I know nobody ever touched this young man."
Continue for the full text of the lawsuit
See also: VIDEO: Meet Jeff Mizanskey, Missouri's Only Inmate Sentenced to Death in Prison for Pot
Here's the full text of Marlon Miller's lawsuit.
Follow Danny Wicentowski on Twitter at @D_Towski. E-mail the author at Danny.Wicentowski@RiverfrontTimes.com