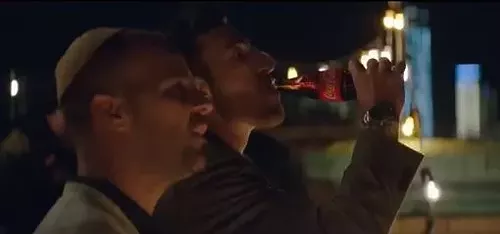 YouTube
This is the commercial everyone's freaking out over.
Watching the 2014 Super Bowl commercials, one thing is clear: These companies are shooting for virality.
Just being seen by millions of TV viewers isn't enough anymore. For marketers to be happy with their extremely expensive Super Bowl commercials, they have to be shared, liked, clicked, tweeted and favorited across the web.
Coca-Cola took the controversy approach to virality, playing "America the Beautiful" in multiple languages in a move that every Missourian watching the game knew would piss off conservatives who demand immigrants learn and speak English.
See also: America Totally Loses It Over Budweiser's Adorable Super Bowl Commercial
They weren't disappointed:
Luckily, when Daily RFT checked our Twitter feeds this morning, there were far more tweets poking fun at the xenophobic backlash against Coke than there were tweets angry about the commercial itself. Way to stay positive, STL!
Read Daily RFT's five favorite responses to the backlash over a partly non-English son playing during the Super Bowl. Here are our five favorite responses to Coke's Super Bowl commercial, from St. Louis tweeters:
1. Can we be serious about the real native language of America?
Sorry, Americans descended from European countries. We hate to break it to you, but there was a time when the people living in America didn't speak English. We like this tweet because it reminds enemies of coke's commercial of something they should probably have learned from a history textbook -- or at least the Thanksgiving play in kindergarten.
2. I speak English, too.
Half of all Europeans speak
multiple languages, and that percentage is rising in the developing world. Americans, on the other hand, barely have a grasp on one language. Less than twenty percent of Americans speak a language other than English.
3. Everyone is freaking out!!
We like to imagine the head of Coke tipping his cap and saying, "You're welcome, America. Now go deal with your racial insecurities over an ice cold glass of Coca-Cola."
4. Make it political.
You know Missouri state representatives and senators got calls from constituents Monday morning demanding laws against non-English commercials. But hey, if we're going to debate
a bill that makes high fives the official greeting of Missouri
, then anything is possible, right?
See also: 13 Ways to High-Five: Which One Should Congress Make Missouri's Official Greeting?
5. Blowing up the blowback.
This straightforward tweet says it all, without the humor or irony of the above submissions. After all, not everyone in America speaks English. Really.
Follow Lindsay Toler on Twitter at @StLouisLindsay. E-mail the author at Lindsay.Toler@RiverfrontTimes.com.