Flickr/Eduardo Santos
It's not dinner at a mid-priced Italian restaurant, but this is romance.
David Wraith hasn't yet made Valentines Day plans with either of his girlfriends.
Yes, he has two girlfriends, and yes, they're two serious relationships, what's known as a polyamorous arrangement. As for Wraith, a self described "free-range poly man-whore," he says this is actually his first Valentines Day-related multi-girlfriend predicament.
"I need to look at a calendar and see who's available when," he says, adding, "Google Calendar is a godsend to the poly community."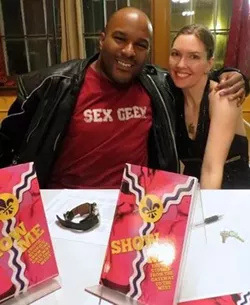 David Wraith and Kendra Holliday
See also: St. Louisans Get Naked for "Bare As You Dare" Event, Celebrate "ALL Bodies" (PHOTOS)
Wraith is a St. Louis native, erotica writer, activist and filmmaker who cofounded Sex Positive St. Louis with three fellow sex bloggers, including Kendra Holliday. For kinky folks like Wraith and Holliday, Valentines Day presents the challenge of turning a holiday built from generically "romantic" marketing ploys into something....freaky and hot.
"I avoid the hype of Valentines Day," says Holliday, whom RFT profiled in 2010. "I like to do it in my own private way. If I were to do it with my partner I would probably stay at home and he would flog me. Or we would have a threesome."
Since we don't possess the necessary years of "field work" in perverse sexual adventuring, we asked Holliday and Wraith to assist guiding kinky or poly romantics who feel left out during the Valentines Day blitz.
(And don't worry, monogamous/vanilla couples: Even if this extremely-NSFW activity isn't your cup of sex tea, you should still pay attention. You might even learn something.)
1. Strive For A Non-Standard Valentines Day
Jon Gitchoff
A nude David Wraith (he of the butt) gives his presentation at a "body positive event" at Shameless Grounds in July 2013
For Wraith, the first problem with Valentines Day is that its vision of romance -- "generic" -- doesn't fit with his own. Or that of his partner. Or that of his other partner.
"I would just want Valentines Day to be a little sexier and a little less standard," he says. "Flowers and card are great, but you can send those to your sweetheart at the office. I would want to add things to Valentines Day that you couldn't do at the office because you'd be fired."
The key, says Wraith, is specificity. If your girlfriend is a die-hard baseball fan, for example, a new mitt might represent so much to her than a dozen roses. And if you are the dom half of a dominant/submissive pairing, maybe you free the slave of his chastity device and order him to perform special Valentines Day services for his mistress. (But only if he's been an especially good slave.)
"The most important is showing you listen and showing you pay attention and that you know what trips their individual trigger," Wraith says.
See also: Top Ten Things That Have Been Inside The Beautiful Kind's Vagina: NSFW
Holliday, who writes The Beautiful Kind sex blog, is more than a little familiar with BDSM. If you're the dominant one and your partner gets off on serving you, she explains, then a whole range of fun Valentines Day trigger tripping options can be explored,
For example: "Some people love to be used as footstools," says Holliday. "Nothing shows 'I love you' like putting your feet up on your partner."
What if poly and kinky folks do want to indulge in classic Valentines Day gestures? Come this way...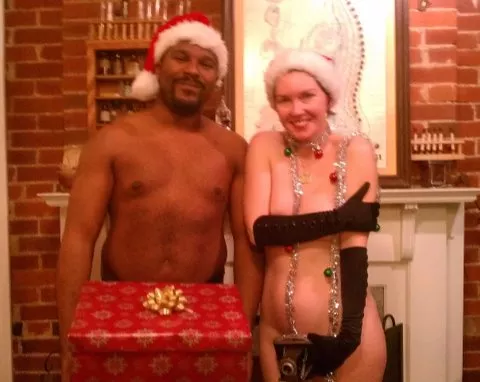 Wraith and Holliday during a 2011 Fleshtivus party. (Yes, Wraith's dick is in a box.)
2. What To Do Before Doing Each Other
Never fear, polyamorous or otherwise non-traditionally sized relationship groups: You can still make traditional gestures to your loved ones, if you want to. Some businesses are even trying to cater to the needs of polyamorous households. The newly opened Fleur de Lou flower shop on Delmar is advertising to the poly community: "Unique arrangements for your unique arrangement."
"I've heard stories where someone calls up a shop and tries to order flowers for their wife and girlfriend, and people always get the wrong idea," says owner Erin Gerrity. She wants her store to become the place for a guy to order flowers for as many girlfriends as he wants without garnering moral disapproval.
See also: Tonight St. Louis Nudists Celebrate "Fleshtivus"
As for a romantic dinner, sex-positive coffee shop Shameless Grounds is transforming itself into a "vintage supper club" on February 14, with burlesque dancers, live music and (of course) supper.
"It would be a fun opportunity for a poly triad or a poly household of four to have a fun evening," says Shameless Grounds owner Andrew Mueller.
Continue to find out why those in BDSM relationships have it the easiest on Valentines Day...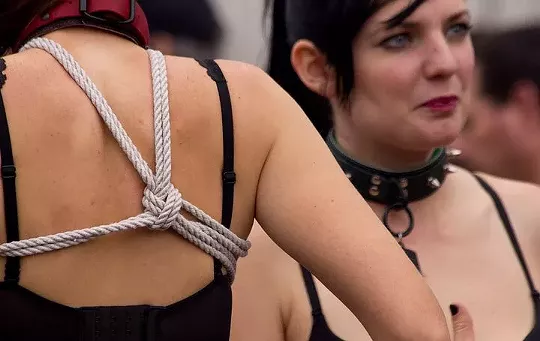 3. Share Your Kinky Commitment
Lest any stodgy moralists presume that BDSM aficionados have abandoned all manner of traditional values, Holliday points out that Valentines Day would make a great opportunity for a collaring ceremony.
"Collaring ceremonies that are kind of like a wedding. Instead of receiving a ring, they receive a collar."
However, for an idea considerably less intense, Holliday recommends lovers avail themselves of Nuru gel -- an odorless, tasteless semi-goopy lube that partners can spread on each other's bodies. The result is slippery-fun sex that is just flipping terrific, she says. It's also "perfect for vanilla couples and kinkster orgies."
But gel or no gel, nobody has it easier on Valentines Day than those in dominant/submissive relationships. In such a BDSM arraignment, explains Wraith, both partners should already be comfortable sharing their romance through "gestures" based in control or servitude.
"For a lot of vanilla or monogamous couples, they wait for Valentines Day or their anniversary to bring any sort of stagecraft to their relationship. Whereas kinky people, we do that all time," Wraith says.
"If you're the dom," he continues, "you might want to design a special scene to put your submissive through on Valentines Day. If you're a 'service submissive,' you might come up with a very special service ritual for your dom."
See also: St. Louis Authors Share Their Kinks in Anthology of Local Erotica
For non-kinky couples, Valentines Day could be an opportunity building that experience-designing muscle, says Wraith. Pick up an erotic novel (like, say, the locally produced Show Me: Erotic Stories From the Gateway to the West) and read it aloud your partner before having some amazing-and-slippery Nuru sex.
"There's a lot of things that are sort of universal between vanilla couples and kinky couples," offers Wraith. "It's just kinky couples enjoy doing them on more sexually extreme level."
Follow Danny Wicentowski on Twitter at @D_Towski. E-mail the author at [email protected]