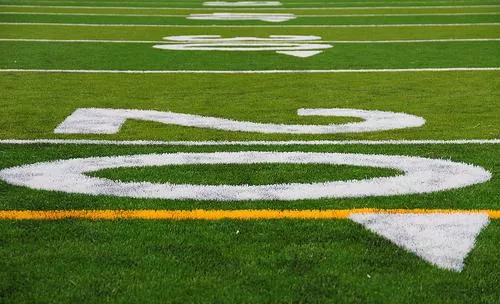 Cropped image via Daniel X. O'Neil on Flickr
This Sunday is the Super Bowl, a day that's supposed to be about football but is really a celebration of American excess. If history is any indication, Americans on Sunday will gulp down 50 million cases of beer and devour 104 million pounds of avocados. And its not just the folks watching the game who'll be buzzed and bloated by halftime. The FOX television network stands to make hundreds of millions of dollars off the Super Bowl with 30-second commercial spots selling for $4 million. But that's chump change compared to the real winner Sunday (neither of which will be the Denver Broncos or the Seattle Seahawks). No, the organization that stands to make the most on Sunday is that favorite non-profit organization of yours, the National Football League.
See also: America Totally Loses It Over Budweiser's Adorable Super Bowl Commercial
Roger Goodell: The $29.5 million CEO of a "non-profit."
Yes, you read that right. The National Football League is a 501(c)(6) tax-exempt organization and the Super Bowl is its annual coronation ball, acknowledging its place as the most popular sport in America. Next year's bash should be even more extravagant, with NFL's network broadcast fees for the 2014 season doubling to $6 billion. Even after splitting that among 32 teams, there is sure to be plenty left in the till for the league office, which in 1966 successfully lobbied Congress to grant it non-profit status. Since then the league's tax exemption has allowed it to dodge hundreds of millions of dollars in federal taxes, even while occasionally crying poor -- as it did in 2011 when the NFL took in $255 million in revenue but claimed to be $77 million in the hole after expenses. Of course, it probably didn't help that one of those expenses was commissioner Roger Goodell's $29.5 million paycheck. Let's spell that out with all the zeros: $29,000,000. Can you imagine the CEO of your favorite non-profit, hell your favorite hedge fund, having the gall to command that type of salary?
And yet apparently only two people in Congress have a problem with the NFL's tax-dodging shell game. In September, Oklahoma Republican Tom Coburn introduced the PRO Sports Act (Senate Bill 1524) that would strip the NFL of its dubious "non-profit" distinction. The bill has languished for months in the Senate Finance Committee until this week when Senator Angus King of Maine became Coburn's first colleague to co-sponsor the bill. (It probably helps that neither Oklahoma nor Maine have an NFL team.)
"Most Americans would be shocked to learn of all the tax loopholes that companies and organizations are able to take advantage of to boost their bottom line and which end up costing taxpayers millions per year," King said in a statement Wednesday. "I like the NFL, but I don't think it's unfair to ask their central office to pay its share in taxes."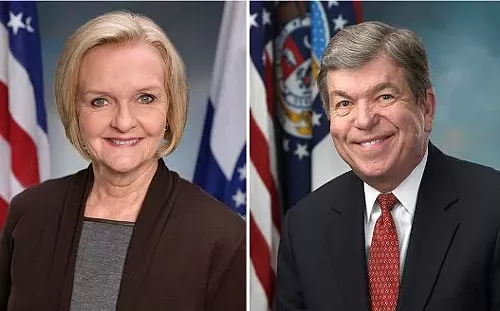 Will Claire McCaskill and Roy Blunt stand up to the NFL?
To be sure, the NFL isn't the only sports league incorporated as a 501(c)(6) in order to dodge taxes. The NHL and PGA Tour and a few less popular sports do it, too. But it was the NFL that first got the tax exemption for sports leagues on the books. And it's the nation's wealthiest league that continues to nickel and dime the government while allowing taxpayers to pay the difference. Case in point, in a Q&A about his bill Senator Coburn notes how Indianapolis lost money while hosting the 2012 Super Bowl in part because league officials used the NFL's tax status to avoid paying local taxes. Meanwhile, the NFL has reportedly told the city of Santa Clara that if it wants to host a Super Bowl at the 49ers soon-to-open new stadium, it cannot tax the tickets because the NFL is a non-profit. Such a move that would deprive the Santa Clara of millions in revenue needed to host the Super Bowl.
See also: Rams Dome Proposal: Pop-Top Stadium, Glass Wall and No Price Tag
"Tax earmarks are essentially tax increases for everyone who doesn't receive the benefit," says Coburn of his bill. "In this case, working Americans are paying artificially high rates in order to subsidize special breaks for sports leagues."
The Joint Committee on Taxation estimates that the tax loophole for pro sports leagues is worth $10 million a year, and $109 million over a decade.
Yet where do Missouri senators Claire McCaskill and Roy Blunt stand on this issue? With Rams owner Stan Kroenke asking St. Louis taxpayers to build him a new, $700 million stadium, perhaps they'd want to stand up and send a statement -- enough with the tax-funded handouts to billionaire team owners and the dubiously non-profit leagues that run them. But, hey, who wants to stand when there's still space on the couch? The Big Game is about to begin and McCaskill and Blunt probably have weightier questions on their minds. Like just how do you shovel that much guacamole into your gullet?
Follow the author on Twitter @chadgarrison. Email him at chad.garrison at riverfronttimes.com.