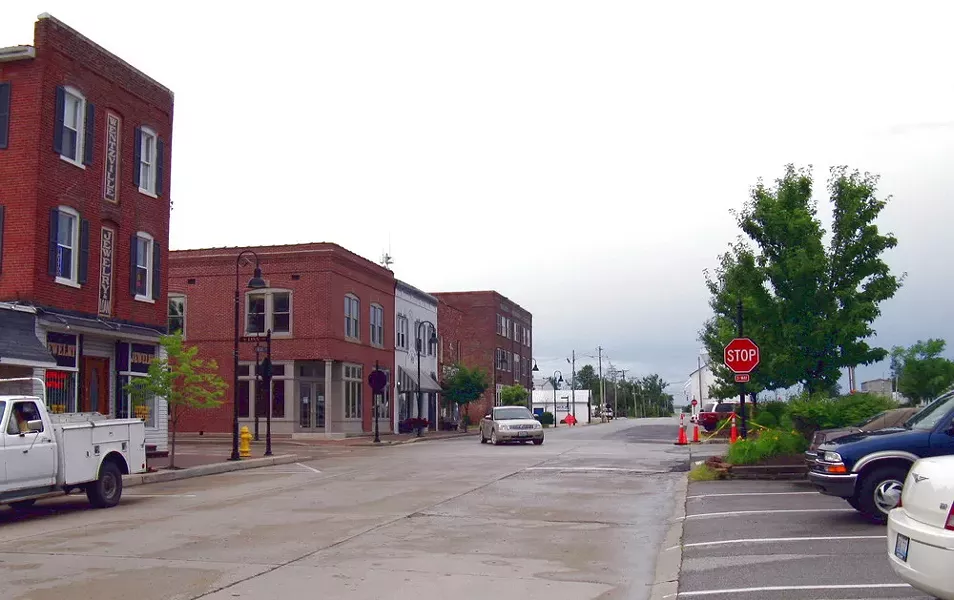 Wikimedia
Downtown Wentzville.
Sorry, St. Louis, but if you need a job, you're better off in St. Charles County or a western suburb.
NerdWallet published a list of the best Missouri cities for job hunters this week, and the numbers are clear: Go west, young man. (Or woman.)
NerdWallet, the financial number-crunching website headquartered in San Francisco, ranked 52 Missouri cities by population change, median household income, monthly homeowner costs and unemployment rates, according to the 2012 U.S. Census and the Bureau of Labor Statistics.
See also: Launch Code: How 42 "Unqualified" People Landed Dream Tech Jobs in St. Louis
Welcome to Wentzville, job hunters.
Wentzville easily tops the list of cities with its low 3.9 percent unemployment rate. Plus, General Motors recently invested $133 million in the city to open a new plant and build two lines of Chevrolet cars, and government contractor is hiring hundreds to enroll people in government healthcare plans under the Affordable Care Act.
Judging Wentzville by its booming 33 percent population growth seems unfair to other Missouri cities, impressive as it may be. Like an Arab Emirate, Wentzville sprang up out of practically nothing in the last few decades after O'Fallon and Lake St. Louis saw a similar boom in the 1990s, so it has plenty of elbow room compared to older cities on the list.
"Wentzville is a pretty large city, and they have a lot of undeveloped land, so there's a lot of potential growth," Scott Tate, the president and CEO of the Greater St. Charles County Chamber of Commerce, tells Daily RFT. "Wentzville is where the major growth is happening now."
See also: Wentzville Students Outraged Over Condiment Limits
Here's a map of the St. Louis suburbs that made the top ten:
Three other St. Charles County cities make it in the top twenty: O'Fallon (No. 5), St. Charles (No. 13) and St. Peters (No. 17).
"The growth has continued west," says Tate. "There are plenty of good opportunities here in St. Charles County right now. We've got it good."
St. Louis County had five cities in the top ten for job seekers: Wildwood (No. 4), Chesterfield (No. 6), Ballwin (No. 7), Kirkwood (No. 9) and Maryland Heights (No. 10).
Wildwood earned its spot by having the highest median household income in the top ten -- $120,507 in 2012.
Follow Lindsay Toler on Twitter at @StLouisLindsay. E-mail the author at Lindsay.Toler@RiverfrontTimes.com.