Reverend Frederick McCullough
A former African Methodist Episcopal Church minister was hit with a lawsuit Wednesday over allegations of sexual harassment.
Filed in St. Louis Circuit Court, the suit alleges that Reverend Frederick McCullough brazenly harassed -- and nearly raped -- an associate female minister during the two years he headed the Wayman AME Church in St. Louis.
"The unspoken message for women and especially female preachers has been that we must either accept the sexual harassment...or risk being being expelled," said the plaintiff, Brenda Jones, in written statement. "I am fighting this because it has to stop."
The lawsuit alleges McCullough groped Jones on multiple occasions, forced her to look at a photo of his penis and told her that he liked older women and was "going to get [him] some of that pussy."
See also: With or Without Names, St. Louis Archdiocese's "Matrix" of Sex Offenders Leaves Questions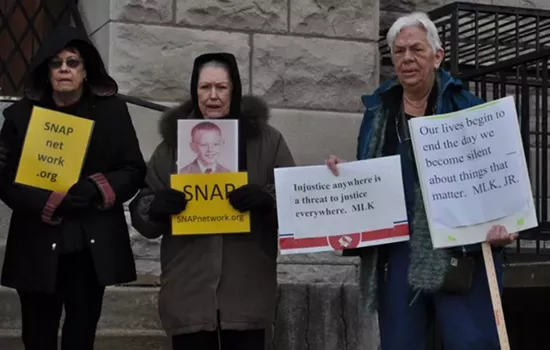 Danny Wicentowski
A handful of SNAP members protested outside Wayman Church on Thursday in support of a lawsuit against a minster accused of sexual harassment.
Jones and her lawyer, Kenneth Chackes, are seeking a jury trial and unspecified compensatory and punitive damages.
It's worth noting that allegations in a lawsuit don't carry the weight of a criminal investigation, and to date no criminal charges have been brought against McCullough.
As it stands, Jones' lawsuit alleges multiple incidents of sexual harassment, including a September 2012 incident in which McCullough invited Jones into his office where grabbed her, forced her to bend over his desk and pulled up her skirt before saying "I'm going to fuck you right up in this church." Jones claims she was able to escape.
Hope Whitehead, McCullough's attorney, tells Daily RFT that her client "denies any and all allegations of sexual harassment and will vigorously defend his good name and reputation in a court of law."
Jones joined the AME church in 2006 and became a preacher at the Wayman AME Church in 2011, the same year McCullough was assigned to lead the church as pastor.
See also: St. Louis Archdiocese Paid $10 Million in 10 Years in Clergy Abuse, Misconduct Costs
Jones eventually filed a written complaint against McCullough that resulted in a three month internal investigation. The lawsuit alleges that during the investigation, McCullough was allowed to remain in his position and used the pulpit to publicly berate Jones in his sermons, referring to her as "Potiphar's wife," a Biblical reference that implies Jones falsely accused McCullough because he declined her sexual advances.
The lawsuit also lists as defendants the national African Methodist Episcopal Church, the 5th Episcopal District of the AME Church, which includes churches in Missouri and Wayman Church. Also included is Bishop Larry Kirkland, presiding prelate of the 5th Episcopal District of the AME Church, who the lawsuit says used an October 2013 church meeting to denounce Jones as "the devil."
Continue for the result of the AME Church's internal investigation, as well as statements from SNAP's David Clohessy...
However, after the investigation church officials found McCullough guilty of inappropriate behavior, though in connection with a different woman not named in the suit. McCullough has since left Wayman AME Church to found the Restoration House Community Church in Hazelwood.
A spokesman for the Wayman Church confirms that McCullough is no longer affiliated with it or the AME Church "in any way."
"Most denominations try to handle crimes internally, and it's an inherently flawed self serving system," says David Clohessy, executive director of Survivors Network of those Abused by Priests, or SNAP, which held a protest outside Wayman Church on Thursday in support of the lawsuit.
See also: Whatever happened at Father Cooper's cabin in 1971, the archdiocese isn't responsible
Church officials knew, the suit says, that McCullough had sexually harassed other women in Georgia and Nebraska, including a 2004 incident in which he engaged in inappropriate sexual behavior with a minor female. According to the lawsuit, church officials refused to report their findings to law enforcement.
"This is about more than a sexual predator," says Clohessy. "It's also about a very unhealthy, self-serving church hierarchy that rallies around the accused, attacks the accuser, and deters victims, witnesses and whistleblowers from speaking up."
Clohessy says Jones reached out to SNAP three months ago with her allegations.
"The church has shown no remorse," concludes Jones' written statement. "I do believe it will happen again [and] therefore, with God on my side I believe it is essential that I take this to court."
Here's the full text of the lawsuit.
Follow Danny Wicentowski on Twitter at @D_Towski. E-mail the author at Danny.Wicentowski@RiverfrontTimes.com