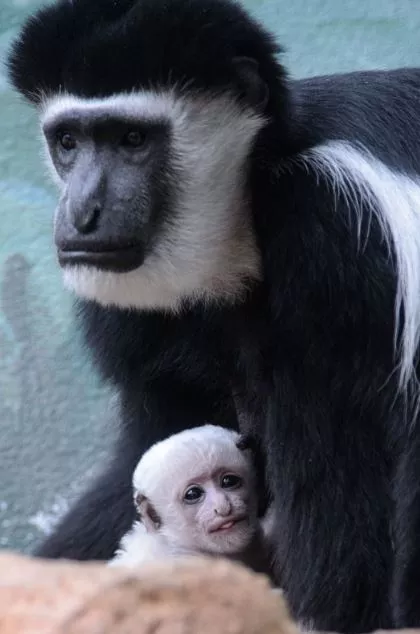 Photos by Ray Meibaum/Saint Louis Zoo
A baby monkey born at the Saint Louis Zoo.
The newest resident at the Saint Louis Zoo's Primate House is only two weeks old.
Colobus monkey Roberta gave birth to a baby on January 14, making her the oldest colobus monkey to ever give birth at a zoo accredited by the Association of Zoos and Aquariums.
See also: Big Ass News! Record Number of Somaili Wild Asses Born at St. Louis Zoo
The baby doesn't have a name yet; the zoo is waiting to find out the baby's gender first.
[image-2]
The baby monkey has two siblings: Mosi, a three-year-old male, and Pili, a one-year-old female.
Roberta has her hands full caring for her baby, especially because Pili and another one-year-old female, Kivuli, are curious and want to touch it, say the zoo's primate staff.
Watch Roberta tell Pili and Kivuli to back the eff off in this adorable video from the zoo:
The colobus monkey originates from the forests of central Africa. Colobus monkeys eat leaves that are low in calories, so they evolved to have low activity levels and "sacculated" stomachs that help ferment bacteria and digest leaves.
Colobus monkeys face a high threat of extinction in the wild, according to the zoo.
Follow Lindsay Toler on Twitter at @StLouisLindsay. E-mail the author at Lindsay.Toler@RiverfrontTimes.com.