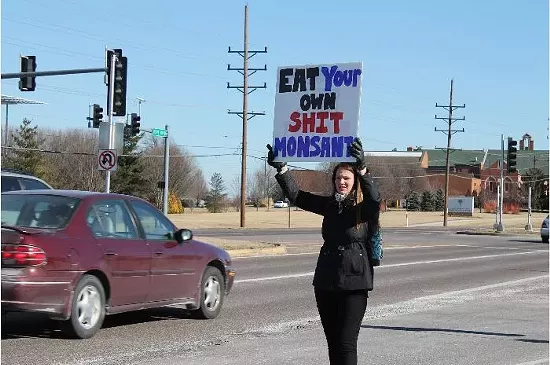 At the Monsanto shareholders' meeting on Tuesday in which activists called for a vote on whether the company should enact mandatory GMO labeling, two things were clear: Mandatory GMO labels aren't happening any time soon, and the police have Monsanto's back.
"He has just entered a blue Ford F-150," a Creve Coeur cop says into a walkie talkie as Dave Murphy, a farmer and food activist who had just given a speech to about 50 protesters near the Monsanto entrance on Olive Avenue, gets into his truck.
As Murphy drives to another part of the biotech giant's sprawling campus to address shareholders about a proposal to make GMO-labeling mandatory, several of Creve Coeur's finest keep their eyes on him.
Murphy had done nothing suspicious.
Nonetheless, one of the patrol cars follows Murphy as another appears to write down his license-plate number.
Ray Downs
Dave Murphy of Food Democracy Now! talks to protesters.
Daily RFT reached out to Creve Coeur police chief Glenn Eidman to ask if his officers were on duty or working a side gig on their own time at Monsanto's expense.
"All police officers were on duty being paid by the City of Creve Coeur," Eidman replied in an e-mail response.
The display of power continues inside Monsanto headquarters during the annual shareholders' meeting. In a roomful of predominantly middle-aged to elderly white men in business suits surrounded by large photos of smiling brown farmers from developing countries, elevator music played as the shareholders found their seats.
See also: The Monsanto Menace: The feds see no evil as a belligerent strongman seeks control of America's food supply
Soon Hugh Grant, the CEO of Monsanto, takes the podium. A glare of light shines off his bald head as he speaks in a Scottish brogue that would make a character in Trainspotting blush. With a booming mic and a large screen projecting his image on each side, Grant speaks slowly, carefully, almost apologetically -- enveloping the room with the perfect combination of cuddly and corporate. That will come in handy when it comes time to let the activists speak.
Click on the next page to see little old ladies get put in handcuffs at Monsanto headquarters...
After getting some formalities out of the way, Grant gets to the big topic of the day: the shareholder proposal to make it mandatory that Monsanto put GMO labels on products made with its seeds.
Murphy, a tall, bearded man with a large build inside a slightly wrinkled suit, is here on behalf of Adam Eidinger, an activist shareholder who bought into the company to encourage GMO labels. He has to take the microphone in the middle of the conference room, with half of the audience looking at his back while the other half have their back turned to him. Most people don't bother turning around. He has three minutes.
Murphy speaks quickly, passionately and at times nervously, squeezing in as much as he can about the importance of GMO labels.
Knowledge about the products one buys is just good capitalism, because "in a free market, consumers need to know," he says.
People deserve the right to know what's in their food, he says. That's what they think in 64 countries around the world, so why not the U.S.?
"Even in Hugh Grant's home country of Scotland, they have GMO labeling," Murphy says as the Monsanto CEO snickers.
Instead, Murphy says, Monsanto spends millions of dollars to defeat initiatives that would require GMO labeling in the United States, like the company did in 2012 when it shelled out $8 million to defeat California's proposition 37.
A few more activists speak in favor of GMO labels. They say more or less the same thing as Murphy.
It's Grant's turn to respond. Two large screens again project his image and the louder mic booms his soft voice. All eyes are forcibly on him as he says labels are not needed and would only add unnecessary costs to the world's poor. Instead, he says, the company should just do a better job of educating people about how GMO food won't hurt them. The cost of education campaigns, anti-label campaigns, and the cost to the world's poor is not mentioned.
Finally, a vote is held. More than 95 percent of the shareholders vote against mandatory GMO labels. Another proposal for a report about the cost of GMO labels is also rejected by more than 93 percent of shareholders.
Grant explains Monsanto's philosophy that it's not their job to label. If companies that sell products made with Monsanto seeds want to use labels, that's their business.
"We're a seed company," he says. "We're the front end of the channel, but we're not the channel."
See also: Supreme Court Rules 9-0 for Monsanto in Seed-Patent Case
The meeting is adjourned. Media are immediately ushered out of the building, literally to the door. But outside, protesters have been busy.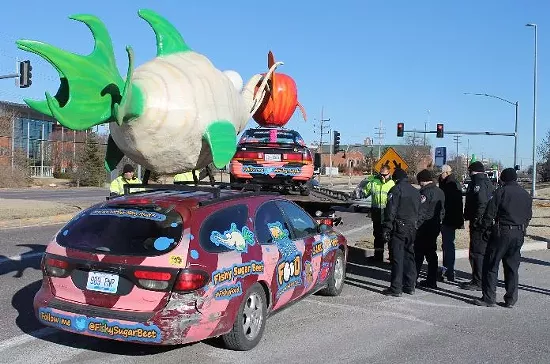 Ray Downs
The "Fishy Car Fleet" gets towed away.
Cars from the "Are We Eating Fishy Food?" campaign have blocked the entrance to Monsanto headquarters, and police are arresting the drivers. Tow trucks take the cars away.
Other protesters have been arrested, including a person in a giant rat costume who was dancing on top of the Monsanto sign.
Although only about 30 to 40 protesters were present, at least two dozen police officers were on hand.
And then a silver Volkswagon hatchback rolls up with a woman holding a yellow sign out the window. St. Louis County cops in military fatigue uniforms immediately pull her over and take her out of the car. She looks to be in her sixties.
Ray Downs
The lady was protesting too much.
As one of the camouflage-wearing cops searches the back of her vehicle, another puts her in handcuffs. She asks why she's being arrested.
"Impeding traffic," an officer answers.
"You're the one impeding traffic," she snaps back.
"Can we get a female over here?" the arresting cop asks one of his colleagues. Within moments, a Creve Coeur female cop comes over and pats down the woman, who is now surrounded by several county cops in military garb.
In all, police arrested ten protesters.
Follow Ray Downs on Twitter:
E-mail him at Ray.Downs@RiverfrontTimes.com.