Photos via St. Clair Sheriff's Department
Andrea L. Casper
Illinois police arrested four people after finding methamphetamine-manufacturing supplies and a stolen Ford truck at a Cahokia, Illinois, home.
A four-year-old girl found inside the house was turned over to her grandmother, according to the St. Clair County Sheriff's Department.
See also: How to Make Meth The Shake and Bake Way
Police identified the suspects as Roy V. Edwards Jr., 39, Andrea L. Casper, 31, Andrew Elliott, 35 and Jessica L. Elliott, 30.
All four people were charged with a felony count of aggravated participation of methamphetamine, and all but Edwards are being held in St. Clair County Jail on a $900,000 bond. Edwards' bond is $950,000.
The sheriff's department investigated after receiving information that meth and a stolen car were at a home in the 1100 block of St. Helena Avenue in Cahokia.
Police found evidence of methamphetamine manufacturing in the garage and trash bins outside, according to a post from the drug tactical unit on the sheriff's department's Facebook page.
Officers on the auto-theft task force found a stolen black Ford F-250 in the garage.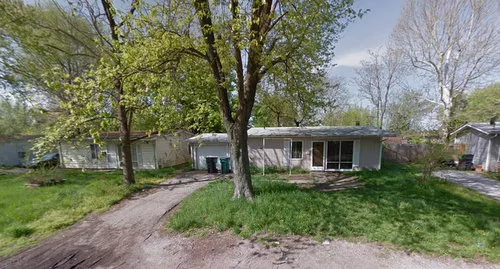 Google Maps
The Cahokia home police investigated.
Here's more from the police report:
Upon speaking with the occupants of the residence consent to search the property was obtained. During the search evidence of methamphetamine manufacturing was located in the garage and trash bins outside. A black Ford F-250 truck was also located in the garage. Special Agents from the Auto Theft Task Force determined the truck to be stolen. Investigators also located a 4 year old girl inside the residence. The Illinois State Police Meth Response Team responded to clean up the hazardous materials from the meth labs. Four suspects were taken into custody at the scene and the child was turned over to the grandmother.
Follow Lindsay Toler on Twitter at @StLouisLindsay. E-mail the author at Lindsay.Toler@RiverfrontTimes.com.