Courtesy of Ben Mazanec
Ben Mazanec and his father at a fire.
Whenever there's a fire on the south side, it's a sure bet Ben Mazanec will be there.
His radio, gear and identification are all St. Louis Fire Department official. Mazanec even has his own assigned car number -- 831 -- so police at the scene know he's legit.
But Mazanec isn't a firefighter. A first responder of a different kind, Mazanec has become the unofficially official photographer for the department, using decades of fire-fighting knowledge learned at his father's feet to inform images not just of smoke and flame but of brave men and women saving lives.
"People don't understand why I do it," Mazanec tells Daily RFT. "It's to get the history of the city. You never know when the fire you're going to is the big one that's going to be remembered forever."
Mazanec, 27, wants to be a firefighter. Since he was 20, he's tried to pass medical and training courses, but school, he admits, is just not his thing.
"I hate school," he says. "It's hard for me to pay attention to a lecture. It's like church. I'm religious, but it makes me want to fall asleep."
Ben Mazanec
One of Ben Mazanec's photos from a fire scene.
Despite his disinclination toward school, Mazanec is clearly bright and passionate about photographing fire fighters. A self-trained photographer, he studies fire videos on YouTube so he can predict smoke and flame patterns.
"I research it because it's fascinating; there's so much physics and geometry in use," he says. "And you wouldn't know. It's like fun geometry and fun physics."
The most important rule of firefighting, Mazanec says, is one passed down to rookie firefighters: "Shut up and watch or you'll die."
See also: We Have the Coolest Paramedic Ever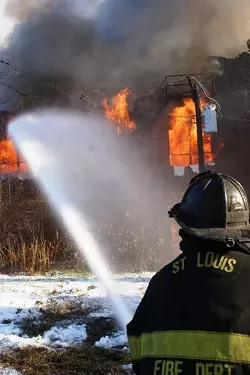 Ben Mazanec captures a firefighter at work.
Mazanec works at Gerard's Restaurant in Des Peres, but he's always looking to the next fire.
"If there's a fire any higher than two alarms, I'll be there no questions asked unless I'm at work," he says, quickly adding, "I'll try to get out of work. I'm like, 'If you don't need me, I have to go.'"
Mazanec doesn't get paid for spending hours outside capturing fire photos, but he sells his work, sometimes to firefighters willing to buy an image of themselves at work. He also keeps a Facebook page, First Alarm Photos STL, where he posts pictures and fire updates from around the city.
"I don't ask for money," Mazanec says. "I don't ask for pretty much anything. I just do it because I like to do it. It's not even a question."
Most recently, he's added video to his repertoire. "I wish I had an extra set of hands," Mazanec laments, jokingly.
See also: Mayor Proposes Taking Fire Ax to Firemen's Pension
For Mazanec, fire fighting runs in his veins. His father became a firefighter at the age of 34, relatively late to join the force. As a child, Mazanec rode his bike to the fire house to visit his dad and learn from the firemen.
"My dad, he's something else," Mazanec says. "He works and works and works. He's crazy. he worked his tail off to get in. I remember my dad studying on the couch with books in his lap."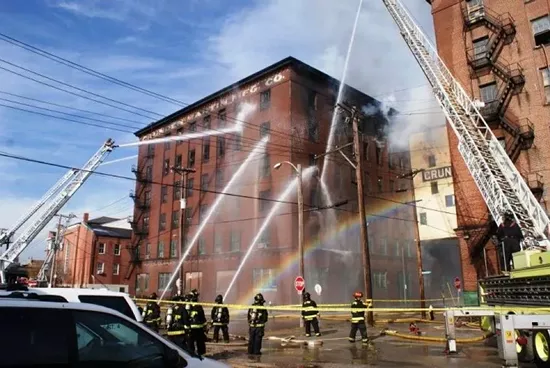 Ben Mazanec says he loves capturing smoke on camera.
Mazanec's path resembles his father's slightly -- both men felt driven to work as firefighters and to capture St. Louis' fire history on film -- but after seven years of shooting city fires, Mazanec has become an artist in his own right. Reluctantly, Mazanec admits he's welcomed on fire scenes but is no longer allowed, per Chief Dennis Jenkerson's orders, to officially assist firefighters in any way.
"I like to think of it as I give them a different perspective of what they do," Mazanec says. "They don't get to see what everyone else sees. Once the water hits fire, it's black. They see it in complete darkness."
Still, when he talks about a fire, Mazanec's laid-back pace quickens. His eyes pop into big, bright circles and his back teeth are visible in the far corners of his wide smile.
"Seeing these guys do what they do, I get the same adrenaline rush that they do."
Follow Lindsay Toler on Twitter at @StLouisLindsay. E-mail the author at Lindsay.Toler@RiverfrontTimes.com.