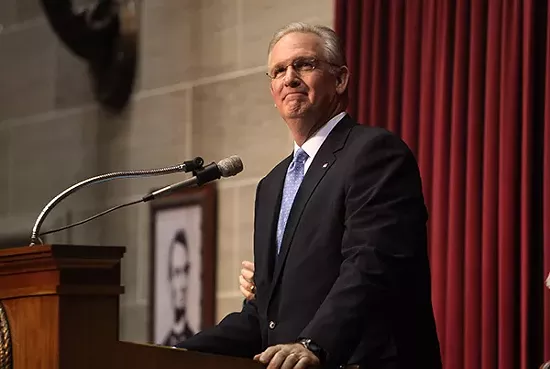 Gov. Jay Nixon delivers the State of the State address.
During Tuesday night's State of the State address, Governor Jay Nixon asked the Missouri Legislature to help him pass a law protecting LGBT people from workplace discrimination.
Missouri law protects workers from unfair treatment based on race, color, religion, national origin, ancestry, sex, age or disability. Last year, for the first time ever, the Missouri Senate passed a bill to add sexual orientation and gender identity to the list of protected identities.
But the clock ran out on the legislative session before the House could cast their votes.
"We need to end discrimination against LGBT Missourians in the workplace," Nixon said during the speech. "No Missourian should be fired because of who they are or who they love. Last year, the Missouri Nondiscrimination Act passed the Senate with bipartisan support but failed to get to my desk. Let's get it done this year."
See also: Fired For Being Gay: New Missouri Website Promotes Nondiscrimination Bills, GOP Support
Gov. Jay Nixon gives the State of the State.
The Williams Institute, which studies sexual orientation law, released a study last year showing a non-discrimination law would protect 160,000 gay and transgender Missourians while costing about $40,000, or 2.5 of the Missouri Commission on Human Rights' annual budget.
Nixon is the first sitting governor to raise the profile of workplace discrimination based on sexuality or gender identity, according to PROMO, Missouri's leading LGBT activist group.
"We share the governor's vision of creating a better Missouri reflective of the needs of the next generation," says A.J. Bockelman, PROMO's executive director. "Increasingly, that generation knows and respects the challenges of the LGBT community and wishes to see the community reflected in the broad diversity that already makes up our great state."
See also: Missouri Screws Over LGBT Couples When It Comes To Estate Planning
House Bill 615 filed with the Missouri Legislature adds sexuality and gender identity to the Missouri Commission on Human Rights.
Continue reading for the full text of the bill.
Follow Lindsay Toler on Twitter at @StLouisLindsay. E-mail the author at Lindsay.Toler@RiverfrontTimes.com.