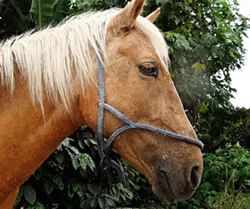 Bad news for anyone jonesing for a fresh, locally-sourced horseburger: When President Barack Obama signed the new federal budget late last week, he also signed a measure that effectively banned selling horse meat for human consumption in the U.S..
The $1.1 trillion spending package includes language that de-funds USDA inspections of facilities that process horse meat. Without official oversight from the federal government, Gallatin-based Rains Natural Meats -- which has been trying to open a legal horse slaughtering plant for for months -- is in a tight spot.
"It's a sad day for horses and horse people," says Sue Wallis, CEO of ​Unified Equine. The company is partnered with Rains Natural Meats as distributor, and Wallis herself is an outspoken advocate of the horse industry. (She's also a Wyoming state representative.)
See also: Horse Slaughter: Missouri Slaughterhouse Awaits State's Decision On Permit
Wallis claims that turning horses into food is a humane solution when the animals become elderly, homeless or otherwise unwanted. Opening up domestic horse slaughter, she says, would also help curb overpopulation in certain parts of the country
The horse industry "will not give up" on the goal of federally recognized horse slaughter, says Wallis. "We will continue to do whatever we can to make things better for horses."
But representatives from animal rights organizations view Wallis' claim -- that horse slaughter is compatible with animal welfare -- as totally ludicrous.
See also: Horse Slaughter In Missouri? ASPCA Slams Cruel Practice, Says Meat Is Dangerous
"It would be grossly inhumane is to argue that the solution for those horses is to put them through this terrible process," Nancy Perry, senior vice president of government relations for the American Society for the Prevention of Cruelty to Animals, tells Daily RFT. "Cruelty is inherent to the process of commercial horse slaughter."
Perry also cites a 2013 poll from Lake Research Partners, which surveyed 402 registered Missouri voters; The results showed 70 percent Missourians disapprove of horse slaughter for human consumption.
Sue Wallis, CEO of Unified Equine and Wyoming State Representative.
Wallis and Unified Equine have made multiple attempts to start horse slaughter operations in the state; Rockville and Mountain Grove were both considered as locations for a horse processing facility, but those plans fizzled.
Wallis has been partnered with David Rains, owner of Rains Natural Meats, since the summer. The Missouri Department of Natural Resources has, so far, quashed the horse-killing potential of the Gallatin facility by refusing to issue a permit for the plant to process waste water from equine slaughter.
Unified Equine and Rains Natural Meats are "analyzing several options," Wallis says, but it's not clear when (or if) the facility will open or what market it will supply.
See also: Missouri Horse Slaughter Facility: Humane Society Files Lawsuit To Block Processing Plant
When Daily RFT spoke to Rains earlier this month, he accused Governor Jay Nixon of letting politics and special interest groups with "vegan agendas" damage Missouri's agriculture industry.
Wallis calls the arguments against domestic horse slaughter "false propaganda of the worst sort."
"The process of turning a horse into food is the same process as turning a cow into food," she says. "There is no difference."
Animal rights activists have raised concerns that horses carry unknowable quantities of drugs in their bodies. They also argue that a horse's temperament and anatomy present insurmountable challenges to providing a painless death for the animal.
Wallis and Rains counter that federal meat processing guidelines, rigorous inspections and testing would ensure humane slaughter and safe, drug-free horse meat.
For now, horse slaughter in the U.S. is banned, but Amanda Good, Missouri state director for the U.S. Humane Society, says this isn't a final victory for the anti-horse slaughter crowd. Far from it.
"I don't know that this will end the debate," she says, adding that it is "definitely possible" that the battle over blocking horse slaughter inspections in the federal budget will continue into the future . Indeed, the budget signed last week only funds the country through September 30.
"I don't think it will be over until we pass the SAFE Act," Good says, referring to a proposed bill that would clearly ban domestic horse slaughter for human consumption and prohibit companies from exporting American horses to slaughterhouses in Canada and Mexico.
"Until then, we'll keep seeing stuff like this," she says.
Follow Danny Wicentowski on Twitter at @D_Towski. E-mail the author at Danny.Wicentowski@RiverfrontTimes.com