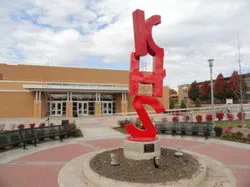 via
Kirkwood High School
During an investigation into safety in public schools, KSDK-TV (Channel 5) caused a 40-minute lockdown at Kirkwood High School, sending parents into a panic and prompting one teacher to give a student a pair of scissors to use as a weapon.
KSDK designed the special report to expose flaws in security by sending reporters with hidden cameras into local public schools to test how far they could go before being stopped by security. But the station's pathetic lack of an exit strategy left school officials frightened that their students were in danger for 100 minutes, including a 40-minute lockdown.
Watch KSDK's full report here:
Only one school let the reporter walk past unlocked doors, the cafeteria, classrooms and teachers before reaching the office: Kirkwood High School. After leaving his name and a KSDK work cell-phone number, the reporter (who remains anonymous) pretended he had to go to the bathroom, asked for directions and left to accept praise from his producers for scoring a major scoop.
See also: 9 Investigative Reports KSDK Should Work On Now After That Epic School Safety Story
What KSDK's reporter didn't know was that the secretary noticed he turned left toward the front door instead of toward the bathroom. Suspicious, she called the school resource officer for backup.
And that's when things got out of hand.
For the next hour, Kirkwood school officials tried to prevent a lockdown by asking the station one simple yes-or-no question: Was the man in the office a reporter on assignment? But KSDK refused to answer. Update: KSDK says it did not return Kirkwood school's phone call until ten minutes into the lockdown, according to Poynter.
KSDK
Ginger Cayce, Kirkwood's communications director, on the KSDK report.
First, Kirkwood officials called the number left by the reporter, but he never answered. The outgoing message identified him as a KSDK reporter, so the school resource officer brought in Ginger Cayce, the school's communications director, to demand answers from the station.
Cayce says she called KSDK over and over to halt panic by confirming the news team's stunt.
"I told them, 'I'm going to have to go into lockdown if you can't confirm that this was a test,'" Cayce tells the St. Louis Post-Dispatch. "When we couldn't confirm or deny it, we had no choice."
The school went on lockdown.
Continue reading for heart-breaking stories of teachers and students preparing for the worst -- all for a KSDK news stunt.
KSDK
Leisa Zigman apologizes to KHS parents, students and staff on air.
For 40 minutes, students lined the walls in darkness, hoping no one could see them through windows or doors while footage from the 2012 Sandy Hook massacre ran through their heads.
Caroline Goff, a freshman at Kirkwood, says her teacher told the class he'd stand in front of a attacker and sacrifice himself if the worst occurred.
See also: Lewis And Clark Lockdown: Gun On Campus Traced to Student, Off-Duty Police Officer
"My son was given scissors and told to kill the person if it came to that," Char Miller Henneberry posted on Facebook. "I'm thankful to the teacher as I know she was trying to protect the kids. But wow, my son had to go through that for a story for the damn news station? Are you serious?"
Dan Sammartano says his freshman daughter spent all 40 minutes of the lockdown believing she was going to die.
"I have never heard her this shaken up in my life," Sammartano posts on Facebook. "She described how her teacher barricaded the door and courageously prepared himself to fight an intruder. She described police running across the roof above her and loud bangs."
See also: School Violence Training: St. Louis Police Urge Better Reporting Systems for Warning Signs
KSDK apologized to parents, students and school staff for the trouble, saying the lockdown was not the intent of the story.
But no one from KSDK has spoken up as to why the station went 100 minutes without answering Kirkwood's questions and telling them the school was not in danger.
"We believe Channel 5 should have notified the school office immediately after the 'test' was completed," says Superintendent Tom Williams, in a statement to parents. "This would have helped our school improve security measures without going to the extreme measure of a lockdown and the panic and disruption it caused."
Sammartano says it best: "Stay out of our kids' schools. They're freaked out enough as it is."
Continue to the next page for full statements from KSDK and the Kirkwood School District. KSDK released this statement after uproar following its story:
NewsChannel 5 recognizes the importance of safety in our schools. As part of a continuing investigation this afternoon, we visited five local schools.

One of our employees assigned to this investigative report visited Kirkwood High School. He entered and walked his way toward the office, asking a teacher for directions after a few minutes. There, he asked if he might discuss the school's security. He identified himself by name and gave the office his phone number.

When the security official could not be reached, our employee left the premises without escort.

Approximately an hour later -- after our visit -- the high school was put on lock down. This lock down certainly was not the intent of our visit.

We will report this story tonight on NewsChannel 5 at 10 p.m.

NewsChannel 5 will continue to be vigilant when it comes to the safety of our schools and your children within.
Kirkwood School District Superintendent Tom Williams had his own stuff to say:
Dear KSD Families and Staff Members,

I wanted to provide this update to the lockdown situation at Kirkwood High School today:

At approximately 11:50 a.m. an unknown male came into the school office at Kirkwood High School and asked to speak to the school resource officer (SRO). The SRO wasn't available and the man gave his name and number. The man asked to use the restroom. The secretary directed him to the restroom, but the man walked down the hall and turned into a different hallway. At that point, the secretary became concerned the request to use the bathroom was a ruse to access the building and she immediately called our SRO. The SRO attempted to call the man to confirm that he had left the campus, but didn't receive an answer. The man's voicemail stated that he was a Ch. 5 reporter.

At that point, Ginger Cayce was notified called the news desk at Ch. 5 (multiple times) to confirm it was a reporter. The news desk wouldn't confirm or deny that it was a Ch. 5 reporter. Ms. Cayce told the news desk that we would have to go into lockdown if we couldn't get this confirmed. When it couldn't be confirmed, we had to go into lockdown.

We believe Ch. 5 should have notified the school office immediately after the "test" was completed. This would have helped our school improve security measures without going to the extreme measure of a lockdown and the panic and disruption it caused.

We will take this opportunity to review our safety measures and protocols and make changes where necessary.

We are obviously thankful all of our students and staff are safe, and appreciate your concerns and patience as we sorted through this difficult situation today. As always the safety and welfare of our students continues to be our highest priority.
Follow Lindsay Toler on Twitter at @StLouisLindsay. E-mail the author at Lindsay.Toler@RiverfrontTimes.com.