Photos by Jon Gitchoff
Something's missing here...oh! Pants! SEE ALL PHOTOS
St. Louis has survived another night of pantsless revelry on the MetroLink.
Tuesday marked the fourth annual No Pants MetroLink Ride, a purposefully pantsless romp on public transportation adopted by STL Improv Anywhere after similar events in New York.
See more photos: No Pants MetroLink Ride 2014
Organizer Mallory Nezam (center) helps check in pants.
Organizer Mallory Nezam says St. Louisans miss out on happenstance encounters when they drive everywhere instead of taking buses or the MetroLink.
"I've just had so many interesting encounters with people in public places on transit," she tells Daily RFT. "We just don't have that opportunity very often. I started introducing this to make public space more interesting."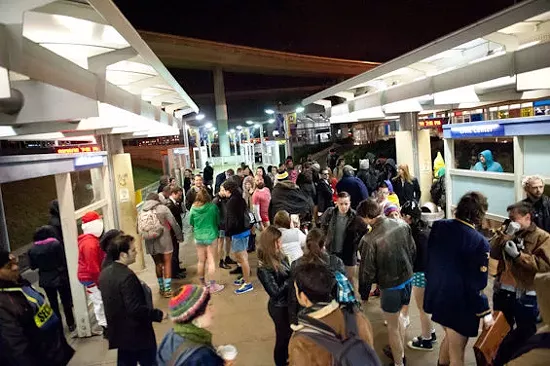 It's like Where's Waldo but for butts.
"I want public transit to be more of a fun place to be, not just functional," Nezam says. "We love to mix up the everyday. I think it's really good for the spirit to stay on your toes and see some magical and inspiring things."
Part of the event's humor is convincing typical MetroLink riders that there's nothing strange going on when a crowd gets on without their pants.
Continue reading for photos of pantless passengers pretending nothing weird is going on.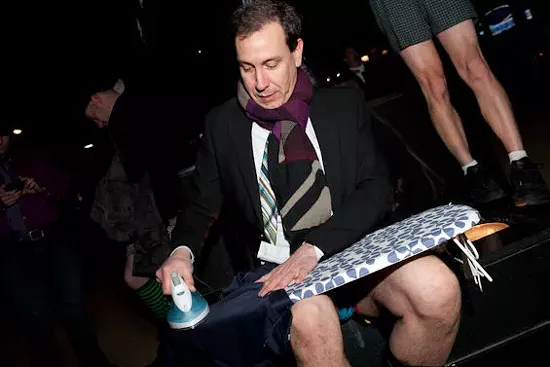 When you gotta iron, you gotta iron.
"Ride like this is just any other day on the MetroLink," according to the No Pants MetroLink Ride rules, passed out on fliers to riders. "I mean, you are already not wearing pants. Successful participants read newspapers, listen to their iPod, talk casually neighbors, etc."
No worries, guys, everything is toooooootally normal. Just headed to work.
The rules also remind riders that no inappropriate nudity or touching is allowed; there's no free pass just because you're not wearing pants.
Oh, that's just what he always wears.
Follow Lindsay Toler on Twitter at @StLouisLindsay. E-mail the author at Lindsay.Toler@RiverfrontTimes.com.