Photos by Lindsay Toler
The Value Village signs have already been stripped from the roof.
Value Village says it's still looking for a new location to replace the Shrewsbury store, which closed Monday to make room for the new Walmart planned for Kenrick Plaza.
"Today our hearts are breaking with you," the family-owned thrift chain posted on Facebook. "We hope to find a way back into the area...Stay tuned for any new developments."
The thrift store had hoped to move into a storefront in nearby Affton that had been vacant for a year, but county councilman Steve Stenger spoke out against it, saying Value Village was a bad fit for an up-and-coming neighborhood.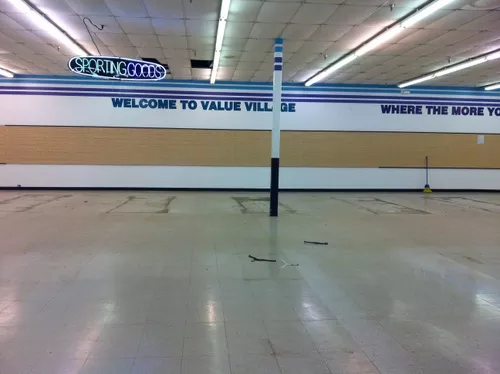 The store was almost completely clear of merchandise by its closing.
"Affton is poised to join other inner-ring suburbs like Brentwood, Maplewood and Richmond heights that are taking advantage of their convenient locations and quality school districts to draw new residents and vibrant businesses," Stenger told the St. Louis Post-Dispatch last year. "I grew up in Affton, and I want what's best for it and I don't believe Value Village is a good fit for the area."
Value Village president Robert West finally decided not to push for the Affton storefront, but a year later, there's still no replacement for the south-county store.
See also: Best Place to Buy Used Clothing St. Louis 2012 - Value Village
Stores in Fenton, Normandy and O'Fallon are still open.
Value Village on its last day.
The new Walmart -- the result of two-and-a-half years of political battles in Shrewsbury -- also displaces the Kenrick Antique Mall, which is moving to 8400 Watson Road two miles away and will take the new name General Grant Antique & Decor Mall.
Value Village says it's continuing to look for a new location. President Robert West did not immediately return calls from Daily RFT.
Follow Lindsay Toler on Twitter at @StLouisLindsay. E-mail the author at [email protected].