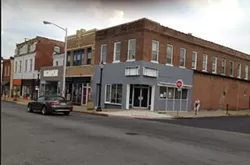 Facebook
All that ugly stucco is gone now, and more renovations are on the way for Bespoke.
A new store coming to Cherokee Street aims to provide women with clothes that fit without tailoring, dieting, stretching or pulling -- and without requiring couture-level prices.
Designer Dorothy Jones and her business-partner-slash-husband Mark Nevelow sold their house to fund the makeover of a long-empty storefront at Ohio Avenue in hopes of opening Bespoke, a made-to-measure boutique, this spring.
"We went all in," says Jones, 57. "This is the last great adventure."
See also: Southern Living Names Cherokee Street "Next Great Neighborhood"
The name "Bespoke" comes from a term in men's fashion: Tailors use an unfinished jacket or pair of pants as a canvas, later fitting and customizing the garment to the measurements and taste of the customer.
No such personalization exists in the world of women's clothing unless women are willing to pay haute couture prices for it. Otherwise, they're stuck with ready-to-wear, manufactured clothes in standardized sizes and styles that leave many out.
Dorothy Jones, a designer and pattern maker.
"No one can afford to have custom couture done for their everyday clothing, but you still have to get dressed and go out the door," says Jones, 57. "I just know so many people who aren't happy and comfortable with things they get in the stores, even when they pay to have it altered. Most people don't even tailor it. They just tug at the skirt every time it rides over their butt."
Jones hopes to change all that. With her years of experience as a designer and pattern maker, she says she can fit and personalize dresses, pants, skirts and more for women who -- for whatever reason -- just don't fit store sizes.
Starting with women's clothing and expanding later to include men, Jones plans to design a line each season that offers customers a jumping-off point. Women can try on Jones' designs, get them fitted and ask for changes (maybe a v-neck? What about a slit on the left side? Oh, oh, oh, feathers!) from Jones, who keeps prices low by keeping the business small.
"I can get it out the door for a reasonable price," Jones tells Daily RFT. "[Customers] are just paying the person who makes it. That's it. They're not paying for advertising. They're not paying for all the people who put their hands on a manufactured garment and take a cut."
Dorothy Jones
Fabrics from Los Angeles that are inspiring Jones' next designs.
For now, Jones and her husband are living in a rental until they can rehab the building, open the shop and move into the second floor. Holes in the roof caused the floor to rot all the way through to the basement; plus, it was full of dead pigeons.
"This thing is a monster," she says. "It was a full gut. It's been a very complicated renovation."
But even dead pigeons are worth it for a spot on Cherokee Street, one of St. Louis' most up-and-coming neighborhoods.
"These people are down there making their dreams come true, and I want to be in the middle of that," Jones says. "I want them to be my neighbors. There are a lot of people who sold everything they had to make it happen. People are doing it for themselves."
Follow Lindsay Toler on Twitter at @StLouisLindsay. E-mail the author at Lindsay.Toler@RiverfrontTimes.com.