Yesterday, the St. Louis Metropolitan Police Department released a snapshot of its overall crime statistics for 2013. The number that jumps out immediately is the 314 reports of rape, up 67 percent compared to last year's 185.
But, as proven from the city's "ranking problem," statistics can be misleading without the full picture: In this case, it turns out the FBI just updated its 1929 definition of forcible rape -- "The carnal knowledge of a female forcibly and against her will."
St. Louis Police Chief Sam Dotson tells Daily RFT that he ran the city's 2012 numbers using the new 2013 definition, which includes oral and anal penetration and the rape of men.
Applying that updated metric, Dotson says the number of 2013 rapes were "slightly down" compared to 2012. Overall, total crime went down 5.4 percent in 2013.
See also: Ten Worst St. Louis Crimes of 2013
St. Louis isn't alone in applying the new, more inclusive rape classification.
"I would believe that every city around the country will see an increase in their numbers," Dotson says. "But I think any time that we better understand a crime we can better understand the victimization. I want to better understand it so we can keep people safe."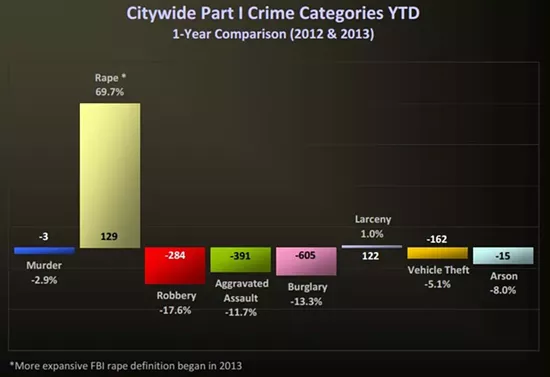 SLMPD
A graph comparing 2013 St. Louis crime data through November to 2012.
St. Louis experienced 120 homicides in 2013, up seven from 2012, but Dotson says he is still proud of the progress made this year.
"Crime in St. Louis is down almost 50 percent since 2006," he says. "Crime is at the lowest levels since the '60s, since the '50s in some categories."
Here are some highlights from the 2013 report, which you can read on the next page.
5,078 violent crimes. Decreased 10.3 percent, from 5,661 in 2012.
1,458 robberies. Decreased 18 percent, from 1,778 in 2012. This is the lowest reported number since 1953.
3,167 aggravated assaults. Decreased 11.3 percent, from 3,571 in 2012. This is the lowest number since 1968.
177 arsons. This is the lowest number reported since 1980.
Dotson credits the consistent use of hot-spot policing to the decrease in crime in St. Louis last year. He's optimistic that a soon-to-be redistricted police force will bring violent crime -- like homicides -- down even further in 2014.
Continue for more juicy crime data, as well as Chief Dotson's explanation for remaking St. Louis's police districts.
Facebook
Chief Dotson.
It's been over 50 years since St. Louis was divided into nine police districts, and that system will end come January 27 when the city shifts to six districts.
In an October blog post, Dotson wrote: "From every crucial point of view - customer service, officer safety, organizational efficiency, etc. - the old nine-district model no longer makes good, practical sense and there is now a pressing need to change it."
Dotson tells Daily RFT the new configuration will allow district captains to more effectively implement hot-spot policing tactics.
"They'll have the resources to go block by block and neighborhood by neighborhood to address specific problems," he says.
We've embedded the complete 2013 Crime Report release below. For an expanded presentation of 2013 crime numbers through November, click here. To see data by specific neighborhood, district and ward, click here.
2013 St. Louis Crime Statistics
Follow Danny Wicentowski on Twitter at @D_Towski. E-mail the author at Danny.Wicentowski@RiverfrontTimes.com