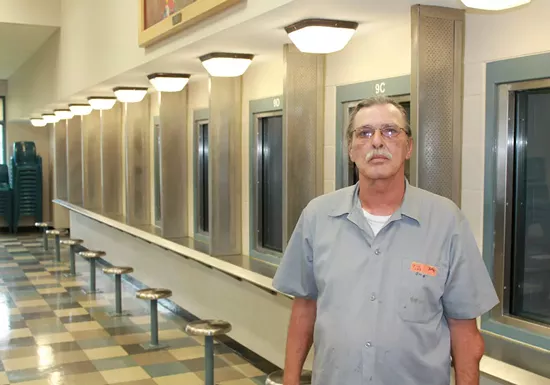 Ray Downs
Jeff Mizanskey at the Jefferson City Correctional Center.
Jeff Mizanskey, the only person in Missouri to be serving a life without parole sentence for nonviolent marijuana offenses, was featured on The Independents, a new show on the Fox News Business channel.
Show Me Cannabis executive director John Payne was brought on the show to talk about Mizanskey's plight. After hearing the gist of the story, host Kennedy says, "The point is, you shouldn't spend your life in prison if you're a nonviolent guy. It is so absolutely crazy to me. it is so heartless and cruel. He's been in prison twenty years. His kids are grown men now. His years have been robbed from him, and he has no way of getting out..."
Without clemency from Governor Jay Nixon or new legislation that would release nonviolent marijuana offenders, Mizanskey will die in prison, Payne explained.
See also: How a Missouri Man Could Die in Prison for Weed
Cohost Matt Welch asks Payne about the status of the clemency drive that has garnered vast support over the past few months.
"We've done a lot of lobbying of the governor on this case, and we've had probably about a thousand phone calls to his office and thousands of people have signed a petition favoring [Mizanskey], and we've also generated a lot of letters to his office," Payne says.
He adds: "There's a lot of movement there, but so far, the governor has not made any statement about this case although he has said that he wants to free up space in prisons and put nonviolent offenders back into society, and what better way to start than with this gentleman who has been a model prisoner and is in there for a very minor offense?"
See also: 20 Years for $40 of Crack, 10 Years for 2 Oz. of Pot? It Happens in St. Louis, Not Just Out West
State legislators are returning to work this week, and supporters of Mizanskey's release are planning on contacting their respective lawmakers, Payne says in the clip.
Follow Ray Downs on Twitter:
E-mail him at [email protected].