Photo by Chris Naffziger
Most Holy Trinity
Despite its image in local news, north St. Louis possesses some of the most beautiful and interesting architecture in the St. Louis area. As Irish and German Roman Catholic immigrants poured into St. Louis beginning in the mid-nineteenth century, they built dozens of new parish churches throughout the north side. Major ethnic groups had their own parishes where they could attend services in their native language and socialize with others from their home country.
As was common in the 1800s, the architecture of the churches reflects the Gothic Revival style, looking in many ways like the churches the immigrants had left behind in Europe. Gothic Revival architecture features soaring spires, large pointed arch windows filled with stained glass, flying buttresses that leap from the walls of the church to support the massive groin vaults of the interior, and are frequently heavily ornamented with sculpture and other decorations. Reflecting the German ethnicity of many of the new congregations, churches took on the floor plan of the hallkirche, a style of Gothic church popular in Germany where the transepts were diminished in favor of a long, open nave. These churches frequently also operated a school and were centers of their community.
The four churches below reflect the north St. Louis in many ways: abandoned, struggling, holding on or seeing new life.
St. Augustine Roman Catholic Church
Photo by Chris Naffziger
St. Augustine Roman Catholic Church.
At 3114 Lismore Street in the St. Louis Place neighborhood, this once-proud German parish church of St. Augustine rises above the ruins of a once-thriving neighborhood. The buff brick church, constructed in 1896 with a majestic off center spire, is easily one of the largest and loftiest churches in the city. But its fortunes rose and fell with its neighborhood. Once boasting a large congregation, the church closed in 1982, and its majestic Gothic windows were covered with plywood. It now sits empty.
St. Liborius Roman Catholic Church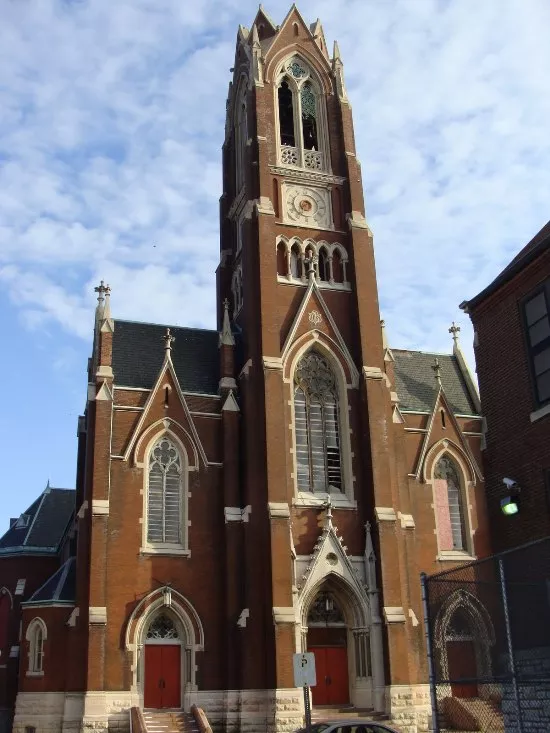 Photo by Chris Naffziger
St. Liborius Roman Catholic Church
To the south at the corner of North Market and Hogan streets, the huge red brick church of St. Liborius anchors a corner at the southern side of St. Louis Place. Another German American Roman Catholic parish, the church opened in 1889 based on plans by architect William Schickel. Its unique openwork spire, now truncated because of fears of collapse, surmounted this Gothic Revival masterpiece of red-brick and white-limestone trim. St. Liborius, like other parishes, closed in 1992 owing to a lack of attendance; now in the hands of a group of young artists, its future looks bright after years of neglect.
Continue for more Gothic goodness
Most Holy Trinity Roman Catholic Church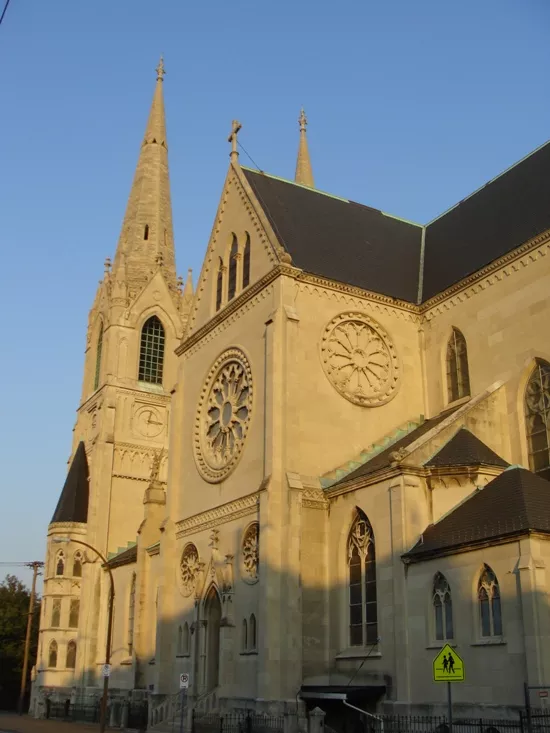 Photo by Chris Naffziger
Most Holy Trinity Roman Catholic Church.
A bright spot in a field of closed parishes, Most Holy Trinity is one of the few remaining Roman Catholic parishes open in north St. Louis. Its active congregation and parish school serve as symbols of stability in the Hyde Park neighborhood. The building has even survived severe tornado damage. The massive church, designed by Joseph Conradi, has with twin spires facing Interstate 70 and opened in 1899. It is a classic example of the artistic license architects in America often took with traditional architecture. Instead of the standard Gothic arch windows in the nave, Conradi inserted a row of rose windows.
Bethlehem Lutheran Church
Photo by Chris Naffziger
Bethlehem Lutheran Church.
While not a Roman Catholic parish, Bethlehem Lutheran competes with its Roman Catholic neighbors on the north side. Located in the southwest corner of Hyde Park, this church dates back to 1895 and was designed by architect Louis Wessbecher (who also designed St. Augustine). Of all of the four churches featured here, this one is suffering the most dilapidation; windows are missing, the roof is sagging and there is little money to start the renovation of such an expensive renovation. With new life coming to Hyde Park in the form of new and renovated construction, the survival of this church (God willing) could be a powerful symbol.
Chris Naffziger writes about architecture at St. Louis Patina. Contact him via e-mail at naffziger@gmail.com