Humane Society of Missouri
One of the more troubling instances of mass animal abuse reported in Missouri has taken a turn for the confusing.
Back in November Daily RFT reported on the apparent rescue of 252 animals -- 192 rabbits, 25 goats, 21 chickens, 10 cats, 4 dogs and a duck -- from a property near St. Clair.
Describing living conditions as overwhelmed with feces and neglect, the Humane Society of Missouri touted the rescue and its cooperation with the Franklin County Sheriff's Office, which charged Velma Muessemeyer, 75, with 21 counts of animal abuse.
But a December 19 ruling by a Franklin County associate circuit judge has thrown a wrench into that narrative: Judge David Tobben found the civil side of this case unsubstantiated and ordered that all 252 animals be returned to Muessemeyer. Criminal charges are still pending.
HSMO
Rabbits on Muessemeyer's property were housed in cages steeped in feces, says the Humane Society.
HSMO spokeswoman Jeane Jae says the organization plans to file suit to retain custody "to ensure the welfare of these animals."
See also: Stray Rescue Asks St. Louis for Help as Homeless Dogs, Cats Freeze to Death
This isn't the first time the Humane Society has dealt with Muessemeyer. It rescued over 150 animals from her property in 2010. At the time, Franklin County prosecutors agreed to drop animal-abuse charges if she agreed to probation and to own no animals other than two dogs, a guinea pig and a few others. That probationary period ended in 2012.
But in his December ruling, Judge Tobben concluded from the evidence that the property was just very, very messy. From his ruling:
The State's evidence tended to show that Mrs. Muessemeyer's property is very unkempt. If the issue were the propriety of taking children into custody based on the condition of the property, there is no question in the court's mind that the condition of the property, especially the house, justifies such action. The issue is not neglect of children however, it is neglect of animals.
Statements from the Humane Society made after the November rescue of the animals, however, described contaminated drinking water and overcrowded rabbit cages with piles of feces more than a foot deep.
"I think what was initially leaked about the case was wrong," says Taylor Goodale, Muessemeyer's attorney.
Continue reading for more from Muessemeyer's attorney, who is trying to save her from criminal charges.
See also: 252 Rabbits, Goats, Chickens, Cats, Dogs and a Duck Rescued from Filth, Abuse in St. Clair
Goodale tells Daily RFT that the facts of the case support his client.
"I think after a full and fair trial on the merits of the case, the truth came out," he says.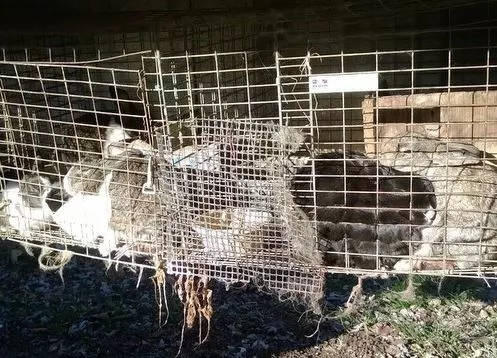 A Humane Society photo of one of rabbit cages on Muessemeyer's property.
However, this ruling doesn't mark the end of Muessemeyer's troubles. She still faces criminal charges in Franklin County, and the Humane Society is in no rush to return the animals.
"We have concerns about returning animals to someone who has criminal charges of animal abuse pending," says Jae, "Our intention is to gain permanent custody of the animals rather than be reimbursed for the cost to provide the ongoing medical care and recovery. Our hope is that ultimately we are able to offer as many of these animals for adoption as possible."
Here's Judge Tobben's final ruling.
Follow Danny Wicentowski on Twitter at @D_Towski. E-mail the author at Danny.Wicentowski@RiverfrontTimes.com