Jenn Cloud
One of Cloud's dirty deeds: Pet a kitty.
The deeds described in AC/DC's 1976 single "Dirty Deeds Done Dirt Cheap" are of a particular kind of dirty. That is, of the concrete shoes and cyanide variety.
But for Jenn Cloud the song took on a new meaning during a late-night listening session a couple weeks before Christmas. Inspired, Cloud decided to offer to do dirty deeds -- clean litter boxes, deliver packages, return library books, etc. -- to raise money for Tenth Life Cat Rescue.
"I was not into this holiday season at all, and the thought of doing dirty deeds for dirt cheap sounded like it could actually be kind of fun," she recalls. "I thought it might actually help me get out of my crabby little grinch of a shell."
See also: Five Things Every Cat Should Know About St. Louis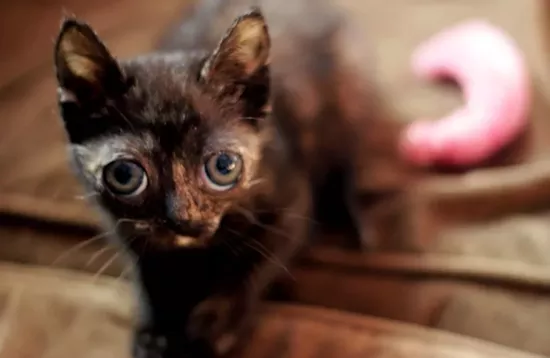 Danny Wicentowski
Chryssi the kitten was taken in by Tenth Life Cat Rescue after she was found by a homeless man.
A marketing consultant recently gone freelance, Cloud built a website and a blog around answering the menial needs of St. Louis. By Friday, Cloud had a list of a dozen or so deeds of varying dirtiness, from cleaning the inside of a limo to picking up a lunch order.
Many of Cloud's "customers" apparently couldn't resist throwing in goofy requests. The day started at Vantage Credit Union in Bridgeton, where she was tasked with wrapping up promotional gift baskets while also rapping about it, freestyle.
From there, she cleaned out an office desk, ordered and delivered an Aporkalypse sandwich from Blues City Deli and spent lunch time washing windows on Cherokee Street.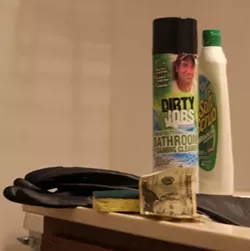 Danny Wicentowski
The scene that greeted Cloud in a Central West End bathroom.
"Finding the balance in this project was a challenge, between work and play and fun and usefulness to people and groups who needed it," Cloud says. "Then the driving schedule. St. Louis is massive!"
In what was certainly the most adorably dirty deed requested, Cloud drove out to south city to pet Chryssi the kitten and clean her litter box. Chrissy had been taken in by Tenth Life Cat Rescue just weeks before; the tiny ball of mewing fur had been found by a homeless man who could not take care of her. After a nice, long kitty petting session, Cloud also helped the homeowner remove two air-conditioning units from windows.
Of course, there were some legitimately dirty deeds. A pair of rubber gloves, cleaning supplies and $20 were left out for her in a Central West End bathroom, where she scrubbed a shower while muttering "What is this blue? I thought I was scrubbing the blue," and "Is this tire cleaner?"
By the end of the day, Cloud says she made $275 on twelve dirty deeds, of which she donated $155 to the cat shelter. She dropped off ten bags of cat litter provided by Tidy Cats.
"I really appreciated the opportunity to try this across the counties and it ended up being a lot of fun," she says. "I hope to try it again even stronger next year."
You can check out more photos and video on Cloud's Instagram account and the Dirty Deeds Done Dirt Cheap blog.
(And here's one more picture of Chryssi the kitten, because we cannot get enough of this kitten. Cannot. Get. Enough.)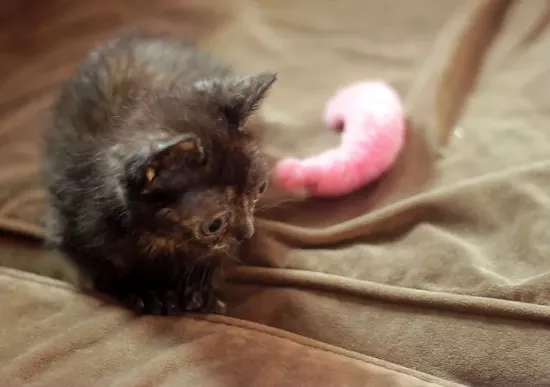 Danny Wicentowski
Not. Enough. Ever.
Follow Danny Wicentowski on Twitter at @D_Towski. E-mail the author at Danny.Wicentowski@RiverfrontTimes.com