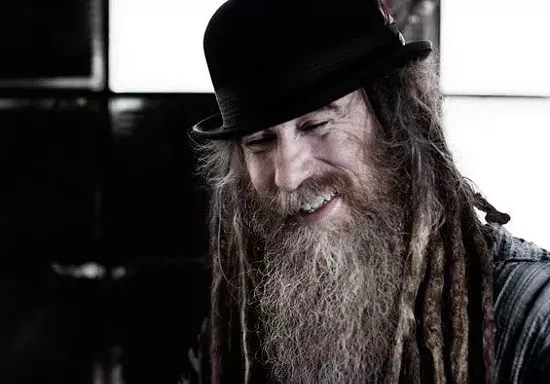 Jennifer Silverberg
Jimmy Tebeau
Jimmy Tebeau -- who turned his 350-acre farm into a concert venue complete with its own open-air drug market -- will be out of jail earlier than expected.
The Federal Bureau of Prisons lists Tebeau's new release date as September 7, 2014, five months earlier than his original release in February 2015.
Update: Tebeau's lawyer Scott Rosenblum says the early release was negotiated up front during his sentencing, especially since Tebeau cooperated financially by surrendering his farm to authorities.
See also: Schwagstock's Jimmy Tebeau Gets 30-Month Sentence for "Drug-Involved Premises"
Tebeau faced a 30-month sentence after he pleaded guilty in June 2012 to maintaining a drug-involved premises -- the federal government's way of saying Tebeau allowed a rampant drug market at Camp Zoe, where he lived with his wife and children. Tebeau was also fined $50,000 and ordered to serve 200 hours of community service.

Jimmy Tebeau's federal release date record.
Tebeau's land was seized by the federal government and sold for $640,000 to Missouri State Parks, which is turning the former hippie haven into a park for fishing, floating and hiking.
Jimmy Tebeau at Schwagstock
See also: Missouri Buys Hippie Drug Haven Camp Zoe, Turns It Into a Park
Tebeau won't see any of that money since he lost his land after his conviction. The money doesn't even go to Missouri schools, as it would have if a local law-enforcement agency had arrested Tebeau. Instead, all that money goes to the DEA and the Missouri State Highway Patrol, two agencies who investigated the drugs sold at Camp Zoe.
See also: In Asset Forfeiture Cases Like Camp Zoe, Feds Help Local Police Keep Money From Missouri Schools
Tebeau still has nine months left in prison. Want to write him a letter? He sent us his address:
James Tebeau 38712-044 Yankton FPC PO Box 700, Durand Unit Yankton, SD 57078
Follow Lindsay Toler on Twitter at @StLouisLindsay. E-mail the author at Lindsay.Toler@RiverfrontTimes.com.