Nancy Stiles
Dr. Dan the Pancake Man
In the two months since his pancake artistry went viral and jettisoned him to accidental fame, Dan Drake saved enough in Christmas tips and gifts to hang up his Courtesy Diner polo and pursue pancakes full-time.
He hid $1,500 in a lockbox in his closet, put in his two weeks at the South Kingshighway diner and began to dream big.
But in keeping with the adventitious rise of south city's "Dr. Dan the Pancake Man," nothing is going according to plan.
Nancy Stiles
A special Dancake creation
Thieves broke into Drake's apartment Monday and stole the lockbox, indefinitely postponing dreams that had only became possible weeks ago.
See also: Dr. Dan Flips Pancakes on the Today Show, Rachael Ray Up Next
"That money was going to make it so I could focus on the next chapter of my life," Drake tells Daily RFT. He was dreaming of launching a custom-pancake food truck and going on a national tour before the theft. "When this guy stole this money from me, it was more than just taking money. I'm not greedy. What this money represented was this disgustingly stressful period of my life. I already put this investment in, and now it's gone."
Before he even called police, Drake flipped on his phone camera and posted a video on Facebook to show friends and followers how drastically his luck had changed.
"For the first time in my life, when I go to sleep, I think, 'Let me make sure my knife is by the bed in case this motherfucker comes back,'" Drake says. "That's the angriest and most hurt I've ever been."
See also: 1-Up Pancake: "Dr." Dan Drake Goes Viral with His Super Mario Pancakes at Courtesy Diner
In the few days since the theft, Drake's plans have changed. He's not sure how he'll afford to move out of his home, where he says he no longer feels safe, but he's launching a Kickstarter fundraising campaign as quickly as he can to capitalize on his national support and recoup his losses.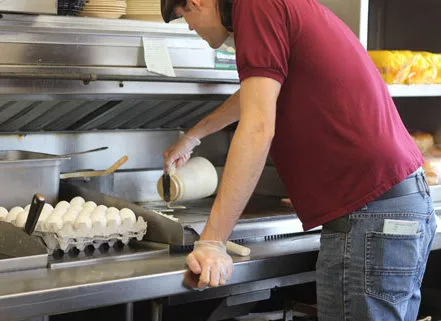 Nancy Stiles
Dr. Dan hard at work.
Drake is asking for $15,000 to start a mobile novelty pancake catering business -- far less than the $75,000 he'd originally wanted to trick out a brand-new food truck. With his introductory video filmed and his bank account set up, Drake hopes to launch his crowdfunding campaign Friday, weeks earlier than he'd anticipated.
"This screwed around with my plans," he says. Continue reading to see how Drake will spend the $15,000 he's asking for.
Another satisfied Dancake customer.
Here are some of the ways Drake wants to spend the $15,000: -$6,000 for a big white van -- something simple off Craigslist, Drake says. -$1,500 for car insurance for a year -$850 for a the Dancake Van decal for the van -$750 for two new griddles -$500 for food -$1,500 for permits and fees -$1,000 for advertising (Drake wants a billboard.)
Until he can afford to move out and start his business, Drake says, he'll stay on at Courtesy Diner. His bosses had already asked him to withdraw his two week's notice since his pancake fame keeps the diner in the national news.
"We're getting all this crazy free publicity, and everybody in the fucking world is coming to Courtesy Diner to see me," Drake says. "They just want to be like, 'I got a pancake from the pancake guy.'"
Drake's custom pancakes started as a creative way for him to stay engaged during slow times at work. Now that his creations are well-known, customers drive from as far away as North Dakota and Florida to commission detailed pancakes -- even when the diner is slammed with customers.
See also: 10 of the Best Nyancakes by Dr. Dan
"I'm juggling 800 other things" when tables try to order intricate pancake designs, he says. "It gets so old. It goes from something fun and exciting and turns into the shittiest extra work that kills me inside."
But without the nest egg hidden in his lockbox, Drake could be looking at many more months at Courtesy Diner.
"I understand I brought this on myself," he says, "but this wasn't what I expected. This isn't how I thought this was going to play out."
Want to see Dr. Dan in action? He's signing copies of his new comic book, performing with his band and making pancakes starting at noon Saturday, January 11, at Star Clipper (6392 Delmar Boulevard, University City; 314-725-9110) in the Loop. Follow Lindsay Toler on Twitter at @StLouisLindsay. E-mail the author at Lindsay.Toler@RiverfrontTimes.com.