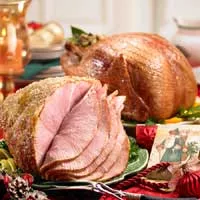 If Mizzou wins, an Oklahoma food bank wins this deliciousness.
The University of Missouri Tigers take on Oklahoma State University's Cowboys tomorrow night at the Cotton Bowl, and the states' governors are wagering to make the game more interesting.
Governor Jay Nixon, a Mizzou alum, wagered a holiday ham feast from the town of California's Burgers' Smokehouse. If Oklahoma State wins, Nixon will send a spiral-sliced ham with homemade honey glaze and a smoked turkey to an Oklahoma food pantry.
If Missouri wins, Oklahoma State alum Governor Mary Fallin will ship 50 pounds of food to the Food Bank of Central and Northeast Missouri. The made-in-Oklahoma delicacies include Seikel's Old Style Mustard, Southern Okie apple spread, Daddy Hinkle's meat marinades, Ace in the Bowl Salsa, Head Country barbecue sauce, Maria Rae's Gourmet Foods salsa and seasonings, Pepper Creek Farms, Clements Foods, Griffin Food Co., Scaffetta's Gourmet Foods, Shawnee Milling Co., Stonegate Gourmet, S&S Food/J&J Etc. and Susan's, Inc. seasonings.
"Our Tigers have had an outstanding 11-2 campaign in only their second year in the premier football conference in the country," says Nixon, who graduated from MU in 1978 and from the university's law school in 1981. "I look forward to watching the Tigers claim the Cotton Bowl title on Friday and sending the Cowboys home empty-handed across the Red River."
The Tigers are ranked No. 8 in the BCS. After a 10-2 season, the Cowboys follow close behind at No. 13.
See also: New Mizzou Helmet Earns Blessing of Fan Whose Design May Have Been Borrowed
"I appreciate Gov. Nixon for showing good sportsmanship by participating in this friendly wager as we continue to raise awareness about hunger in both states," says Governor Fallin, who graduated from Oklahoma State in 1977, in a release. "I look forward to the delivery of these goods when the Cowboys win."
Kickoff is at 6:30 p.m. Friday.
If you're road-tripping from St. Louis to Dallas for the game, here's how to make it through Oklahoma without killing yourself out of boredom.
Follow Lindsay Toler on Twitter at @StLouisLindsay. E-mail the author at Lindsay.Toler@RiverfrontTimes.com.