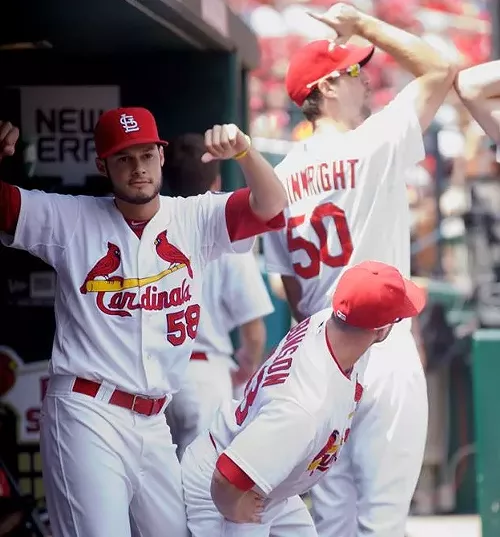 Bow-chicka-wow-wow, Cardinal birds!
2013 was the year the St. Louis Cardinals were named the best-looking team in major league baseball, and we couldn't agree more. The Redbirds are responsible for seven of Daily RFT's ten most-read articles in sports this year.
Here are the top ten St. Louis sports stories from 2013:
10. Red Sox Take Out Full-Page Newspaper Ad, Thank Cardinals Fans for Sportsmanship
This was pretty classy, Boston. Losing the 2013 World Series in six games was devastating for Cardinal Nation, but goddamnit if we aren't the best fans in baseball. Beantown thanked St. Louis for extending a warm Midwestern welcome to players and fans alike in a full-page ad that cost as much as $20,000.
9. Welcome to St. Louis, Boston Red Sox Fans: 5 Tips for Getting Around
Speaking of that warm Midwestern welcome we offered the Boston Red Sox last October, Daily RFT offered Sox fans a few pointers on getting around the Lou before games three, four and five. We made a lot of local folks mad with our pronouncement that the Arch is kind of (but only kind of) bullshit, but the list got some attention by celebrating Forest Park, the City Museum and other St. Louis staples. The Cardinals know how to welcome the other team, but that doesn't mean they'll take it easy on you.
8. St. Louis Cardinals Ranked MLB's Best-Looking Team, No. 1 Uniforms in All Sports Leagues
Don't our uniforms look great? The gleaming white, the retro details and those bright red Cardinal birds all earned the St. Louis Cardinals the title of No. 1 greatest uniform professional sports this year. ESPN's Uni Watch Power Rankings pitted the Redbirds' uniforms against the 122 teams in the NFL, NBA, NHL and MLB, and of course, St. Louis came out on top!
Seven more stories after the jump! 7. Missouri Couple Outraged By Fully Clothed Strippers at Kansas City Chiefs Game
Angela Lukenbill and her fiance Chad Smith boycotted the Kansas City Chiefs' home opener when they learned the strip club Chrome Kansas City as bringing some of their exotic dancers to the tailgate. Ultimately, the strippers' tank tops and shorts made them indistinguishable from any other sports fan, but the couple's outrage made this one of our most-read stories this year.
6. Dispatch from Dodger Stadium: A Cardinals Fan Lost in Los Angeles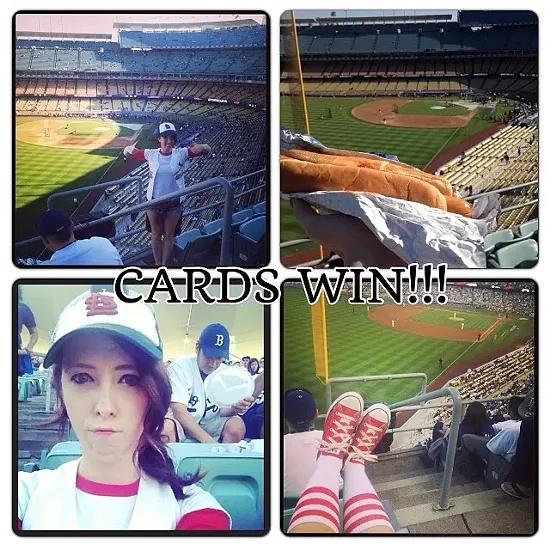 Remember how everyone seemed to be hating on the Cardinals during the postseason? Well Joplin native-turned-LA expat Morgan Colleen Spencer sent us the best scathing review of the Los Angeles Dodgers we've ever read -- and we were thrilled to share it with you. Here's our favorite line from Spencer: "I hope St. Louis is willing to welcome me home with open arms because if I wasn't over LA before, I'm certainly over it now!"
5. Cardinals: Why Are There Christian Symbols On The Field At Busch Stadium? (PHOTOS)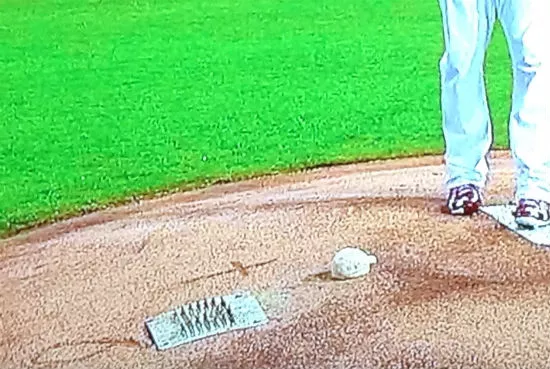 Courtesy of Michael Vines
Ever notice the Cross or icthus on the mound at Busch Stadium? We did, so we donned our investigative reporting caps and did some digging. It got us wondering: Is it OK to have religious symbols on a professional sports field at all?
4. Bachelor Contestant Sarah Newlon Defends Yadier Molina Cancer Sign During World Series
Sarah Newlon, a Season 11 contestant on The Bachelor and Cardinals fan, came across as a huge idiot this postseason when she held up catcher Yadier Molina's name during a somber Stand Up to Cancer tribute. It didn't help that she was tipsily cracking up with her boyfriend during the moment of silence, and Cardinal Nation was quick to distribute Internet justice. Midway through World Series Game 4, her phone erupted with hateful, angry texts and tweets.
Continue reading for our top three stories of 2013! 3. Brian McGhee, Ex-WWE Wrestler, St. Louis Native, Accused of Stabbing Girlfriend to Death Brian McGhee was arrested for fatally stabbing his St. Louis-native girlfriend before leading cops on a high-speed chase through Tampa Bay before crashing into a guard rail. The 29-year-old former World Wrestling Entertainment wrestler also goes by "The Future" Donovan Ruddick and DT Porter.
2. Cardinals: Top 17 Sexiest Players of All Time
Remember how our No. 8 most-read story was about how stylin' the Cardinals' jerseys are? That inspired us to pay homage to the most attractive Cardinals players ever. We worked VERY hard on this, and in no particular order, here are our top seventeen sexiest players.
1. PHOTOS: Argentina Wins at Busch Stadium, Bosnians Celebrate Anyway - With Flare
We thank St. Louis' 70,000-plus Bosnian community for skyrocketing this story to the top of our most-read list. Supporters of the Bosnia-Herzegovina national team brought flares into Busch Stadium during the game against Argentina, and St. Louis' baseball fans totally freaked out.
Follow Lindsay Toler on Twitter at @StLouisLindsay. E-mail the author at Lindsay.Toler@RiverfrontTimes.com.