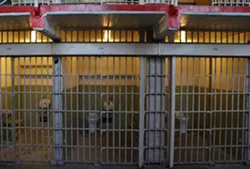 derekskey
Missouri convicts have been growing produce for 15 years.
It used to be that a prisoner's debt to society could be paid on a chain gang by breaking rocks and clearing fields. In Missouri today, however, convicts are growing tomatoes, okra, pumpkins and carrots.
The Missouri Department of Corrections announced earlier this month that its Restorative Justice Garden Program -- which operates in 20 of the state's adult institutions -- grew and donated 325,699 pounds of produce to Missouri food pantries, shelters, churches, nursing homes and school districts. That's nearly 163 tons of veggies for those in need.
George Lombardi, director of the Missouri Department of Corrections, says the programs "teach offenders about compassion, a quality that may be lacking in their lives, and to learn altruistic behavior while repaying to their debit to their communities for their transgressions."
See also: Group Can't Serve Hot Food To Homeless Without Permit, Says STL Health Dept.
The garden program has been around for more than 15 years. This year's crop tops the 117 tons donated in 2012, and Northeast Missouri Correctional Center in Bowling Green was MDC's top producer in 2013 with more than 62,000 pounds.
timsackton
You can read MDC's full report on the Restorative Justice garden here.
Moberly Correctional Center also donated 5,000 plants to local food pantries.
The phrase "restorative justice" isn't just a euphemism that prison officials invented to make "prison garden" sound more hefty. Missouri actually has a slew of these kinds of programs, from refurbishing bikes to training puppies.
According to Lombardi, the underlying philosophy of restorative justice is: "[W]hen a crime is committed, a debt is incurred. Restorative Justice holds offenders accountable, while providing a means for them to repay their debt."
Sarah Gyorog, restorative justice coordinator for the Center for Women In Transition, has a slightly less Judge Dredd-ian way of describing it.
"Restorative Justice is the idea that when a crime is committed, there's more to it than serving your time. There's usually a relationship that's been harmed," she says. "All those people in prison are regular people, and they feel terrible when they hurt someone. Just like you or I would. Many times people come to us and say 'What can I do, what can I do to give back?'"
Despite the tangible good these gardens provide to food banks, there's actually a bit of a dark irony here: The 4,000 or so inmates currently locked up on drug charges may one day find themselves relying on these very food banks and community organizations to survive, since Missouri bans both cash assistance and food stamp benefits for people convicted of a drug felony.
Follow Danny Wicentowski on Twitter at @D_Towski. E-mail the author at Danny.Wicentowski@RiverfrontTimes.com