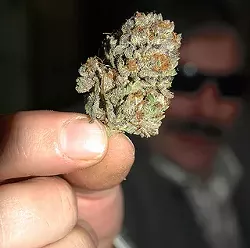 Cannabis Culture on flickr
Y'all sure love when we write about ganja.
2013, you were good to us.
Cops and potheads, giant ta-tas and dick jokes, viral videos and flat-out lies -- there was more than enough news to keep the Daily RFT busy this year. We invite you on a tour of 2013 through our thirteen most-read stories of the year:
1. After 20 Years in Prison, Missouri Man Serving Life Without Parole for Marijuana Asks Governor for Clemency Our most popular story this year was about Jeff Mizanskey, who has served twenty years of a life sentence for three non-violent marijuana offenses. With no chance of parole, his only chance of getting out is if Governor Jay Nixon grants him clemency.
See also: How a Missouri Man Could Die in Prison for Weed
2. Jessica Howell, O'Fallon Mom, Encouraged Boyfriend To Rape Her Infant Daughter: Cops
Jessica Lynn Howell and her infant daughter.
Jessica Lynn Howell, a 25-year-old O'Fallon mother, encouraged her boyfriend to rape her infant daughter, prompting a brutal sexual assault that resulted in her four-month-old baby's death last year, police say. Howell is expected to face trial in early 2014.
3. Aliens, Fatties and Miley: Map Shows The United States According to St. Louis
We Missourians get stuck with a lot of stereotypes -- meth heads, hillbillies, storm watchers. Hanna Katee Williamson fought back with a few broad brush strokes of her own.
Continue reading for ten more of our most read stories of 2013! 4. Hilariously Shaped Winter Storm Could Penetrate Midwest, Make Things Slippery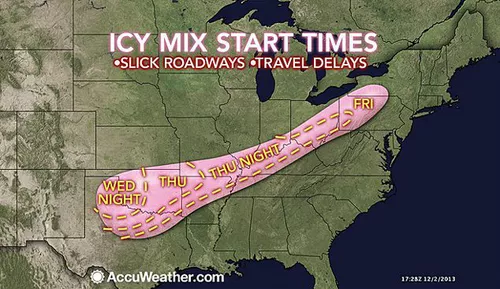 This winter has been a stiff one. The week after Thanksgiving started out warm with temperatures in the 50s and 60s, but a winter storm left St. Louis at least partially covered with the S word: snow.
5. Marina Shifrin, Mizzou Journalism Grad, Quits Thankless Job Via Viral Dance Video Mizzou grad Marina Shifrin shows the world how to make an exit in this viral video.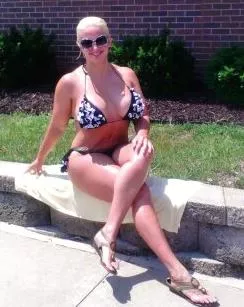 Facebook
Madelyn Sheaffer and her scandalous bikini
6. Missouri Woman Kicked Out Of Water Park Because Her Bikini Is Too Revealing? Madelyn Sheaffer, 43, was kicked out of a water park this summer. Officials told her it was because her bikini wasn't family-friendly. She says it's because she has a rockin' rack. We tend to agree with Shaeffer.
7. The Latest "Knockout Game" Claim Was a Lie, But the Truth is Way More Depressing After being an abusive asshole to his girlfriend, 25-year-old Justin Simms of Arnold told police and the media she was hit during the knockout game. Now police are charging him with making a false report.
8. Crestwood Court: Post-Apocalyptic Portraits of the Abandoned Mall (PHOTOS)
Crestwood Court used to be full of shoppers. Then it was just full of mall walkers. Now, it looks like a wasteland. Check out our ten favorite photos.
Five more of our most popular stories after the jump!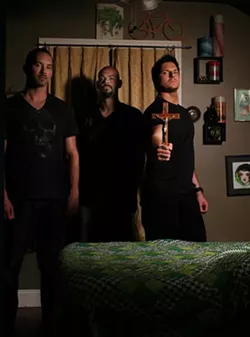 Travel Channel
Inside the bedroom where the exorcism took place.
9. Travel Channel's Ghost Adventures Investigates St. Louis Exorcist House; Hears Demons In 1949 a thirteen-year-old boy from suburban Washington, D.C., traveled to St. Louis after experiencing hallucinations and fits. Doctors thought a change of scenery might help. It didn't. Now, Travel Channel's Ghost Adventures says the house made for their eeriest filming to date.
10. Missouri Drug Cop Says Marijuana Legalization Advocates Are Stupid Welfare-Sucking Potheads Who Probably Can't Read When Sergeant Kevin Glaser of the SEMO Drug Task Force got home from a town-hall meeting about marijuana, he unleashed on Facebook, basically calling the legalization advocates a bunch of stupid potheads.
11. Missouri Buys Hippie Drug Haven Camp Zoe, Turns It Into A Park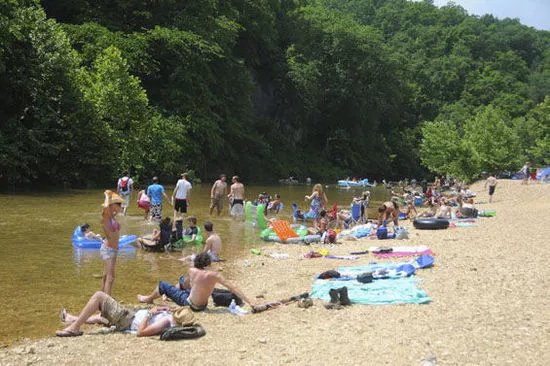 Grateful Dead cover-band frontman Jimmy Tebeau is in jail for allowing an open-air drug market during weekendlong jam fests for young hippies, and now his 330-acre tract located some 150 miles southwest of St. Louis will become the next new Missouri State Park complete with fishing, floating and hiking.
12. How to Make Meth The Shake and Bake Way
We're cheating a little bit here. This story is from 2010, but it's consistently one of our most popular. Enjoy!
13. Students Fight to Wear Confederate Flag Shirts; Nixa Schools Keep Ban, Cite Past Racism
Students at Nixa Public Schools say it's unfair they can't wear shirts with confederate flags on them to honor a seventeen-year-old who died of carbon-monoxide poisoning.
Follow Lindsay Toler on Twitter at @StLouisLindsay. E-mail the author at Lindsay.Toler@RiverfrontTimes.com.