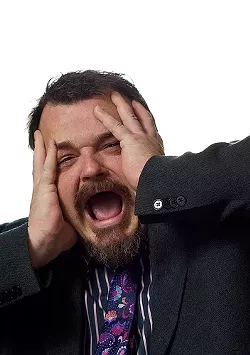 Missouri is on the verge of launching the first mainstream queer museum collection in the region, prompting some epic freak-outs from anti-LGBT commenters on Facebook.
The collection of gay St. Louis historical artifacts -- including drag-queen outfits, protest signs, pride-parade souvenirs and more from the last 60 years -- sits in Steven Brawley's basement for now, according to the St. Louis Post-Dispatch.
The Missouri History Museum is eyeing the piles of memorabilia, called the St. Louis LGBT History Project, for a queer history exhibit.
"I almost don't want to say this, but it feels like another barrier has been crossed, to have the Missouri History Museum embrace our stories," Colin Murphy, editor of LGBT magazine the Vital Voice, tells the Post-Dispatch.
Not everyone loves the idea of documenting the largest modern-day fight for civil rights in a museum exhibit. Here are the four lessons we learned from the homophobic freak-outs online, shared via Facebook statuses:
1. History is over. Spending taxpayer dollars on any history exhibits is just frivolous during these trying economic times, say commenters. No museum is better than a gay one.
2. Everyone's minds are stuck in the gutter. Commenters seem confused between the planned LGBT museum exhibit and a screening of XXX gay porn.
The award for strangest freak-out goes to John Gardner, who e-mailed Vital Voice marketing representative Laura Wagner at work to find out how gay sex works.
Two more after the jump! Here are the lessons we learned from the homophobic freak-outs online:
3. Museums are for straights only. Unless there's a warning sign that reads CAUTION GAY STUFF AHEAD, sexual orientation just doesn't belong in a museum, say commenters. Besides, Missourians aren't smart enough to understand gay history anyway.
4. God will be super pissed off. Museums should never dedicate exhibits to things that are morally reprehensible, like slavery or the Holocaust. Homosexuality is a sin, say commenters, and sins don't belong in museums.
Follow Lindsay Toler on Twitter at @StLouisLindsay. E-mail the author at Lindsay.Toler@RiverfrontTimes.com.