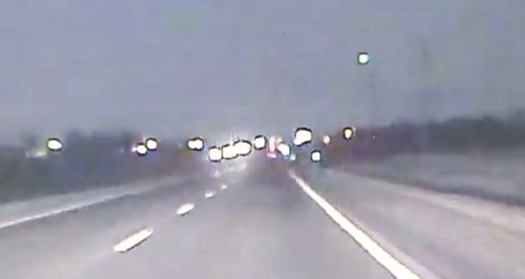 A police dash camera captures the green fireball.
Scientists still aren't exactly sure what it was, but hundreds of people in Missouri, Kansas, Iowa and Nebraska reported a bright green meteor streaking across the sky Thursday night, making it the fifth most-reported fireball ever.
"I've never seen anything like this," says David Lane, a member of the Astronomical Society of Kansas City, to KCTV 5 in Kansas City. "I saw the huge ball and then green flashes. The colors were amazing."
The extremely bright meteor could have been stone, iron, ice, space junk or some other kind of debris, astronomers say. Whatever it was, it zipped into the earth's atmosphere at around 140,000 miles per hour, says Joe Wright, vice president of the Astrological Society of Kansas City, to KCTV 5.
Several people, including a Missouri Highway Patrol trooper in Sedalia, caught the fireball on tape.
Earlier this year, a similarly startling meteor blasted over central Russia, glowing 30 times brighter than the sun. Scientists warned the Russian meteor hinted at a growing risk for smaller asteroids in the future, according to National Geographic.
Meteors aren't rare, but seeing one is. This fireball was bright enough to see in urban areas throughout the Midwest -- even as far away as West Virginia.
Did you see the meteor? The American Meteor Society wants to know what you saw.
Continue reading for four more videos of the meteor.
Follow Lindsay Toler on Twitter at @StLouisLindsay. E-mail the author at Lindsay.Toler@RiverfrontTimes.com.