Reality television is, more often than not, a thin veneer of reality placed atop a carefully crafted fiction. As viewers, we accept this white lie because reality programming is built with the same blocks as any other story: plot, setting and, most importantly, character.
Many successful reality shows even personify the setting to become a primary character. Alaska, Louisiana swampland and the Bering Sea are three of the more memorable -- and successful -- examples because each setting is a place that utterly defines and controls the lives of people who dare challenge it. Of course, it's not always clear whether Mother Nature is in control, or just the show's producers. But that is the story: relatable people in unique professions struggling to make it.
So, too, goes Salvage City, a reality show that sells itself as of, by and for the city of St. Louis. The show follows local carpenter/bar-owner Sam Coffey and his coterie of salvagers as they "break in" to abandoned St. Louis buildings and "steal" relics that can be recast into something beautiful and valuable. The first -- and for now, only -- three episodes were broadcast by the Discovery Channel on Sunday morning. It was a test run of sorts for the show, because the cable network has yet to decide if it will order more episodes from the two local production companies that collaborated on the project, Coolfire Originals and No Coast Originals.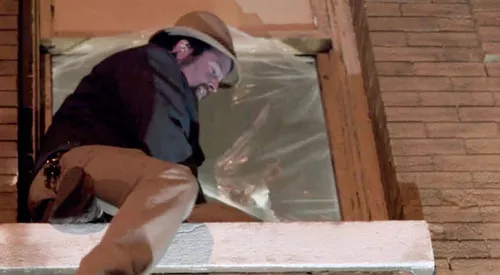 Discovery
Sam Coffey breaks into something.
For now the show is, if nothing else, carefully crafted. Coffey himself plays the fedora-clad chain smoker, a poor man's Indiana Jones who drives an old M35 "Deuce-and-a-half" Army truck and wants to make absolutely sure the viewer understands how dangerous his job is. There's also Chris "Trotter," the wisecracking assistant salvage man who provides muscle and pessimism to counter Coffey's reckless intensity. Other familiar reality tropes include a lone pretty female who is endlessly objectified, a dog, an auction, sexual innuendos, time-lapse sunsets and at least one manufactured crisis per episode.
It's a franken-show of sorts, which fails to exceed the sum of its parts partially because it so obviously borrows well-worn ideas from other shows. But where the producers really stumble is their characterization of St. Louis as a foe on the level of alligators or hurricanes. Salvage City is rife with images of decay or ruin porn, a style that fails to tiptoe the line between appreciation and exploitation. The salvage scenes are ostensibly about rescuing doomed valuables, but in reality glorify theft, plunder and trespassing.
See also: Salvage City: Fortune Teller Bar's Sam Coffey Gets a TV Show, But Is It Good for St. Louis?
And every reclamation is in a supposedly bad neighborhood, even when it's not. Take, for example, the Sun Theater, Coffey's target in the first episode. It's located in the bustling Grand Center neighborhood near Saint Louis University, less than a block from Powell Symphony Hall. But to Coffey, the historic building is a grave to be robbed. "I just heard a wrecking crew is coming to the Sun Theater. And it could start any day," he says. "If I don't get my hands on this cool historic stuff inside this building, it's going to be lost forever." That may have seemed true at the time of filming, but it turns out Coffey had bad information, because the theater is currently undergoing an $11 million renovation that was announced earlier this year. In other words, it's the right kind of renovation, not the kind that steals doors, theater seats and a trailer with no historical value from an abandoned building.
Continue reading to see why Chris Haxel says Salvage City is a total sell-out. It's that sort of cavalier attitude toward the law and landmarks he supposedly loves that have inspired a backlash from locals. Social-media chatter left Coffey defending the show to media outlets like KSDK-TV (Channel 5) and the Riverfront Times before it even aired, with many questioning his methods and portrayal of St. Louis. Indeed, Salvage City plays into the worst stereotypes of this region, ones familiar to a national audience for whom St. Louis elicits little more than the Arch pictures and Rust Belt scorn.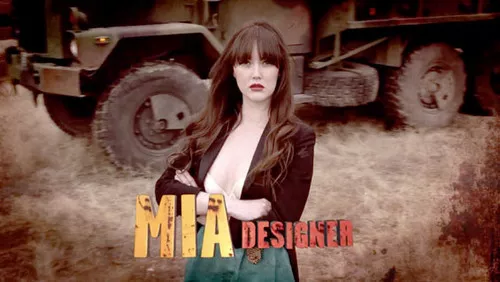 Coffey, a native St. Louisan, seems surprised by the tepid response, but critics' complaints are dead-on. What he and the show's producers have done -- exploit the city in exchange for personal gain -- is the definition of selling out. Not the artistic selling out that is inevitable when a band or artist enjoys mainstream success, but the kind that constitutes betrayal. Coffey co-owns the Fortune Teller Bar, located on Cherokee Street, one of the city's blossoming business districts. His creative and business partner on the show, Mia Brown, runs Eve's Apple Vintage, a consignment shop located on downtown's Washington Avenue, another local success story. These people are in a better position than most to celebrate the city's emergence from a post-industrial economy. And yet here they are on national television, selling the city as an "urban wasteland...ripe for plunder."
Ultimately, Salvage City disappoints because St. Louis deserves better. The best city television shows are love letters, as Treme is for New Orleans, or requiems, as The Wire is for Baltimore. Other shows focus on Chicago's toughness, Los Angeles' glamour and New York's culture. Even most reality shows celebrate a place, or way of life. St. Louis is none of those things in the American psyche, but surely a homegrown production can do better than play into national stereotypes.
Salvage City is a manufactured-reality cash grab, a tall tale starring a conceited wannabe pirate who is, in his own words, "not the hero St. Louis wants, but all they've got." This citizen begs to differ.
Chris Haxel is a St. Louis freelance writer.