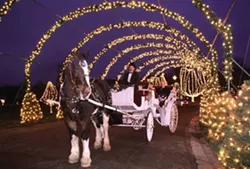 St. Louis County Parks via Facebook
A horse and carriage during Winter Wonderland.
For only the second time in 28 years, a carriage horse at one of St. Louis' favorite wintertime traditions, the Winter Wonderland Christmas lights display, has died -- this time during a carriage ride through Tilles Park.
King, a 22-year-old Clydesdale, was acting strangely just after pulling a carriage of holiday revelers into the lights show and died moments later, witnesses told Fox2Now.
"According to eyewitness accounts, the horse stopped, stretched and went down of an apparent heart attack," says acting St. Louis County Parks director Tom Ott in a statement. "We are saddened by the loss of this beautiful animal but truly believe it died of natural causes."
Jerry Kirk, who owns the farm that provides the horses and carriages, told Fox2Now he loaded the carriage himself just minutes before King died. He said the horse, which was regularly checked by a veterinarian, showed no signs of distress before his sudden death.
"The thing about these draft horses is they live to do this," Kirk tells Fox2Now. "That's what they're bred for. That's what they're here for. They love their work. They love to be out in public. They get all the attention."
St. Louis County and the Missouri Humane Society told Fox2Now the death appears to be unavoidable, of natural causes.
Follow Lindsay Toler on Twitter at @StLouisLindsay. E-mail the author at Lindsay.Toler@RiverfrontTimes.com.